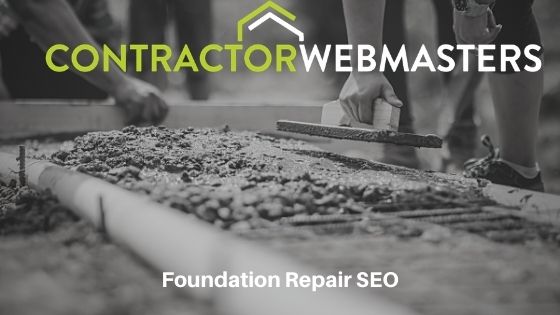 Contractor Webmasters offers foundation repair SEO services. As contractors, your top goal is to generate foundation repair leads. With so many businesses fighting for the same spots on the top of search engines, it's difficult for contractors to know how to invest their marketing dollars correctly.
The Webmasters offer a results-oriented service that helps companies maximize their long-term ROI while staying afloat in the near term.
Our services include:
DataPins (For Local SEO Keyword Rankings)
Google My Business Optimization (For Map Pack Ranking)
Content Writing & Marketing (To Satisfy Readers)
Keyword Optimization (To Target Buyers)
User Experience Optimization (For UX Signals)
Foundation repair search engine optimization can enhance online visibility across the spectrum of the internet. By claiming your custom WordPress website, you can establish authority and trust within the foundation repair industry. Although SEO doesn't work overnight, it can work within weeks, depending on your existing presence.
Some companies reject waiting even that long and invest all of their spending into PPC advertising. Such a short-term strategy fails to create successful businesses with sustainable income growth.
How SEO Helps Foundation Repair Companies Get Leads
Leads drive your business, which is why tactically design our SEO services to generate exclusive and high-quality leads. You know from your previous experiences that lead-generation websites often sell shared leads. Shared leads convert at a lower rate than exclusives and also fail to expand your brand awareness for repeat customers.
Leads coming from SEO channels like Google search, Google Maps, and your website convert at a higher rate and produce repeat customers. Here's how SEO is advantageous for foundation repair contractors:
Search Visibility
Branded Traffic
Conversion Rate Optimization
Sustainable Business Growth
Consumer behavior dictates many of SEO's principles. Well-optimized content addresses users' intent and needs. Performing keyword research can outline what target customers are searching for, and the savvy of experience can make content stand out from competitors.
At Contractor Webmasters, we base our SEO strategy on empirical data rather than gut instinct or feel. We've worked with many foundation repair companies with proven success and satisfied clients.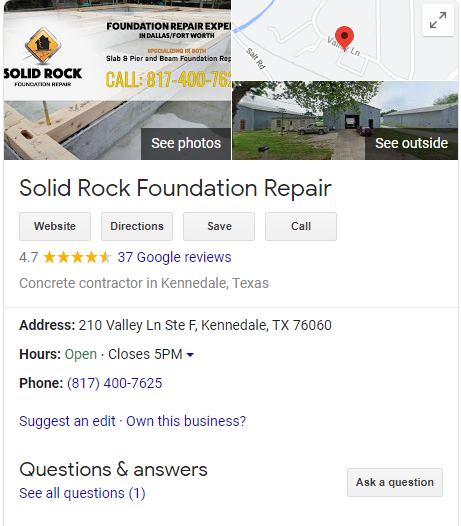 SEO for a foundation repair company includes ranking on Google Map 3-Pack for local terms like foundation repair near me, foundation repair services in (your city), and similar phrases.
On-Page vs. Off-Page SEO
Foundation repair contractors require two separate optimization tasks. First, on-page optimization takes place on a company website. Second, off-page optimization occurs off-site, on channels like business directories, social media, and other 3rd party platforms. On-page refers to optimization that takes place directly on your website, while off-page refers to optimization that takes place away from it.
Regardless of your company's scope, a robust website optimized for search is imperative to lead generation. Off-page factors like backlinks, NAP citations, and brand mentions directly influence the strength of your website. On-page factors like meta titles, descriptions, and on-site content ensure your domain has the best chance of ranking for keywords.
Combining the two principles with proven methodologies is the recipe for success. Contractor Webmasters is poised to help you rank today. Learn more about foundation repair SEO when you contact us.
Sign Up Today