Paving company SEO is the best way to generate Google leads. Contractors with their own optimized websites perform better long-term than those who buy leads from 3rd parties. When leads come through your own assets (website, Google Business Profile, etc.), they are exclusive to your business.
Not only do branded leads convert into customers at a higher rate, but they work to strengthen your online presence for superior longevity. Some aspects of SEO for contractors include:
Content Marketing
Google looks to rank authoritative and relevant content to match the user's search query. If a user is searching for a specific type of paving service, like parking lot paving, for example, having a page of content just for that subject will help you rank faster and higher.
With advancements in Google's algorithm, the content must be well-written and informative, rather than simply stuffing keywords inside of paragraphs.
On-Page Optimization
Keyword stuffing no longer works, but users should still be aware of where they are on a website. The best way to do this is by optimizing your pages with the title tag, meta descriptions, and header tags.
Your page's title tag should demonstrate the subject of the page, while the meta description should provide a short preview of what the user can expect to find once they click. Other on-page strategies include internal linking, breadcrumbs, and calls to action.
Website Design
A well-optimized website can serve as a lead generator for paving companies. Good websites have high-quality paving content while also providing a good user experience.
Most consumers in 2023 will be visiting the site through a mobile device, like a smartphone — making the usability of your mobile site even more important. You can test your mobile site speed using Google's free tool.
How Organic SEO Produces Paving Google Leads
Paving companies often seek contractor leads online. They might search for paving company leads on Google and purchase them from a 3rd party. This works sometimes but is also a risk. Some of these leads are NOT exclusive, which means they are shared.
You end up fighting with other concrete and paving companies for the same customer. Furthermore, that client is less likely to be a loyal customer even if they do choose you since they found you through a 3rd party. They will end up trusting that brand more than yours.
Organic SEO changes this whole dynamic by creating a stream of exclusive leads.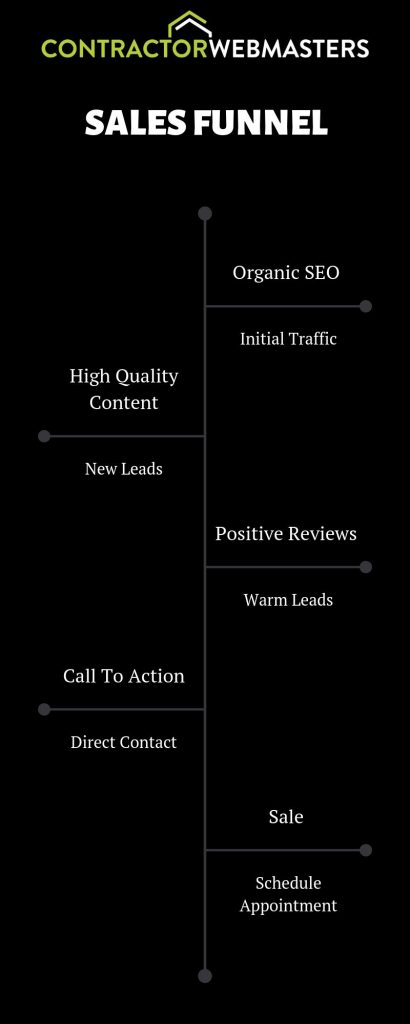 Google Business Profile
Your local SEO efforts produce leads through Google Business Profile. Once users start finding your business in the Local 3 Pack, they will call or message your company directly from the Google listing. These leads are much higher in quality than one you would get off a service.
Best of all, they are more likely to become a repeat customer and leave a review on the very source they found you, further leveraging your brand name to rank even higher on search engine results.
Website (Domain Name)
GBP is a great way to get leads, but a well-designed concrete and paving website is what really puts pavers over the top online. Not only do websites show up on organic search results, but they also help your Google listing appear on Maps.
By having a website with various content pages, including pages for individual areas that you serve, you are more likely to generate clicks from various portions of a Google search results page (SERP). These clicks convert at a nice rate, and the leads generated through them are the highest in quality that you could imagine.
Contractor Webmasters Paving Company SEO Package
So how do you start with SEO for your business? You can contact Contractor Webmasters for help. Our services include a custom website (exclusively for your brand), SEO, local mapping, content writing and marketing, reviews integration (with our native DataPins plugin), and much more.
We've ranked countless contractors on Google search, both on Maps pack and organic results, and can help you achieve the results you desire. Our objective is the same as yours, which is to generate leads.
Custom Website: Tailored to your brand, color, logo, etc.
Content Writing: Original content for each page of your website
GBP Placement: Mapping placement to optimize your GBP and maximize local leads
Reviews Management: Integrated reviews plugin to encourage more customer reviews