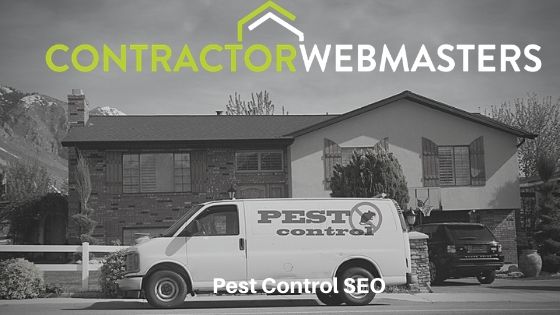 What is Pest Control SEO?
Pest control SEO is the process of ranking your website and business listing on Google for relevant pest control keywords. SEO aims to generate high-quality pest control leads that ultimately convert into customers. Your company will need a quality website, written content, on-page SEO, and an optimized Google My Business listing to rank online. 
Why Should Pest Control Companies Do SEO?
For pest control companies, generating leads is the primary goal. One way to get there is through search engine optimization, known most commonly as SEO. Contractor Webmasters believes that the highest-quality leads come from a branded web presence that includes a website and Google business listing.
Unlike 3rd party lead services that sell a single lead to multiple contractors, SEO marketing ensures that all leads are exclusive and that they contribute to your company's long-term growth rather than just its immediate need. Some primary elements of SEO include:
On-Page SEO: Refining title tags, meta descriptions, and keywords
Content: Writing high-quality content using researched keywords
Off-Site SEO: Building links to your company site through citations
Local SEO: Optimizing GBP to rank on the Local Map Pack
If your pest control business has tried SEO before, you may have gotten the wrong impression of the industry. The truth is many SEO companies deliberately try to screw you with long-term contracts and minimal effort. At Contractor Webmasters, our philosophy accounts for this preparation.
We offer month-to-month contracts and a Pay Per Lead option that ensures pest control technicians maximize their marketing investment. We believe SEO should be both fair and affordable. Our pest control web designs are innovative and conducive to sales through phone calls and email form fill-outs.
Optimizing for Pest Control Keywords
Ranking for relevant keywords is the fundamental objective of SEO. As a company, you want to rank for keywords with buyer intent, which are the most direct routes to paying customers. It also helps to rank for keywords with informational purposes since they can widen your funnel and increase brand awareness.
An example of a buyer intent keyword is pest control services near me. Any person typing that is ready to pay for services. Contractor Webmasters uses an SEO tool called DataPins to help pest control companies rank for more long-tail "buyer intent" keywords on each service page.
In contrast, an information keyword would be what to do to prevent pests. This keyword doesn't indicate that the person is ready to pay for services, but it does signal that they could be prepared and willing at some point. The top priority is the buyer intent keyword, but using blog posts to rank for the information terms is also beneficial, perhaps not immediately, but eventually.
Affordable Pest Control SEO Company
At Contractor Webmasters, we have nothing to hide. We offer affordable month-to-month plans for pest control professionals throughout the United States. We're a full-service digital marketing agency, so you'll receive every facet of an online presence.
When businesses call us and ask questions like "do you do SEO?" the answer is yes, but SEO involves far more than people realize. We design a website, research keywords, create content, optimize titles, headers, and more.
We also set up and enhance your Google My Business Profile for Local SEO. We also provide exclusive reputation management software to boost your local web presence. Next time somebody tells you that SEO is a singular act, explain how you can pay an affordable monthly price to get everything.
Claim Your Free Phone Consultation
Not convinced that SEO is right for your pest control business? How about discussing your web presence in a free phone consultation? Contractor Webmasters will review your current online presence and the possible opportunities in front of you.
We won't pressure you into signing up today. We want to get to know your goals and determine whether you would be a good fit for our services. Feel free to give us a call at your earliest convenience.
Call 800-775-1250 to Discuss Pest Control SEO