A Simple Process
You are a contractor and you want to generate more leads for your business.
You call Contractor Webmasters, and we get to work: Here's how we do it:
Design Your Custom Contractor Website

Our professional design team gets to work on your custom, clean, and SEO-friendly website, designed specifically for your company, using your logo, color scheme, and business photos. We consult directly with you to bring to life a vision that suits your business needs in 2023.

Develop & Execute an SEO Strategy

Our Contractor SEO specialists craft a unique plan of action for your website based on keyword research, market competition, geographic location, services offered, and ideal URL structure / hierarchy … and then execute the plan with precision and refined attention to detail. Our efforts are ongoing.

Write Unique & Compelling Content

Our content marketing team writes engaging and valuable content that your consumers will be interested in reading, and ensures best SEO practices to pursue the most optimal ranking positions. We update and modify content as needed, based on industry changes & other factors.

Optimize Google My Business & Google Maps

Our Local SEO team ensures your Google My Business listing is claimed & optimized and that your Google Maps address is accurate, consistent & verified, so that it can rank in the Local 3 Pack. We target clients' top service area so that leads come from sources with high conversion rates.
The Contractor Webmasters Podcast
The Team at Contractor Webmasters discusses some of the most important topics in digital marketing. If you are interested in improving areas of your online presence, give us a call today at 800-775-1250.
Our Work is Ongoing
SEO is not a one-time deal. Instead, effective SEO is an ongoing process that requires attention at all times. Whether something must be improved within the website's design or content, or a new external web property becomes necessary for branding purposes, Contractor Webmasters will attend to the issue promptly.
Contractor Webmasters proceeds with the following tasks regularly
TrackingMonitoring Google Analytics and ranking factors
BloggingPublishing a website blog post each month
SupportAccess to our customer service department
SEO for Contractors: Search Engine Optimization to boost rankings on Google and other search engines
Construction SEO: Whether you are a general contractor or construction worker, we optimize your business locally
Website Design for Contractors: Custom website tailored to your industry, brand, color scheme, and company culture
Content Writing: Custom, original, industry-focused content written by in-house writers with college degrees
Reviews Management: Exclusive access to DataPins website plugin to help you generate Google reviews from satisfied customers and showcase them on-site
SEO Agency for Home Services
Contractor Webmasters provides SEO services for contractors in the home services industry. We offer a comprehensive web presence that will get you ranking on Google in 2023.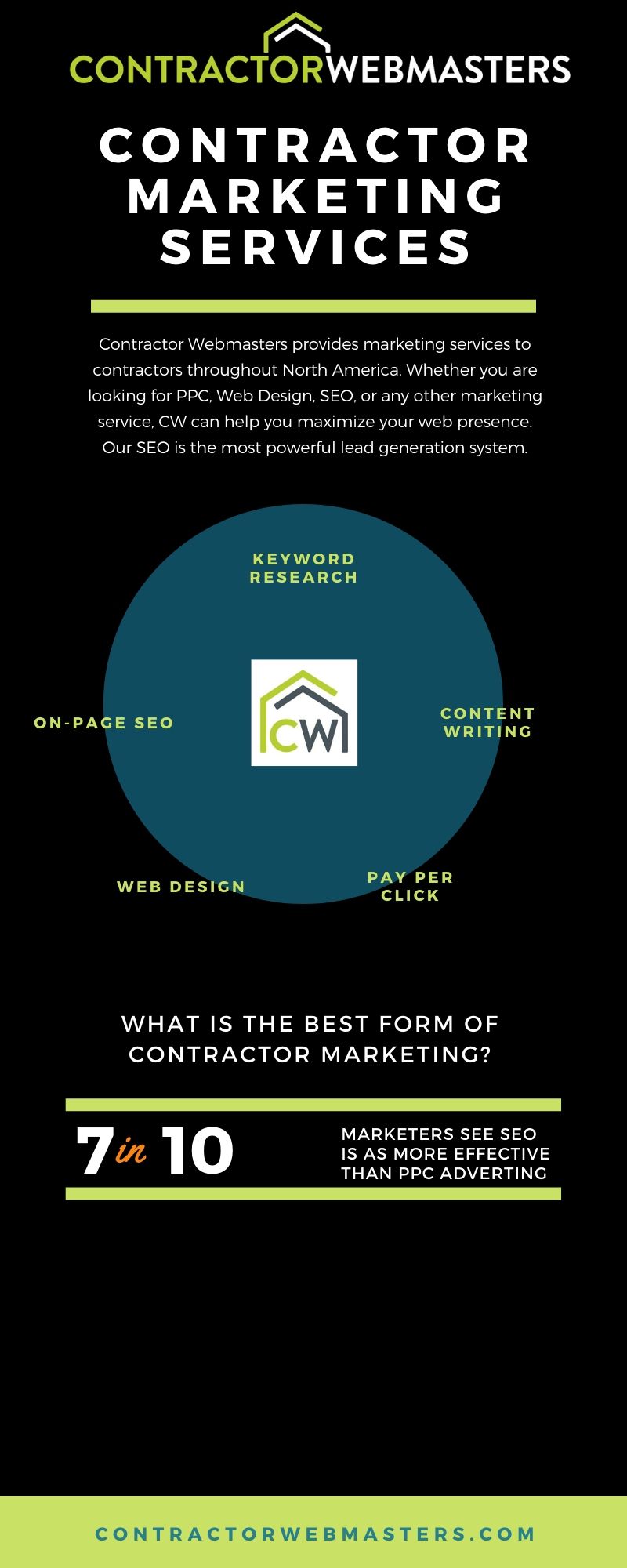 Get Started With Contractor Webmasters
The process of getting started is simple and painless. We do all of the work. Once you complete your onboarding call to give your insights and make your upfront payment, we get to work on designing your custom website and optimizing it for Google. As the top home services SEO company in the U.S., we have over 250 clients. 
Sit Back and Relax
We take care of everything on your behalf. The only thing you will need to do is perform excellent services as a contractor. Yes, we will urge you to ask satisfied customers for reviews upon completion of services. Still, other than that, the marketing efforts are handled entirely by our impressive team at Contractor Webmasters' central offices.
Grow Your Business
As your site gains tenure in Google's index, you should begin to notice increases in rankings, phone calls, and email inquiries. This process may be sooner or later, depending on pre-existing factors like the age of your domain name and your brand's authority. In any case, we can help you maximize your SEO for home services and grow your contractor business in 2023 and beyond.
"THE BEST QUALITY MARKETING YOU CAN DO FOR YOUR BUSINESS"
2023 is a time to take your contracting business to the next level. We've helped countless small business owners just like yourself in increasing sales revenue through an excellent online presence. Our experience working with a range of industries that are specific to the contractor niche, including roofing, HVAC, plumbing, foundation repair, and many more, gives us a significant advantage over marketing firms who deal with a generalized range of clienteles.
Call Contractor Webmasters today at 800-775-1250.