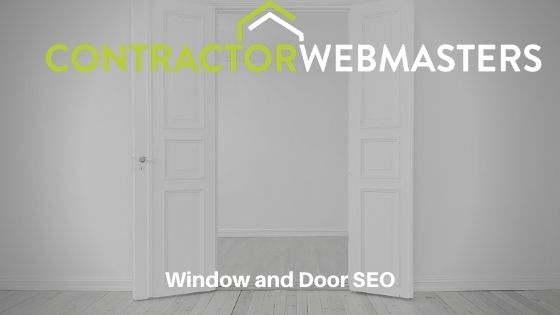 Contractor Webmasters offers Window and Door SEO services, including DataPins, The #1-rated Local SEO software for Window & Door contractors. Our services include keyword research, custom website design, Local SEO, On-Page SEO, and Reputation Management.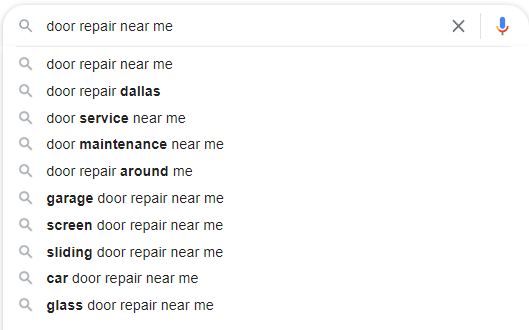 Key Takeaway
Our SEO services help window and door companies rank for thousands of keywords and keyword variations on Google.
SEO Services for Window and Door Companies
Many digital marketing agencies provide SEO services for Window and Door companies, but Contractor Webmasters' stands out from the crowd. As the only digital marketing agency that includes DataPins, there's no legitimate competition for Contractor Webmasters. In addition to DataPins, our SEO services include:
Web Design Services for Window and Door Companies
Get a custom window and door website with your brand logo, color scheme, and responsive design for mobile-friendliness. Our websites focus on user experience and conversion rate optimization to convert visitors into paying customers. Each of our designs targets SEO keywords.
Custom Web Design
Mobile Web Design
Responsive Web Design
WordPress Web Design
Keyword Research
Some SEO companies say pick 15 keywords. We target every viable window and door keyword for your local business at Contractor Webmasters. Proper SEO involves full-scale keyword research, including grouping keywords into user intent categories and assigning terms to the content map and site structure. Our services include:
Content-Keyword Mapping
Extensive Keyword Research
Local Keyword Research
User Intent Grouping
Local SEO for Window and Door Companies
Google uses a separate local algorithm for local search results, which showcases the Local Map 3-Pack. Ranking locally requires an optimized Google My Business Profile, vital NAP citations, and enough local reviews. In addition, the local algorithm considers proximity, relevance, and prominence.
City / Location Pages
Google My Business Optimization
NAP Citations
Schema Markup (via DataPins)
On-Page SEO
On-Page SEO involves writing title tags, meta descriptions, and on-page content to ensure high rankings for target keywords. Some agencies perform basic on-page optimization, which doesn't help you rank.
We dive deep into internal linking, header tag optimization, and keyword placement at Contractor Webmasters to ensure top-ranking potential.
Header Tag Optimization
Internal Linking
Keyword Placement
Title / Meta Tag Optimization
Reputation Management
Successful SEO campaigns include a robust online reputation via Google My Business, Facebook, Yelp, and similar platforms. In addition, contractor Webmasters automates review generation via DataPins automated review requests.
As a result, satisfied clients receive SMS and email reminders, increasing review frequency and boosting your online reputation.
Automated Review Requests (Via DataPins)
Google Review Monitoring
Pin-Review Connectivity
Website Review Showcase
Internet Marketing Company for Window and Door Companies
Did you know that about 70% of SEO consumers are unhappy with their current provider? As an internet marketing company for window and door companies, Contractor Webmasters is the exception to the rule. We refrain from the common traps presented by most digital marketing agencies.
Month-to-Month Contracts
That's right; Contractor Webmasters never lures clients into long-term agreements, which hurt their company and reflect poorly on the agency. Why would we force someone to use our services unless they don't work? The reality is that we offer month-to-month agreements because our services speak for themselves.
DataPins Local SEO Software
Contractor Webmasters is the only SEO company in the world that offers DataPins, the #1 Local SEO software for contractors, including window and door companies. DataPins changes the SEO landscape by publishing schema-pins that validate both services and service areas on Google. In addition, DataPins automates reputation management via SMS and email requests.
Site Security
Finding malware on your website is not uncommon with so many hackers online. Contractor Webmasters prevents such occurrences with extra security measures. Our systems back up your website every 15 minutes and exclude risky plugins that invite hackers to toy with your site code. Best of all, our designers secure each website with proprietary security measures.
SEO Marketing FAQ for Window and Door Companies
How Much Does Window and Door SEO Cost?
Contractor Webmasters offers monthly payment plans for SEO services. Your price depends on your city of service because competition varies. Many contractors pay between $750 and $2,500 per month for SEO services. Our services include DataPins, premium content writing, keyword research, and reputation management.
How Long Does SEO Take to Work?
SEO can take anywhere from six weeks to 6 months to work. Variables include domain age, brand popularity, and local competition level. Contractor Webmasters has processes to speed up the SEO period, including targeting long-tail, low-competition keywords for your window and door business.
How Many Window Leads Can I Expect?
Contractor Webmasters does not guarantee a certain amount of monthly window leads since variables like service area, season, and climate impact the precise number. However, our window and door clients generally get dozens of high-quality leads per month.