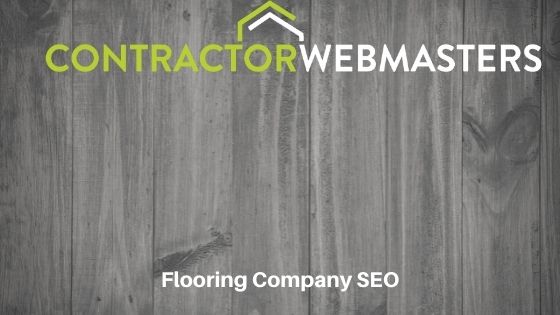 Contractor Webmasters' provides SEO services for flooring companies. Our menu of services includes Local SEO, Reputation Management, Website Design, Keyword Research, On-Page SEO, Copywriting, and the #1 marketing tool for contractors; DataPins.
As a full-service digital marketing firm, all services are included monthly. To learn more about the optimization process, check out our flooring SEO guide.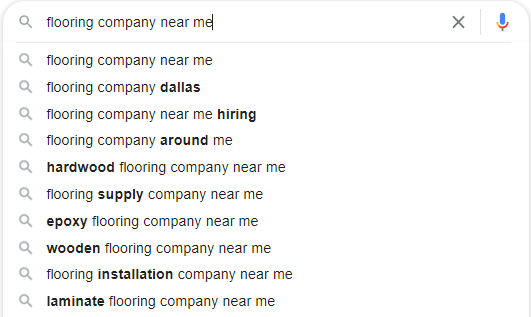 Our agency helps your flooring company rank on search engines for thousands of keywords and keyword variations.
Flooring SEO Services
SEO services help flooring companies reach the top of Google search engine results. Higher search rankings result in more flooring leads, improved conversion rates, and increased ROI. Take a look at our specific search engine optimization services for flooring below:
Local SEO for Flooring Contractors
Contractor Webmasters' Local SEO services for flooring contractors establishes your local presence on Google through Google Business Profile, Google Maps, and on-site location pages for your website.
In addition, our local marketing tool DataPins inserts schema markup on your city and service pages for increased local presence. On-site location pages target individual cities to expand your service area reach on Google.
Reputation Management
SEO is increasingly reliant on establishing a favorable online reputation through reviews, testimonials, and social proof. Contractor Webmasters works to optimize each of these ranking factors with the help of DataPins. The tool sends automated review requests via SMS text and email.
Aside from generating consistent reviews, DataPins also showcases testimonials directly on your website. Best of all, it shows relevant reviews on service and location pages for specific social proof. As a result, DataPins sites convert at a higher rate than other local sites.
Website Design
Contractor Webmasters crafts a custom flooring company website for your SEO campaign. Your site is SEO-optimized to appear on Google search results and target high-volume keywords. In addition, your website provides a positive user experience with site speed and security.
Our designers insert calls-to-action (CTAs) in the form of click-to-call buttons and contact forms. As we drive relevant traffic to your website through SEO, we make it easy for those visitors to contact your business.
Keyword Research
Contractor Webmasters knows the keyword research process separates successful online marketing campaigns from ones that fail. Our refined keyword research process is the best in the industry and groups keywords by user intent, opportunity, and priority via content mapping.
Our in-house keyword research tools evaluate untapped metrics to identify the highest-opportunity terms and phrases for your business. Our skilled copywriters design content pieces that specifically cater to the target keyword and its user intent.
On-Page SEO
On-Page SEO remains vital to a successful organic search optimization campaign. On-page tasks include title tags, meta descriptions, and keyword insertions, along with image optimization and internal linking.
In addition, Contractor Webmasters' on-page process enhances search visibility. From adding image alt text to properly interlinking service pages, we put our clients in the most optimal position to rank on Google and Bing.
Copywriting
Content is vital to SEO success for flooring businesses. Our in-house content team writes premium-quality content for your website. From service pages to long-form blog posts, we craft content that meets user intent and generates relevant traffic for the most beneficial keywords.
Our writing is free from grammatical errors and misleading context. As a result, website visitors enjoy seamless readability, psychologically increasing their comfort level and urging them to convert into customers.
DataPins
Each flooring contractor receives DataPins with their monthly SEO plan. DataPins automates several digital marketing processes while providing a significant leg up over competitors.
Aside from sending automated review requests and publishing schema pins, DataPins also generates user content. For example, each time contractors write a caption for their job, it appears on the corresponding service or city page.
SEO FAQ for Flooring Companies
How Long Does SEO Take to Work for Flooring?
SEO can take anywhere from 6 weeks to 6 months, depending on domain age, tenure, and reviews. The good news is that we provide custom solutions to speed up the process for brand-new contractor websites. You can start ranking for long-tail keywords within four weeks.
How Much Does Flooring SEO Cost?
Pricing depends on factors like your region, market, and goals. Standard monthly SEO plans from a digital marketing agency start as low as $750 per month and reach up to $2,500 per month. Every Contractor Webmasters clients receive all services within their plan, including DataPins.
Is SEO Worth The Investment?
SEO produces the highest quality leads based on conversions, repeat business, and brand recognition. As a result, the value of SEO services is the highest among any promotional investment for a flooring company. Other services like PPC, Facebook Ads, and direct mail don't compete.