What Are Window Treatment Leads?
Window treatment leads are prospects who demonstrate an interest in your services through some form of indicative behavior. For example, a lead can be a homeowner who fills out an online form for window treatment services. In 2021, the most common lead generation platform is the internet. Whether someone finds you on your company website, Google My Business listing, or social media profile, they can initiate contact and become a future customer.
Generate Window Repair & Treatment Leads
Contractor Webmasters provides lead generation services for window treatment companies. We allow contractors to pay on a per-lead basis to prevent wasting money. The Webmasters team is so confident in our systems that PPL models are virtually guaranteed profits on our end. But first, you must understand why our lead generation system is best for you.
Shared vs. Exclusive Window Repair Leads
Most contractors fall into the same cycle of failed lead generation. They call up a 3rd party lead broker and fight with other companies for the same prospect. Prospects like this are "shared leads," meaning more than one window company has an opportunity to close the deal. As you might imagine, that makes conversion rates substantially lower. Reducing your CR from 60% to 12% is bad for business. But reduced conversions are not the only pitfall of shared prospects. The lead broker benefits the most since the customer interacts with their brand and will likely return to them next time they need services, not you.
Exclusive leads address every problem with their shared counterparts. First, the prospect contacts your company and therefore becomes your lead to lose. Instead of fighting off other companies in your area, you have a 60% or higher chance of making them your new client. Getting the sale is excellent, but the long-term benefit of this structure is even more significant. Since the customer interacts with your brand exclusively, they are highly likely to return next time they need services. They are also more likely to leave reviews on your branded listings, like Google My Business.
The Best Assortment of Lead Channels
Online marketing is an excellent source of lead-gen, but it's important to remember that it represents a wide array of channels. For instance, your Google My Business listing is separate from your website and social media profile, but they are all considered internet marketing platforms. The holistic approach to generating interest on each channel is known as search engine optimization (SEO). Contractor Webmasters empowers PPl clients to dominate Google search results with window treatment SEO. Here's how it works:
Local Map Pack
For local service providers, the most frequent source of interest is Google Maps. When someone searches for "window treatment near me," they are shown a Local Map Pack, which is Google's collection of the three most relevant local businesses. To appear in this pack, you must seriously approach local SEO and pay close attention to your Google My Business listing. The three local ranking factors are proximity, relevance, and prominence, and Contractor Webmasters helps you with each element.
Organic Search Results
Traditional organic search results (the ten blue links) are still a significant source of interest for window repair contractors. When consumers aren't clicking on the map pack, they are most frequently clicking on organic results. That's why a well-optimized website is critical to maximizing your success. At Contractor Webmasters, we design a custom website with SEO and include calls to action for maximum conversions. The goal is to rank on page one of Google and then convert many of your website visitors into potential customers.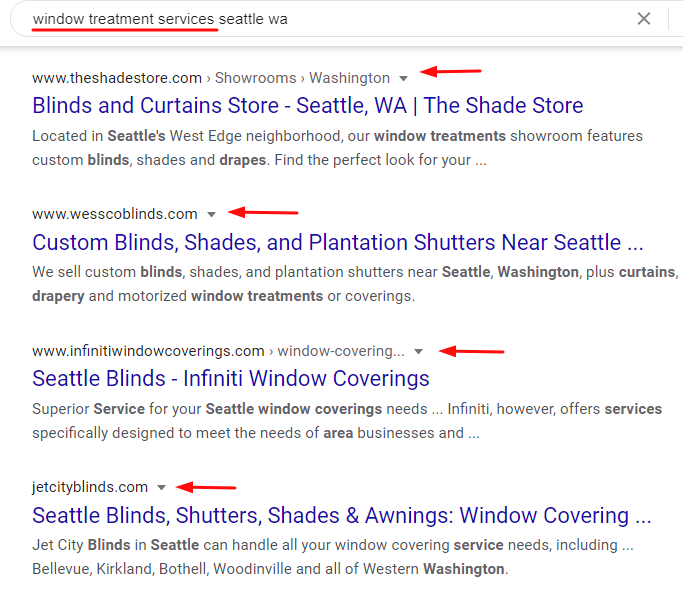 What About PPC?
Contractors often ask how PPC applies to this process. The Webmasters' team does provide pay-per-click management on request, but we have a decade worth of data showing that PPC doesn't work well. It gives the worst ROI of any online marketing channel. The good news is that Contractor Webmasters encourages far more creative and profitable window treatment marketing measures like reputation management. We even offer proprietary software that automates your local SEO and helps you become the #1 window maintenance company in your local service area.