Contractor Lead Generation Service
Contractor Webmasters provides exclusive contractor leads to all industries at an affordable price. Our lead generation system combines SEO for contractors with custom website design and DataPins Reputation Management software.
This 3-tier concoction is the best method for acquiring exclusive leads in the contractor industry. No lead broker can match the effectiveness produced by this system.
The Contractor Lead Generation Process
Step 1: Custom Website Design
Many lead sellers will promise quality leads for contractors, but they don't tell you that the leads originate through their branded website, not yours. With Contractor Webmasters' system, the leads will be coming through your custom, branded website.
Custom website leads are inherently superior because the prospect directly reaches out to your business instead of a 3rd party broker. This makes them both easier to convert and more likely to become returning customers in the future.
Step 2: SEO & Content Marketing
As the website launches, so too will high-quality content written by the Contractor Webmasters writing staff. We create SEO-targeted service pages for each of your company's specific services. We use keyword research tools like SEMRush, MOZ Keyword Explorer, and Google Keyword Planner to find the highest-volume keywords that will attract the most relevant clicks.
In addition to service pages, our team also produces engaging blog posts to help attract a wider audience.
Our contractor lead generation service includes full SEO and content marketing, allowing your service pages and blog posts to rank on Google search results.
Step 3: Reputation Management With DataPins
What separates the Contractor Webmasters' lead-gen system from others is DataPins. We are the only agency that can provide you with this once-in-a-lifetime software tool because we are the ones who created it. It allows you to check in to job sites to verify your work and request reviews from clients via text or email.
It also showcases your reviews on your website homepage and wherever else you want to display them. The check-in technology is what can really differentiate you from competitors and have you ranking higher in the Local Map Pack as well as traditional organic.
Creating a Traffic Flow to Your Contractor Website
Before you can generate leads through your custom website, you must create a consistent flow of traffic so that visitors have an opportunity to complete the call-to-action (call your phone or fill out a form). The most effective way to generate traffic is through SEO, both local SEO and organic SEO.
The Local Map Pack results are based on a separate algorithm from organic results and vice versa. At Contractor Webmasters, we study both algorithms and have systems in place for our clients to rank on both result types. As your organic traffic increases, so will your lead generation.
Ranking for High-Volume Keywords
Depending on your industry and location, some keywords will be more competitive than others. For example, carpet cleaner in Miami will be more competitive than painting contractor in Cedar Key. It is possible to rank for any keyword, though your website will have to meet certain criteria to do so.
First, it must have tenure as a domain— meaning your domain name has to have been registered for several years or more. Second, it must have high-quality and high-relevance inbound links coming from credible and topical sources. If you have both of those things, the sky is the limit.
Ranking on The Local Map Pack
Many contractor-based searches occur on a mobile device where the user typically clicks on one of the three featured Map results. Ranking for local keywords requires a bit more sophistication than traditional organic results. You will need an optimized Google Business Profile listing with accurate NAP information (name, address, phone number) and original and unique photos.
In addition to listing optimization, you also need legitimate reviews from past and present customers. That's where DataPins comes in with the text and email request links so you can get more reviews.
Ranking for Long-Tail Keywords
While high-volume keywords are important, many of your clicks will come from long-tail search queries that are more unpredictable in terms of volume. For example, if someone searches for heat pump repair service in Hartford, CT, they will click on the result that most accurately satisfies their user intent.
These kinds of keywords combine to form a robust volume, but as singular terms, they don't even register a number on keyword tools like SEMRush and MOZ. That's why monitoring clicks on Google Search Console is essential, so you know specifically what you rank for.
Converting Traffic into Leads
A website visitor is not a lead if they do not intend to purchase your services. They become a lead once they complete a call-to-action. Your website's job is to display a prominent, engaging CTA. An effective call-to-action usually creates urgency for the visitor. It might say something like click now for a special discount or call now to get your free consultation.
At Contractor Webmasters, we use click-to-call functionality so that the mobile site visitor can call your office straight from their phone and immediately convert into a qualified lead. We also utilize forms for people who are less comfortable speaking on the phone or are simply not ready to buy.
Producing Logical Sales Funnels
The funnel process will vary depending on where your web visitor first enters the site. For example, if they search directly for your brand name, they can convert easily into a lead. They already know who your company is and likely know what they do. In many cases, these entrances simply look for your contact information so they can get in touch.
Other entrances come from organic keyword searches like garage door installation near me. These are also high-conversion visitors if you can get them to click on your result over the others. Those who enter through blog posts with more general searcher intent are the toughest conversions. For example, is my garage door broken an informational query rather than a transactional one?
But through internal linking, you can convince the visitor to use your service.
Displaying Social Proof
Even if you rank #1 for all the best keywords in your industry and area, you aren't going to convert them without social proof. Most consumers make purchase decisions based on trust, and the most effective way to demonstrate trust is through social proof. For those unaware, social proof can be anything from verified testimonials to award badges from credible institutions.
It is best to display all awards and bases on your website homepage, along with a scrolling widget of customer reviews from 3rd party platforms like Google, Yelp, and Facebook. Luckily for our clients. DataPins includes that very widget so that you have social proof immediately. We also incorporate check-ins on your website, giving you credibility throughout multiple service areas.
Facilitating User Experience
Without a positive user experience, the website visitor won't convert, even if you have social proof and a call to action. Why? Because aesthetics play a large psychological role in user behavior. The website must "feel" good to the visitor, which seems a bit hard to quantify, but there are methods to do so. The first order of business is ensuring seamless mobile and desktop navigation.
Contractor Webmasters designs your site using Responsive Web Design, so the user has the same experience regardless of device. Another aspect of UX (user experience) is internal linking and site architecture.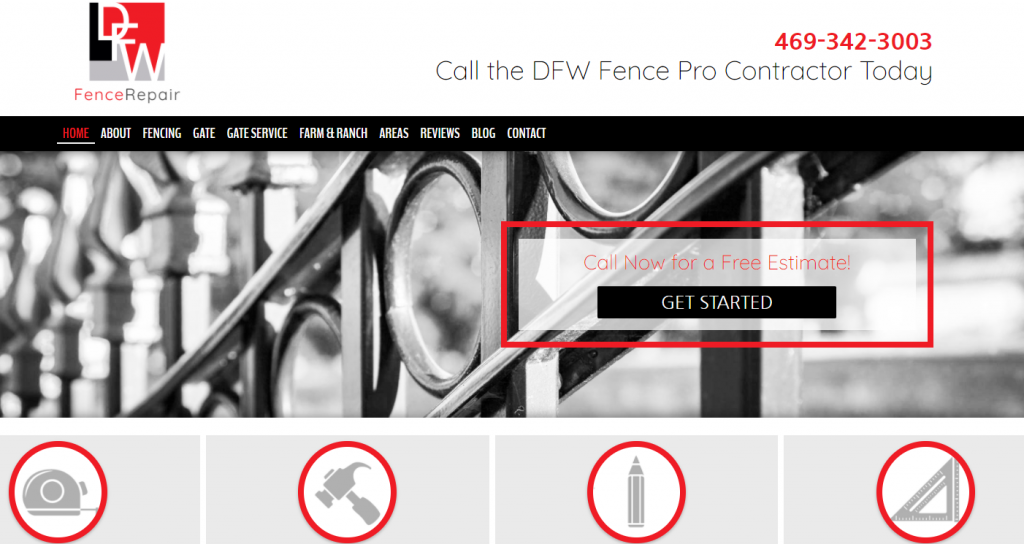 The user must always know where they are on your site and how to return to the homepage. Our websites are structured with a logical URL hierarchy, giving the user an optimal experience.
Why Exclusive Leads are Superior for Contractors
You may have used low-quality leads services in the past and been discouraged by the results. Many leads brokers offer shared leads that create competition with other contractors. Since these leads come through a 3rd party platform (rather than your own), the broker receives all the brand benefits.
Consumers who need another lead return to the broker instead of the contractor. That's how little these platforms think of you as a human being. They are treating you like dirt. We only provide exclusive leads at Contractor Webmasters because we value our clients and treat them as humans.
Call 800-775-1250 to Buy Exclusive Contractor Leads