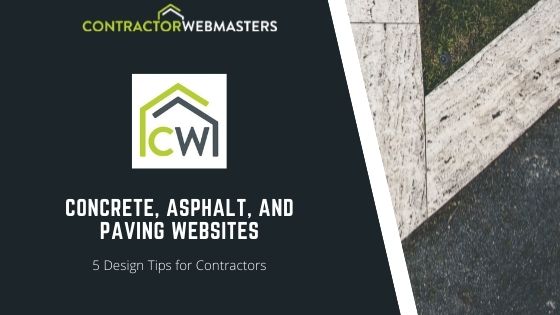 Your asphalt paving website should generate a healthy amount of contractor leads every month. Making a solid investment in your website pays off because it will be a low-maintenance and low-cost means of earning new customers. Your expertise is in asphalt and paving, though, and may not necessarily be in asphalt web design.
You should still know the basic principles of what makes excellent asphalt & paving websites, so you can implement the elements yourself or convey them to a designer. In the following post, you will read about some of the most effective tips for creating a lead-generating asphalt and paving website.
Tip #1 – Logo Consistency
Maybe you have gone through a few different logo designs in your time as a contractor. That's fine, but remember that brand recognition is a large part of website design. Asphalt & paving websites should have the same logo on every page. Ensure that the logo your visitors see on the homepage is the same one they see on your services pages and throughout your site.
Different logos, even the same logos with different colors, can confuse visitors and make it harder for them to place your business. Logo placement and size are also crucial to your website.
Place the logo on the header of all your pages, near the center or off to the left. Also, make sure that it is large enough for people to recognize but not large enough to pull focus from the main content.
Tip #2 – Online Forms
These days, people don't have a lot of spare time. Often, people will look up home services they need at work or during their lunch hour. People may search for asphalt & paving websites at odd hours when you aren't around to answer the phone. As a result, user-friendly forms are a great way to garner asphalt paving leads in 2023.
For the convenience of your leads and so you don't miss out on potential business, ensure your asphalt and paving website has inline forms. Online forms allow people to fill out their information, move further along the sales funnel, and request information conveniently.
Tip #3 – Quality Images
Most people are visual learners. They want to see examples of what you can do and how you can improve their lives. A solid portfolio of quality project pictures is very important in the asphalt and paving industry.
On your website, you can show the projects you have completed successfully to gain customers in the present and into the future. Right on your homepage, your website needs a prominent picture of a beautiful or exceptionally professional paving job you have completed.
Any image you display must convey the kind of work you are capable of performing. Using only high-definition, well-focused, centered, and evenly contrasted images is also essential. Blurry, busy, or off-center photos will make your asphalt company web design look unprofessional.
Tip #4 – Easily Navigable Design
No one will spend time on a website that they can't navigate easily. To get people to view the focal points of your website and get them interested in your services, you need to make sure every single page of your site is easy to get to from every other page.
Avoid dead-end pages (pages with no links to other pages on the site), no broken links (links that go nowhere or lead to a defunct page), and an easy-to-understand menu. For this, most developers will recommend a flat website architecture. This design makes it easy for visitors to get where they need to go on the website in just a few clicks.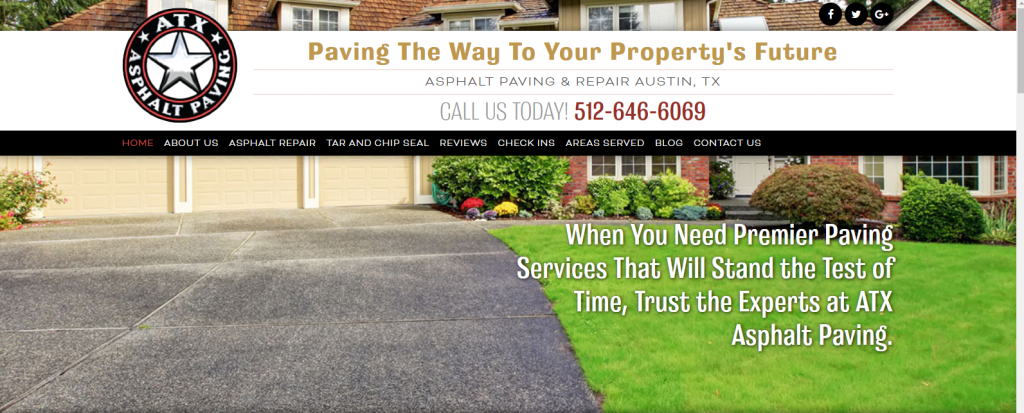 It would help if you also had pages for all your services that clearly describe the service and how it can improve your visitors' property and lives.
Tip #5 – Keyword Use
These days, search engines will penalize you for keyword stuffing. You have to walk a fine line between including keywords that will help your website get noticed by a relevant audience and getting penalized with low rankings.
With that in mind, you must ensure your asphalt and paving website's written content is high-quality. Check grammar and use persuasive language (avoid using technical jargon and industry terms that most people will not understand, even if you think it makes you sound more professional). You should also carefully monitor keyword usage to avoid stuffing and encourage readability.
Remember that search engines prioritize websites that provide value to their users – and keyword stuffing presents little value. Understanding asphalt paving SEO helps you refine on-page content for higher rankings. Use LSI keywords that say the same thing differently to keep readers engaged and find your website easy to read.
Professional Asphalt & Paving Websites
Now that you know some of the most critical aspects of successful asphalt & paving website design, you may need some help putting them to work. If so, we would love to talk to you about your business and your website.
We are Contractor Webmasters, and we can help you build a compelling, professional, and lead-generating website for your business. We know what it takes to create websites that earn our clients more business, so call us soon!