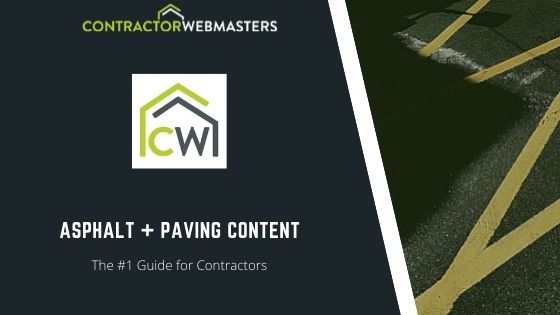 Many paving contractors fall into a trap, thinking that they don't have anything valuable to offer in content marketing. Let us state once and for all right here: that isn't the case. No matter your field, you can devise an engaging and effective content marketing strategy. 
Think about it this way: your customers need your asphalt and paving services, right? In other words, they need your expertise. Your expertise is something you can offer in the form of content marketing. So as long as you know your field well enough, you too can launch a conversion-oriented content marketing strategy.
Setting Web Content Goals
Before you can begin crafting quality content that will draw consumers towards your brand, you have to have clear goals in mind. Do you want to make people more aware of your brand? Maybe you want to promote a specific service or product? Or perhaps, you are ready to start earning more paying customers.
The nature of your asphalt & paving content depends on your company's specific needs at any given time. Eventually, the ideal would be to have content for everything:
Customer conversion
Brand awareness
Customer engagement
Promotional content
Email marketing content
Have your goals clearly in mind as you begin to plan content. For example, if you want to promote a new paving service you are offering or a new piece of equipment your company is using, a video demonstrating the service/equipment would be an excellent way to get people excited.
If you want to make more people in your area aware of your company offering a white paper or maintaining an informative blog would be a good start. For this post, Contractor Webmasters will cover two of the most effective forms of content marketing. 
Blogging for Concrete, Asphalt, and Paving Websites
As we alluded to earlier, blogs are a great way to make people aware of your business. Why? Because blogs are how people discover and learn about new companies. 70% of consumers said they prefer to hear about new companies through blog or article content rather than advertisements.
But how do you craft good blog content? Follow these steps:
Do Your Keyword Research
You should craft blog posts around target keywords that will grab the attention of people who may require your paving services. Use one of the many online keyword research tools to see which keywords are trending in the paving industry.
Don't forget long-tail keywords, either. Long-tail keywords are less competitive and will help improve your local SEO. 
Brainstorm
Once you have a good list of keywords you want to target, start thinking of blog topics about those keywords. For instance, if you offer parking lot pavement service and one of your keywords is "commercial paving," you could write a blog like "How Long Does Parking Lot Paving Usually Take?" Notice how the topic offers plenty of opportunities to insert the keyword "commercial paving" naturally. 
Create a Schedule
You should be posting new blog content 1-3 times a week. So once you have a good list of topics, create a calendar to help you stay on schedule for posting.
Prioritize Quality
Search engines are putting a much higher emphasis on quality, well-written blog content now than they ever have in the past. If your writing skills are questionable, it is probably best to hire a writer. Your blogs should not be sales-oriented either, but you should include calls to action near the end that encourage the reader to contact you about your services or for more information.
Videos for Asphalt & Paving Companies
Video content marketing can be huge for home and commercial services like paving. People are inherently visual learners. Most consumers want to see what you are capable of through visual representation. Pictures are great for this, but video content is even better. Here are some keys for creating video content that converts:
High Quality
You have to invest in some quality equipment. If you cannot film in HD or are unable to produce well-focused videos, you probably shouldn't even bother. The same goes for editing. We aren't saying that you have to make complex, feature-length videos, but coherence counts greatly with video content. 
How-To's
How-to videos are among the most viewed videos on YouTube and other platforms. They are a great way to get your company noticed. You don't have to give away any proprietary trade secrets. Remedial tutorials on how to maintain a driveway, spot signs that you need re-paving, or how to deal with weeds will still earn your site traffic. 
Keywords are Still Important
You should still try to shoehorn your target keywords into your video content. As always, though, don't just cram keywords excessively or unnaturally. It has to be organic to the dialogue and the content. 
Spread it Around
The great thing about making good video content is that you can deploy it in many places. Of course, your company's YouTube account is a great place to start. Consider sharing your videos via your company's Facebook account, Instagram account, and other social media outlets. It can also be helpful to post new videos right on your website.
Work with Experts
Perhaps the sagest piece of advice regarding asphalt & paving content is to work with a professional. It's ok to be unsure about asphalt & paving content. You have a lot on your plate as a contractor. Let us help you earn more business with expert asphalt & paving content marketing services.