68% of garage floor coating companies generate low-quality leads online. Whether the prospect fails to book an appointment or forgets about your brand immediately after the service, the leads fail to contribute sustainable ROI for your business.
There are excellent ways to generate high-quality garage floor coating leads in 2023, and SEO or search engine optimization is the best option.
Here is some of what garage floor SEO involves:
Keyword Targeting: We target industry-related keywords
On-Page Optimization: We optimize title, header, and meta tags, as well as body content
Off-Page Optimization: We optimize business listings, review profiles, etc.
Social Outreach: We use social media platforms like Facebook and YouTube to spread brand awareness
SEO produces higher quality leads for several reasons, most importantly of which is branding. When prospects find your company through search results, they are 86% more likely to become a repeat customer than someone who books your service through a 3rd party lead broker.
SEO leads become exclusive garage floor coating leads for contractors, and optimizing your website is a great place to start in the world of garage floor business marketing.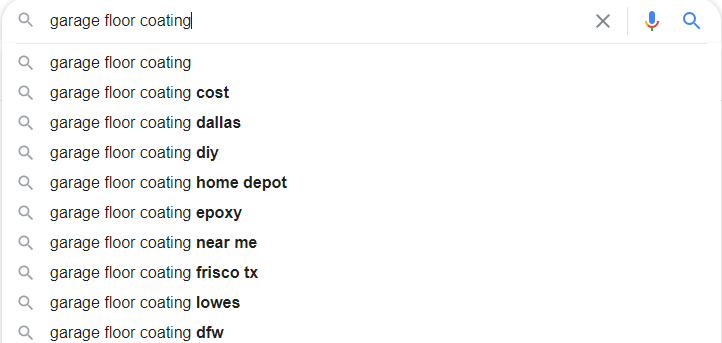 Best Keywords for Garage Floor Coatings
Contractor Webmasters' optimizes your website with industry-specific keywords. In the case of garage floor coatings, you will want to look at search volume, in particular.
For example, some of the most popular keywords in your industry include:
epoxy flooring 14,800
garage flooring 12,100
garage floor coating 6,600
epoxy garage floor 5,400
garage floor coatings 2,900
Keywords appear on your website through title tags, header tags, and within both the meta description and website body content. Contractor Webmasters refrains from keyword stuffing and only utilizes keywords in the context of informative material.
Our experience writing content that appeals to Google and other search engines gives us a decided advantage over competitors.
Exclusive Epoxy Flooring Leads
Contractor Webmasters helps clients get exclusive epoxy flooring leads in 2023 using our SEO services. Our process includes website design, content writing, reputation management, and local SEO.
We ensure your company appears on Google Maps and has a good chance of ranking within the Local 3-Pack for relevant keywords. Our local SEO and reputation management tool, DataPins, empowers businesses to showcase their best work with check-ins and gain credit for it through search visibility. 
Exclusive leads possess more significant value than shared leads because of the higher chances of closing and repeat business. Instead of using a 3rd party lead broker who gains credit for your services, it's best to invest in your brand online.
Choosing to work with Contractor Webmasters is a show of faith in your services since our goal is to empower your brand and create sustainable ROI for your business in the long term.