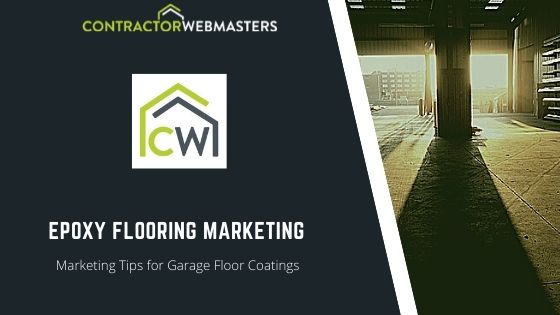 When you got into the specialty flooring business, you may have thought you wouldn't have to deal with a lot of competition. That may be true in smaller markets. But you may be up against some stiff competition in your market. So how do you get your business to stand out among giants?
Crafty marketing techniques designed especially for niche markets like epoxy flooring contractors get results. Epoxy flooring marketing requires some creativity because you will need to draw people's attention by looking for particular types of service. You have to consider your likely clientele and cater to their habits carefully.
If you are new to epoxy flooring marketing, don't worry. You have come to the right place. Today Contractor Webmasters will share some epoxy flooring marketing tips to help your business stand out.
Tip #1 – Focus on Client Needs
Ultimately, marketing your company will mean advertising it. To effectively promote your business, you will need to speak to the needs of your clientele. Think about the jobs you have been on in the past. Think of what your customers told you they wanted. Think about some of the questions they had for you before, during, and after completing the project.
These are the needs and concerns you will want to focus on as you market and advertise to your clients. For example, as an epoxy flooring contractor, you may cater to:
Homeowners: Homeowners tend to need epoxy flooring services for their garages – either to redo an old, ugly, and stained floor for a renovation or to turn their garage into a dedicated space of some kind.
Business Owners: Business owners will need to make their space functional, safe, and maybe even attractive to customers.
Both: Pretty self-explanatory (see both points above)
Any marketing or advertising efforts you make need to focus on conveying to your clientele that you can fulfill the needs we talked about above.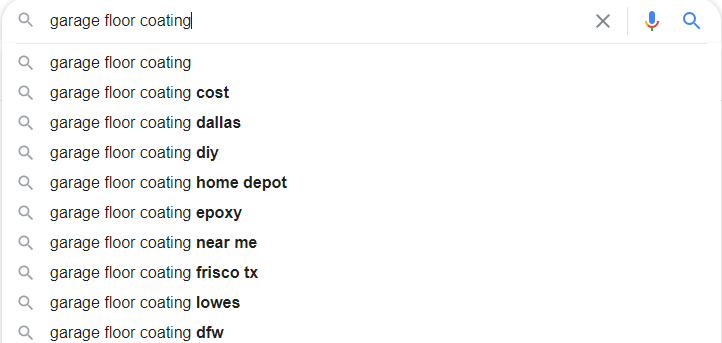 Tip #2 – Emphasize Local SEO
Local SEO is one of the most critical aspects of epoxy flooring marketing because, after all, your business is a local one. Focusing on local consumers ensures a properly allocated budget. Local SEO is a powerful strategy for home and business service companies in the digital age.
Consider the following statistic: over two years, Google saw a 900% increase in the frequency of "near me" searches. The frequency with which people are taking to the internet to find local businesses and products is immense.
Local SEO is so essential for epoxy flooring marketing. The first place to start is Google My Business. Go to Google My Business, claim your business and set up your profile as completely as possible. An optimized GMB listing will help you rank in the local map 3-pack, which dominates the local search rankings. 
Include locally-oriented longtail keywords in your website copy as well. Keywords like "Epoxy flooring in Macon, Georgia" and "Polyaspartic flooring in Mobile, Alabama" are good examples of local intent longtail keywords.
Ensuring you have external links on the websites of other local companies, suppliers, and hardware retailers is also a grass-roots method of local digital marketing.
Local SEO is an essential component of floor coating marketing, with Google Business Profile being the primary tool to help you acquire nearby customers.
Tip #3 – Content Marketing
Not a lot of people know the ins and outs of epoxy flooring. Content marketing is an excellent way to:
A) Educate people on what epoxy flooring is and how it can improve their properties
B) Market your business in a manner that doesn't seem like marketing at all
Most people prefer to learn about a business through content marketing like blog posts than by traditional advertising. In one study, 60% of consumers reported that a blog influenced their purchasing decision. 
The takeaway: start an epoxy flooring blog! You can publish it right on your website. Blogs aren't the only means of content marketing, though. People are increasingly becoming visual learners, so it is also beneficial to have video content on your site and your social media outlets. "How-to" videos are viral. You can post videos that educate people on how to properly clean/maintain epoxy flooring or inspire them to redo their flooring.
Tip #4 – Have A Great Website
Your website is your most valuable tool in epoxy flooring marketing. When done right, your website will garner epoxy flooring leads every month. But what makes a good epoxy flooring website? Here are a few of the essential elements:
High-Quality Pictures: Again, people are visual learners. They want to see what you are capable of and what you can do for their properties.
Easy Navigation: If your visitors can't get the info they need because your website is too complex, they will certainly click on a competitor's site. For easy navigation, utilize a flat website architecture to allow visitors to access the pages they need in 4 clicks or less. 
Quality Copy: All the copy on your website should be well-written and education or sales-oriented. There should be absolutely no plagiarism and nothing but accurate information.
A great website provides an outstanding user experience through simple navigation, high-quality content, and unique and relevant images.
Effective Marketing for Your Epoxy Flooring Business
When you need the help of a professional, why wouldn't you want someone who has experience in marketing epoxy flooring businesses? That is the kind of experience and expertise we can provide you with here at Contractor Webmasters.
We have successfully marketed epoxy flooring businesses in their local markets, and we can do the same for you. We offer a full range of marketing services like PPC advertising, content writing, and local SEO, so jumpstart your business today.