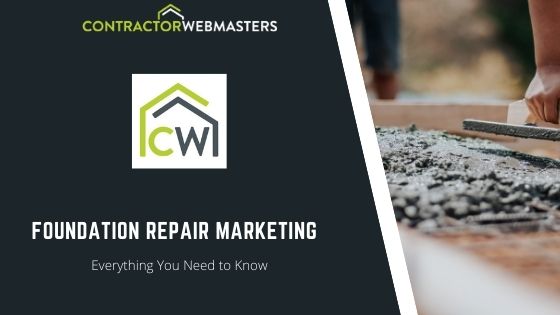 Foundation repair marketing is critical to your business success in 2023. Digital marketing is the backbone of any successful business, and home services are no exception. In fact, the home service and construction industries are especially reliant on effective digital marketing for a couple of reasons:
These industries are highly competitive
They are locally focused businesses that hinge on making the local market aware of their services
Foundation repair marketing can go a long way for both of these factors. They can help you stand out amongst your competition and increase your company's brand awareness in your local market. The following guide will go over some of the key elements of foundation repair marketing you need to implement.
Contractor Webmasters will cover some topics you may not be familiar with, and we will do our best to explain them plainly. But if at any time you have questions or want to learn more about how digital marketing can grow your foundation repair business, give us a shout.
Google Business Profile
In 2023, Google My Business is still one of the most important digital marketing platforms. And the reason for this is simple: it's a Google platform. Google, far and away, owns the lion's share of the search engine market with a 92% usage rate. The next closest competitor is Bing, at a paltry 2.6%. 
So it's clear that a ton of people are using Google. And, of course, it's only natural that Google prioritizes its own services and platforms above all others. That's why Google My Business listings tend to appear at the top of most Search Engine Results Pages.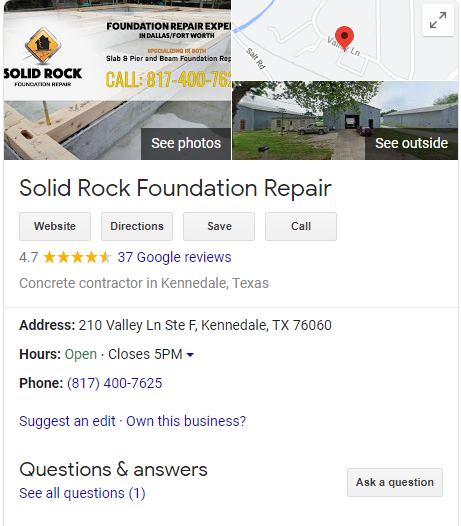 Having a Google Business Profile will allow you to appear in the Google Map Pack. And why is that important to note? Because the local map pack is indexed in the top spot of Search Engine Results Pages 93% of the time, a local search is performed. And remember, foundation repair is a local business.
Review Generation
It's no secret that online reviews are a hot commodity in the digital age. Without customer reviews, your business is likely to flounder. That's why getting reviews for your foundation repair business is so important. We recommend our clients use a reputation management tool to generate more foundation repair leads and automate the process.
For instance, we use DataPins, which helps garner more reviews for clients automatically, prioritizes the most important platforms based on the client's industry, and helps consolidate reviews across all platforms.
But you should still be hitting the street to drum up reviews even if you aren't using a reputation management tool. Consider creating a script for yourself and your employees to use when asking for reviews from customers.
Getting your Google Review link and posting it on your website, social media pages, and in your emails makes it easier for customers to leave reviews.
Email Marketing
Email marketing is still wildly successful in 2023. But it's important to know what kind of emails to send to different people on your email list. People who may be interested in foundation repairs want to hear about the benefits of the service and what you can offer them. 
People who have already used your services will want to keep up with any other services you offer or promotions you run. But how do you even get people on your email list? Here are a few tips:
Offer Resources: Share your insider knowledge of foundation repair and other home repair services in exchange for contact information. Create a whitepaper for people to download in exchange for their email addresses.
Online Appointments: You should use an online appointment booking plugin on your website because it makes things easier for your customers and is a great way to drum up an email list.
Ask Customers: When you service customers or estimate, you likely have them fill out an invoice or other type of form. Ensure there is a space for them to leave their email address and correctly categorize each address with the type of customer you served.
Content Marketing
Content marketing effectively boosts your search engine rankings and establishes your business as an authority in your field. Content marketing is one of the most crucial elements of digital marketing in 2023, as traditional advertising is slowly but surely going the way of the Dodo. 
It seems like a daunting concept, but you can simplify content marketing. Consider the following:
Starting a Blog: As a foundation repair specialist, you probably know things like how to spot foundation damage, protect your foundation, and what to do at the first sign of foundation damage. All of those topics would make great blog posts. Turn your expertise into valuable content that will make your website more visible.
Video Content: Posting regular YouTube videos on an official company page can also help with foundation repair SEO. You can take topics from your blog and turn them into short videos that show viewers what to look for, what to do when foundation damage occurs, and so forth.
Guest Posts: Guest blog posts are a great way to drum up more content and get more external links for your site. Chances are you know other contractors, so reach out to them with a link exchange proposition. Create a blog with a link to your site to give to a colleague. You can, in turn, post a blog that they wrote on your site.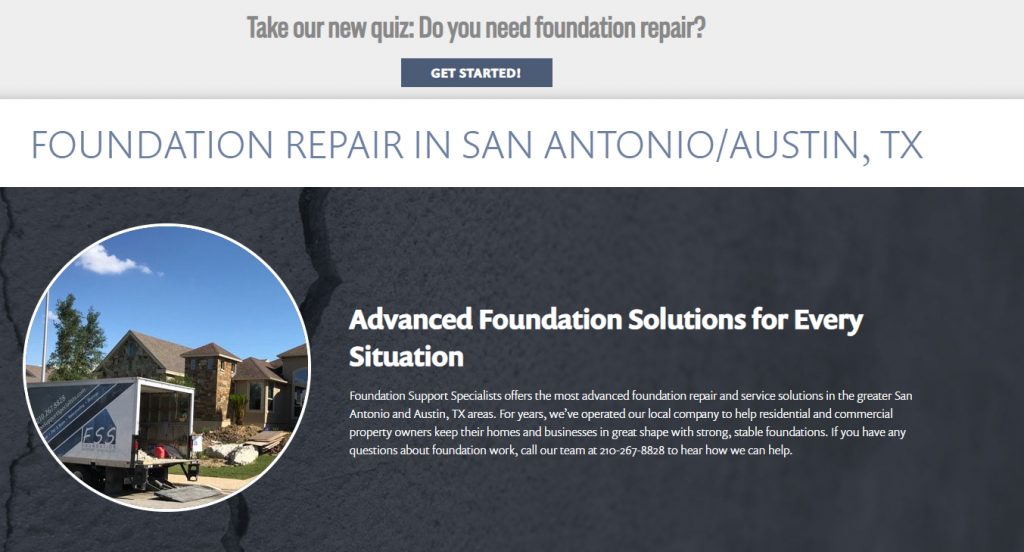 Google's recent Helpful Content Update places a higher standard on website content like blog posts and articles. As a result, make sure your foundation repair content adds legitimate value to readers.
Retargeting Ads
Retargeting, sometimes called remarketing, is the process of tracking people who visited your site but didn't take action (made a purchase, scheduled an appointment, etc.) and ensuring that they see your ads elsewhere on the internet.
This is a very successful digital marketing tactic in 2023. In fact, retargeting ads help convert customers 43% of the time as opposed to not retargeting. 
And setting up a retargeting ad campaign isn't as hard as you might think. Multiple platforms offer this service, including Facebook and Google. The tricky part is crafting effective ads. For example, you should note which pages on your website your ad targets have visited and have an ad specifically for that page or service.
Special discounts on specific services are an effective way to go. For example, if someone visited your page for a foundation leak inspection, you could retarget them with a special discount on this service. Offering a discount is better than not getting the business at all.
Foundation Repair Marketing Company
Contractor Webmasters is a foundation repair marketing company with 11 years of experience. We've designed thousands of websites and helped foundation repair companies rank on Google search results. Our in-house software, DataPins, allows contractors to rank for local long-tail keywords while showcasing recent jobs throughout various service areas. Our unique expertise in this space allows us to present valuable insights for marketing your business in 2023.