When it comes to window and door SEO, you must ask yourself one crucial question: can your target customers find you online? Don't panic if you haven't mastered your internet presence and digital marketing efforts. 
2023 is the perfect time to invest in window and door SEO services. But before you decide to invest in search engine optimization, you should understand its benefits and applications.
That's why Contractor Webmasters put together the following guide. In it, you will learn the essentials of SEO for window and door companies, and we will outline specific ways to generate more customers online in 2023. 
Step 1: Audit your Website
Window and door SEO starts with a robust website. Your website is your most powerful marketing tool. A domain name with hosting and indexing feeds other digital marketing endeavors and claims internet real estate.
With that in mind, it is vital to audit your existing website to identify strengths and weaknesses and especially areas for improvement. For example, is your website indexed on Google? Is your site SEO-friendly?
You will likely have to hire someone to manage your website if you invest in SEO. But here are some of the basic web design principles to consider:
Site Structure
Your website should present information in as few clicks as possible. On average, a person spends 45 seconds on any website before clicking through to another one. Therefore, it is crucial to provide a good site structure to keep visitors engaged.
Create parent pages and child pages to represent primary services and sub-topics. You will outline your structure based on keyword research. Ultimately, your website needs must clearly offer information, phone number, services, service areas, etc.
Speed and Security
If your website takes forever to load, customers won't wait around. Again, they'll simply click to another site. So your website should be fast and should have an SSL certificate.
If you've ever landed on a non-secure website, your browser showcased a warning message, resulting in you exiting the site immediately. Nobody wants viruses on their computer, and a massive warning sign blocking your website is the fastest way to prevent consistent visitors.
Keyword Targets
Your on-page website content should also include keywords that will help improve your rankings. Start by doing keyword research to find out which hottest keywords people are using to look for your services.
Then be sure to strategically add those keywords to your written content. Often, pages cannibalize each other for the same keywords and phrases. Therefore, it is crucial to optimize your keyword targeting by assigning a group of keywords to a specific page or blog post.
Step 2: Off-Site Optimization
Once your own website is in order, it's time to establish your company across the world wide web. Off-site optimization helps drive traffic to your website and shows essential online signals for your business.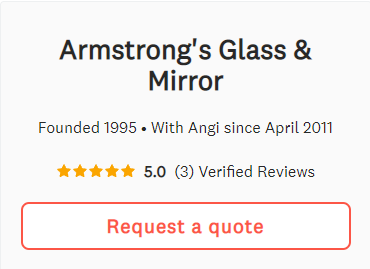 With a litany of digital platforms capturing the eyes of potential customers, staking your claim on popular directories and social media networks helps spark brand awareness while strengthing your website.
Link Building
Window and door websites need backlinks to rank on Google search. There are two primary types of backlinks which are follow and nofollow. Nofollow backlinks come from directories and social media profiles, while follow backlinks come from other independent websites.
For local businesses, nofollow links can really help optimize your website. But, of course, follow links still hold more excellent value because Google views them as endorsements rather than merely ranking hints. So it is wise to perform outreach for a healthy mixture of backlinks in either case.
Reach out to your suppliers and ask them to include a link to your site. Do the same for any professional clubs or networks you may be a part of. Claim your business on all relevant review websites like Angi, Yelp, and Houzz.
Social Media
Social media is also a powerful tool for window and door SEO. Be present on all platforms, and be sure to post fresh content at least a couple of times a week. Facebook, Instagram, TikTok, and YouTube are essential networks.
Be sure to link to your website from each of your social profiles. You can also utilize YouTube videos directly on your primary website with YouTube embeds. WordPress makes it simple to embed a YouTube video onto a web page or blog post.
Facebook is one of the most important social media platforms for window and door companies because it also serves as a review website. Users can leave Facebook Recommendations for your bsuiness, which sheds either positive or negative light on your company.
Email Marketing
Email is one of the most underrated digital marketing platforms for window and door contractors. You can strengthen your SEO efforts by remarketing to website visitors via email blasts.
Be sure to capture emails on your website by providing a value proposition and lead magnet. For example, a pop-up offers a free discount code in exchange for the visitor's email address. Once you have their email, you can send them blog posts and offers, which increases website traffic.
As you craft campaigns for your email list, try developing email content specific to the service the recipient paid for or was asking about. Email marketing tools like AWeber allow you to segment subscribers into different categories for hyper-targeting.
Step 3: Local Optimization
Local SEO is an off-site SEO element that deserves its own singular focus. Window and door companies will garner most of their traffic from local users, ultimately producing the best leads and potential customers.
Google presents a SERP feature called the Local 3-Pack for location-specific queries like door repair near me or window repair near me. The 3-Pack showcases three Google My Business listings that meet the searcher's need based on relevance, prominence, and proximity.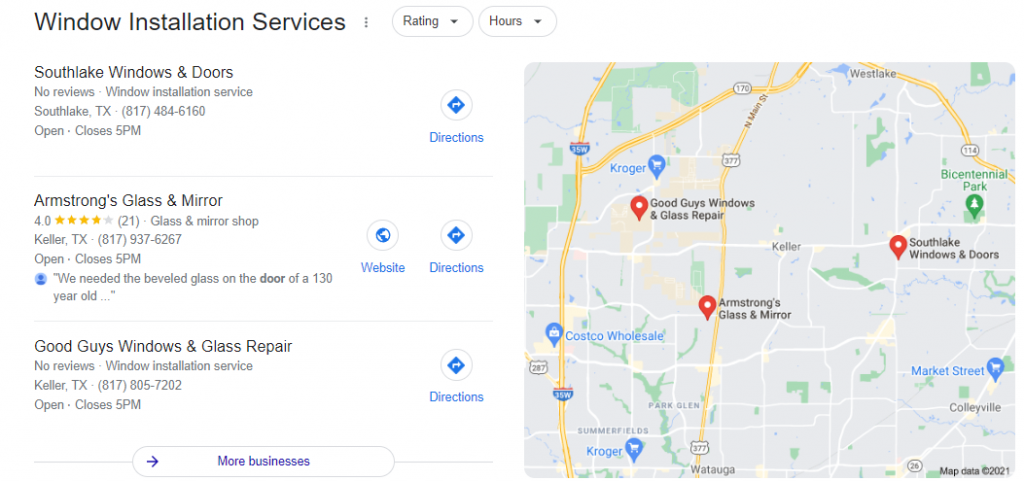 Google My Business
Local SEO for window and door businesses stems from the Google My Business. You cannot even rank in the Map Pack without a GBP, so claiming and optimizing your profile is essential.
Once you claim your Google My Business listing, optimizing it with accurate contact information, high-quality images, and a link to your primary website is crucial. You can even add FAQ answers and publish Google Posts.
Finally, generating consistent Google reviews helps build prominence for your business profile. Furthermore, when users submit reviews with keywords like door repair, you have a better chance to rank locally.
NAP Citations
Google My Business is the most critical citation but one of many that window and door contractors should join. Consider platforms like Yelp, Angi, Houzz, and HomeAdvisor as other options for your business.
Showcasing consistent contact information is vital for digital uniformity and SEO in general. Of course, you always want accurate contact information if a user attempts to contact you through a 3rd-party platform.
Most online directories allow users to provide feedback, making monitoring each of your citations essential. Remember, each website URL link serves as a nofollow backlink to your primary website, so the more citations, the better.
Reviews / Reputation Management
Getting your customers to submit a digital review can be challenging, especially for older clients. Therefore, it is crucial to invest in a reputation management tool like DataPins, which sends automated review requests with direct links to the review page.
Reviews are the most critical element of your online reputation but not the only factor. Social proof is another consideration when establishing online credibility. Showcasing badges and awards on your website is an excellent example of social proof.
Finally, city and location pages are crucial for expanding reputation through various service areas. For example, your company may have a strong presence in Seattle, WA, but getting feedback from Spokane can help widen your sphere of influence.
Step 4: Content Marketing
There's a saying in the SEO industry; content is king. Every aspect of your SEO campaign will require high-quality content from your website to your Facebook business page. The key is producing consistent, quality content to distribute across various platforms.
Content drives traffic to your website and earns your business more leads. As a result, marketing experts invest tremendous time and effort into content marketing. Ultimately, content marketing increases web traffic and sales.
Excess content like blog posts can be a ranking deterrent rather than asset. As a result, you must focus on content quality over quantity.
Website Content
Your website primarily features pages and posts that call for different content pieces. For example, a service page should be about 700 words and attempt to convert website visitors with strategically placed CTAs.
Conversely, a blog post will represent a different part of your marketing funnel and provide long-form content around an informational query. For example, how to install replacement windows calls for a step-by-step guide.
While informational queries are less likely to produce immediate sales, they enter the user into a long-term funnel to exchange their email address for a content asset. So even if someone thinks they can manually install windows, they are likely to eventually need your help.
Social Content
On-site content is the most critical for SEO. Still, you also need off-site content to fill your social media profiles and other off-page platforms. For example, YouTube, TikTok, and Instagram all require visual-based content.
Aside from images and videos, you will also need exclusive content for your Google My Business listing and Facebook. Of course, you can also repurpose your blog posts to share on Facebook and Twitter.
It's critical to produce content with a consistent theme to generate as many leads on as many platforms as possible. In addition, consistent messaging helps establish your brand and lends credibility to your business.
Email Content
Email campaigns often require a specific content style that appeals to email subscribers. Unlike long-form website blog posts, the best emails are short and easy to consume.
Emails should also focus primarily on conversions as the subscriber has already demonstrated previous interest in your services. Offering a discount or promotion with a contact button is an excellent way to get leads.
Remember, segmentation is crucial with email lists. As a result, you will want to craft specific content for particular groups. For example, you can separate email content by demographics like age, region, and specific interests.
Final Thoughts on Window and Door SEO
Window and Door SEO is the most efficient way to generate leads for your business in 2023. Claiming and optimizing your Google My Business listing and optimizing your company websites can foster consistent high-quality leads from search engines. Best of all, SEO is a sustainable strategy that continually produces low-cost leads for window and door companies.