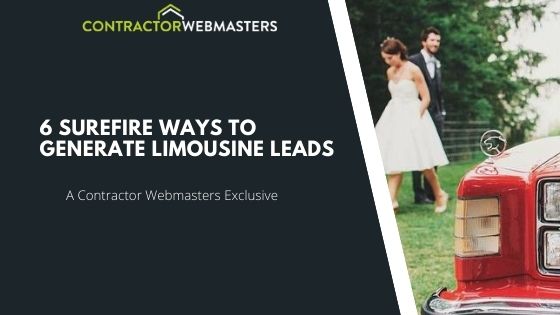 Limo service leads are vital to any type of limousine business. Leads help you generate organic revenue and are much less expensive than purchasing traditional advertising space. For those unfamiliar with the terminology, lead generation is a form of customer acquisition that attracts prospective clients.
What are Limo Leads?
Limo leads are prospective customers who demonstrate an initial interest in your services. The individual can show their interest by calling your business number, submitting a contact form on your website, or reaching out via Google Business Profile.
Lead Generation Methods for Limousine Services
In the following post, Contractor Webmasters shares six effective tactics that we have personally seen work for limousine company lead generation. Here are Contractor Webmasters; we work in various industries, and we know which strategies work and which don't.
1) Organic SEO
By far, the most effective method for generating limousine leads is investing in organic SEO for limo drivers. Your best friend when it comes to finding customers is Google. That's because 46% of all Google searches are for local businesses. That's almost half of the average 5.6 billion Google searches conducted daily!
Ok, we did the math for you. That comes out to 2,576,000,000 searches for local businesses every day. SEO will get you noticed by more of those local business searches. And someone who is conducting a local search for limousine service definitely qualifies as a lead.
2) Pay Per Click
Pay-per-click marketing is a form of paid advertising. This method will cost a small fee every time your ad is clicked on. The main advantage of pay-per-click marketing is that search engines will place your link at the top of relevant searches no matter how optimized your website may be. In that sense, it is a form of inorganic lead generation.
But why is it important just to have your link placed at the top of search engine results pages? Because the top 3 results hog 75% of all clicks on search engine results pages. That means more eyes on your website, more leads, and more chances for sales conversion.
3) Social Media
In the digital age, you can't afford not to have your business on Facebook and Instagram. Aside from sharing pictures of cats, social media platforms present a valuable limousine leads generation opportunity. Think of social media as a means to connect with existing leads and to get non-leads interested in renting a limo.
Pictures of smiling teens at prom in front of one of your limos are a great way to say to non-leads, "a limo is a great way to make memories." Post videos of events that you have provided limo transport for on Instagram. Engage people on Facebook with questions like "what would your ideal wedding be?"
While not everyone will be in the market for a limo transport service at all times, having a strong presence on social media will remind people that you can provide that service when the time comes.
4) Yelp
Yelp and other review sites are crucial for limousine transport company lead generation. Limousine service is a customer service-oriented business. And people look to reviews now more than ever to inform them which businesses are worth the trouble.
Make sure you claim your business on Yelp, Google Business Profile, Bing for Business, and other review websites so that people can see what kind of service they can expect from you.
5) Trade Shows
Yes, trade shows are still a great way to generate leads, even in the digital age. Trade shows are especially lucrative for B2B (business-to-business) lead generation. In fact, trade shows are the second largest source of B2B revenue generation.
A transportation or hospitality industry trade show is a great opportunity for potential leads to putting a face to your business and for you to get lucrative contracts from other businesses. Trade shows are also helpful because, as far as the transportation industry goes, no one attends one who isn't in the market in some form or another.
6 ) Local Networking
If you are new in town, make sure you look up every local high school, wedding planning company, and winery in the area. Make some facetime with them and let them know that your services are available to their students, clients, and patrons. Ask if you could leave business cards at their front desks and be sure to hand out as much literature as possible.
Get Airport Limo Leads from Contractor Webmasters
With digital marketing services from Contractor Webmasters, you can make the most of your marketing dollars and generate your own airport limo leads. These leads are exclusive to your business and create a sustainable streamline of customers. Invest in your limo company's long-term future with a full-service marketing agency that caters to your specific needs.
Let's say; for example, you have just started your limousine transport business. You want to tell as many people in your city that you are available for fabulous rides. You spend $500 distributing leaflets and direct mailers to everyone in the city. But only half of those people would ever be interested in limousine service in the first place. That means that $250 of the money you spent went to waste.
Hiring professionals is a wise decision. We can streamline all your digital marketing efforts to generate the most limousine leads. Our services include local SEO, web content, and more. You pay month-to-month and are never tied into a long-term contract.