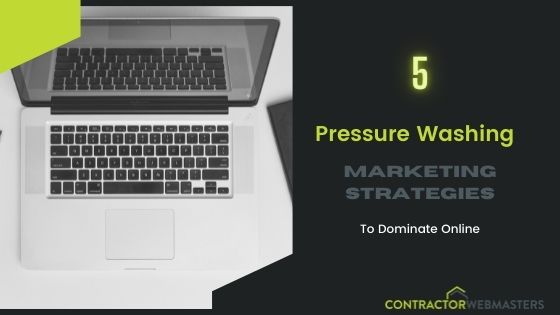 Suppose you want a leg up on the competition in 2022. In that case, you need to start thinking about revamping your pressure washing marketing strategies.
The thing is, SEO and digital marketing are constantly shifting because of Google algorithm updates. Technology and consumer trends also have a lot to do with the seemingly ever-shifting terrain of digital marketing.
Nonetheless, it's still an essential factor to address because more people are taking to the internet to find contractor services like pressure washing than ever before. So you need to be visible where your customers are.
If you already have a solid marketing strategy in place, with systems like pressure washing SEO, that's a good start. However, there is always room for improvement – and if you don't have a process in place, the time to hatch one up is now.
In the following post, Contractor Webmasters details some solid pressure washing marketing strategies for 2022.
1) Add Content to your Website
Of course, in 2022, you absolutely need a good website if you want to drum up any significant business. In fact, that's been true since the turn of the millennium. However, it's no longer enough to have an excellent website; you have to have quality content to fill it with. Therefore, content marketing is a massive part of digital marketing and SEO.
One of the easiest and most effective methods of content marketing is blogging. And the good news is that as a pressure washing contractor, you already know many things related to the industry that other people will find helpful. So what we are driving here is that you should start a pressure washing blog for your website if you don't already have one.
It's not uncommon for websites with a blog to attract 55% more customers than sites that don't. However, blogs aren't the only kind of content that can increase your site traffic. There's also:
Pictures: A website with a good amount of high-quality photos is more attractive to the Google algorithm. It will help get your site indexed more often.
Infographics: Many people are visual learners. Infographics put digestible pieces of important information in image form. Infographics are a great way to attract people to your site.
Videos: Having a video tutorial on your site is seldom a bad idea (just be sure not to give away any trade secrets). Videos that display your services in action are also excellent pressure washing marketing strategies.
2) Marketing Via Email
Many professional marketers consider email marketing one of their most potent weapons. Email marketing allows you to target customers who have already expressed interest in your company or your services. Think about it; you generate email marketing lists by rounding up the people who have contacted your company or reached out for more information.
So it stands to reason that these people are ready to hire or can be moved along the sales funnel. This is where email marketing comes in. Let's take a look at the most critical email marketing factors:
Generating a List: To start an email marketing campaign, you need to have people to email, right? There are a few ways to create an email marketing list. One is to offer a free resources exchange for customer email info. You can also create an email marketing list comprised of customers you have serviced in the past.
Crafting Content: After you have a list, you don't want to simply inundate the inbox of potential and past customers with spammy content. The best email marketing strategies are personalized. Make the content relevant to a service that the person has expressed interest in. Also, don't spam emails. 1-2 emails a week is probably enough for a small pressure washing business.
3) Optimize your Google My Business Page
You do have a Google My Business listing, don't you? If not, drop everything and go claim your business on Google My Business right now. If you do have one, though, you should be aware that it is one of your most valuable marketing tools, so you should optimize it for peak performance. Here are some of the best ways to optimize your Google My Business page:
Include Pictures: Like your website, your Google My Business listing should have plenty of high-quality pictures related to your company, services, and team.
Ensure Consistent NAP Info: Your Google My Business name, phone number, and address should match the information on your website. In addition, this should be done anywhere that your NAP info is listed (Yelp, Houzz, local business community websites, etc.).
Update Consistently: Google likes fresh content. It will be more likely that your GMB listing will be indexed if Google sees that you keep it up to date. You can post new pictures, add more business info, add new services that you offer or update your area's served section regularly.
4) Try PPC
PPC stands for Pay Per Click. It's a form of digital advertising wherein your ads are displayed to various consumers. Still, you don't have to pay the publisher unless someone actually clicks on the ad. We recommend this strategy, especially for contractors who have just started out. PPC is a great way to increase online visibility quickly, so it's a solid choice for new or smaller companies.
We know what you may be thinking, 'I don't have an advertising budget.' But that's the beautiful thing about PPC advertising. You can set your weekly budget, and you won't have to pay a penny more than what you are comfortable with. And as we mentioned earlier, you only pay when someone actually clicks on the ad – in other words, you only pay when the ad is actually driving results.
5) Leverage your Reviews
Reviews are enormous now, and they will continue to be in 2022. That's why one of the best pressure washing marketing strategies in 2022 is to leverage your customer reviews. More than 50% of all consumers read at least one review before making a purchasing decision. So you can use the reviews you already have to get more customers. Start by simply replying to as many reviews as you can – both good and bad. In fact, it's even more important to respond to the bad ones.
The more reviews you have, the better. You can get more reviews by simply asking your customers for them. Explain how critical their reviews are to your business, and you will find that most customers will write a good review. Also, keep a good ratio (you want to be right around the 4.5-4.8 range) of good and bad reviews. Definitely keep more good reviews than bad; just be aware that people tend to distrust businesses with perfect 5-star ratings.
For more information and help with pressure washing marketing strategies, be sure to reach out to us at Contractor Webmasters.