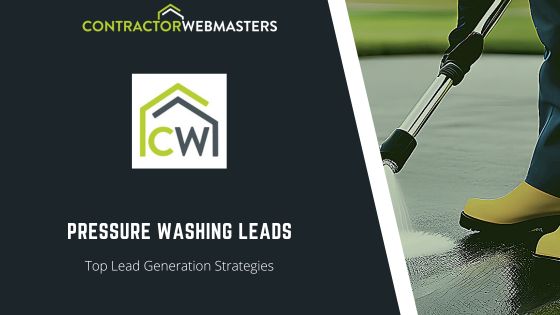 Pressure washing leads are a valuable commodity in 2023. Companies may have to pay Google as much as $9.83 per click to advertise various pressure washing keywords.
The industry is growing with an annual growth rate of 5.7% since 2018, with the market expected to surpass $600 million in the coming years.
However, with over 22,000 active pressure washing companies, there is fierce competition for leads.
Paying Google for clicks is not sustainable because there's an insufficient profit margin. Instead, you'll need more innovative and long-term strategies to secure quality leads for pressure washing in 2023.
---
How To Get Leads for Pressure Washing
SEO
Yard Signs
Referral Networks
Email Marketing
Paid Advertising
---
How To Get Pressure Washing Leads
You can secure pressure washing job leads by combining traditional and modern marketing tactics. At Contractor Webmasters, we'll outline the strategies that produce the most significant ROI for your lead generation investment.
1) Pressure Washing SEO
Sure, "SEO is dead" for companies using obsolete tactics like keyword stuffing and exact match domain buying. However, pressure washing companies that rank on Google receive over 70% of search engine clicks for those keywords.
Since the cost per click of Google Ads is exponentially high, getting these clicks "for free" creates a massive profit margin for the companies succeeding on traditional Google search and the Google Map Pack.
You might wonder how you can compete with so many other companies. But in the pressure washing industry, you only have to win locally. The goal is to rank on the Google Map pack for local pressure washing keywords. You can use a tool called DataPins to maximize the number of queries you rank for.
In addition, you'll want to rank in the top 3 of the traditional organic search results for local keywords. Although SEO for pressure washing can take up to 6 months to produce significant results, the long-term ROI is well worth your effort.
---
---
2) Yard Signs
Some circles may consider yard signs outdated, but they still produce a notable ROI for pressure washers. Since companies work with several homeowners in a single neighborhood, the placement of yard signs can passively multiply your company's leads.
Consider placing yard signs in prime locations like busy intersections and target neighborhoods within your service area. Much like a website, the quality of your signs, especially the call-to-action (CTA), will determine its performance.
Examples of enticing CTAs to include in your yard sign are specialty discounts and limited-time offers. Once you grab the attention of one local customer, it can lead to a referral network that keeps the ball rolling.
3) Referral Networks
The best-case scenario for getting consistent pressure washer leads is to facilitate a growing referral network. The tactics mentioned above can spark the onset of word-of-mouth referrals for your pressure washing company.
Once you get enough goodwill from your existing customers, you can start offering referral discounts and bonuses based on how many new customers someone refers.
Whether it's family members, business acquaintances, or close friends, the extended network of your existing client base is a goldmine for future customers.
4) Email Marketing
Email marketing is one of the most efficient ways to get pressure-washing job leads. You can use a program like AWeber to build, nurture and engage with email subscribers.
Getting new email subscribers is relatively simple if you follow our other lead generation techniques like SEO and referral networks. You can capture your customer's emails in the sign-up process and ask for their consent to receive promotional emails.
You can also grab email addresses from non-customers through your SEO-optimized website. Consider creating a content asset like a comprehensive blog post or an original statistical report.
Once you have an informational content asset that ranks on search engines, you can insert a lead magnet using a plugin like Thrive Leads. When customers enter your website through Google, they are willing to submit their email addresses in exchange for a discount code or a PDF guide.
The average ROI for email marketing is a $36 profit per $1 spent, so the returns are phenomenal. However, these numbers fluctuate based on the quality and volume of your subscriber list. As a result, it's vital to utilize email marketing in partnership with other lead-gen techniques.
5) Paid Advertising
While paid advertising is the least profitable method of acquiring Google leads for pressure washing, other advertising platforms can assist your efforts, primarily when used strategically.
For instance, when used in short spurts, Facebook Ads can cheaply bring new customers to your pressure-washing business. The key is creating an appealing advertisement that quickly converts the Facebook user.
As a result, you must invest in quality graphic design and ad copy and pair them with an urgent call to action. You must then correctly target your audience through their interests and location.
Before using Facebook Ads, check out our Facebook Lead Ads Guide for Contractors.
---
---
source: SEMRush
---
Types of Pressure Washing Leads
Not all pressure washing leads are the same, and the acquisition cost can vary significantly. For example, commercial pressure washing leads are particularly valuable because they are higher-ticket jobs with a higher profit margin. Check out the different types of leads below:
Commercial Pressure Washing Leads
These leads come from commercial businesses that require pressure washing services. They are higher ticket jobs that turn a more significant profit than the residential variety. As a result, the cost per click is higher on Google Ads and other paid advertising models.
However, ranking for commercial pressure washing keywords with SEO remains very feasible. You only have to outperform competitors within your local service areas to reap the rewards of these keywords.
Exclusive Pressure Washing Leads
Exclusive leads come directly to your company without going through another platform or 3rd party. The result is, of course, a lower cost per acquisition, but that's not the only benefit.
Exclusive leads also convert at a higher rate than "shared leads," which further increases their value. Generating exclusive pressure washing leads happens when you establish a robust online presence through SEO.
Free Pressure Washing Leads
Newer companies sometimes seek out "free leads," which can take them down a path of manipulation and deceit. There is no such thing as "free leads for pressure washing" since websites and other marketing materials require a financial investment.
However, in a technical sense, pressure washing companies can get free leads through organic search results. Every time a potential customer clicks on your website through organic search, you pay nothing for that visit. That's as close as you'll get to a free lead.
Local Pressure Washing Leads
In most cases, your company should target local leads, sometimes searched for as "pressure washing leads near me." As a local provider, targeting national keywords will unlikely result in new customers.
Still, some confusion remains about how to get local pressure washer leads. You don't want to buy them from third-party providers. Instead, you want to rank your company on the Google Map Pack, showcasing your Google Business Profile (AKA GMB listing).
Final Thoughts on Pressure Washing Lead Generation
There are several effective ways to generate pressure washing leads in 2023. However, thinking about long-term sustainability is essential when approaching lead generation techniques.
Buying leads from 3rd parties is a flawed strategy and is unlikely to result in long-term business growth. The same applies to relying solely on PPC Google Ads to get new customers.
Instead, it would be best to focus on SEO, yard signs, email marketing, and referral networks when streamlining your lead generation process. Once you refine your operations, you'll be happy with the results.