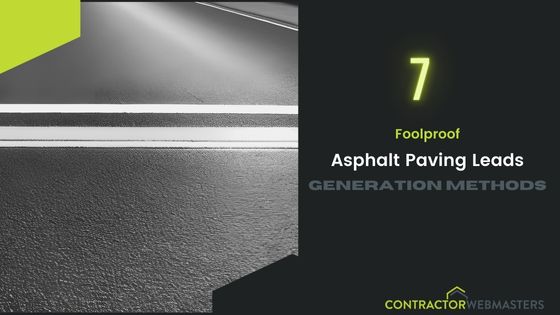 Generating asphalt paving leads is an essential component of a successful business. However, in a saturated industry, lead generation can be a challenge. At Contractor Webmasters, we've launched dozens of effective lead-generation campaigns for asphalt and paving contractors. Check out our seven surefire ways to get asphalt paving leads in 2023.
1) Publish a Lead Generation Website
Your asphalt paving website should be your top lead generation source in 2023. However, if your website is not generating leads, it is not crafted adequately for lead generation. For example, it may lack a call-to-action like a phone number or contact submission form. More commonly, your website may need to be optimized for search engines with SEO and content marketing. Both must be addressed before you can start consistently getting high-quality leads.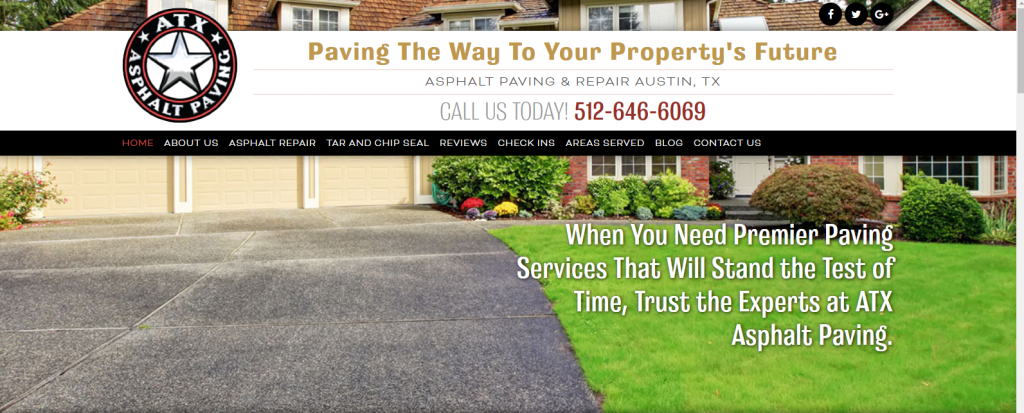 Avoid creating doorway sites that exist only for "leads" and focus instead on showcasing your real brand and company.
2) Claim and Optimize Your Google My Business Listing
One of the most untapped lead sources is Google Maps, specifically the Google Map 3-Pack. The 3-Pack appears on SERPs for local queries like asphalt paving contractor near me. To be eligible to rank on Google Maps, you need a Google My Business listing, AKA Google Business Profile. Once you claim your listing and verify your address via postcard, you should optimize your listing by adding service types, unique photos, and up-to-date contact information.
3) Get Google Reviews and Showcase Them
Reputation heavily influences conversion rates, making Google reviews an essential component of lead generation. When users find your business on Google Search or Google Maps, they check out your reviews before deciding to go with your company. Suppose you lack enough reviews to garner credibility (less than 10) or have dozens of negative reviews. In that case, users will move on to the next option.
You can generate more Google reviews using a Local SEO tool like DataPins to automate requests. From there, you should showcase your Google reviews directly on your company website via an API slider. Luckily, DataPins also comes with an API slider, so it helps you get more Google reviews and allows you to showcase them on your site.
4) Utilize Email Marketing and Segmentation
Use an email marketing platform like Aweber to segment subscribers by specific interests. Of course, the first step is building your email list in the first place. Aside from gathering emails from existing customers, you can also acquire emails from users at the top of the funnel who are still waiting to buy. 
The best way to get new subscribers is to build a content asset on your website and create a value proposition. For example, a form with a downloadable guide to the best types of asphalt is something users can download in exchange for their email addresses. You can use AWeber to create your HTML form or a WordPress plugin like Thrive Leads to create popup forms based on website URLs.
An email list serves as a long-term asset as you can leverage new marketing campaigns immediately by sending targeted email blasts.
5) Join Local and Industry Associations
We noted reviews as a great way to build your company's reputation. Still, another method is to join associations in your industry and region. For example, the National Asphalt Pavement Association (NAPA) is a great platform to become a member. In addition, depending on your location, you can join local institutions like the Chamber of Commerce. Remember that these memberships should result in a link to your website on the respective membership pages.
6) Start an Industry-Related Podcast
Podcasts are an increasingly popular medium and allow creators to distribute content on multiple platforms, from Spotify to YouTube. For example, an asphalt paving contractor podcast would fill a need and likely garner significant attention from listeners. Furthermore, it would allow you to plug your company and other brands without paying for ad space on another person's podcast. To learn more about starting a podcast, check out this guide from Buzzsprout.
7) Run Asphalt Paving Facebook Ads
Paid ads should be a lead-generation accelerator rather than something you rely on as your primary source of leads. The reason for this is that advertising is expensive. However, Facebook Ads can still be a profitable ad platform because of the refined targeting metrics and the ability to engage prospective customers with high-quality visuals. Learn more about Facebook Lead Ads for contractors from Contractor Webmasters.
Final Thoughts on Asphalt Paving Leads
While it's tempting to buy asphalt paving leads from 3rd party providers, this behavior keeps you in the gig economy and prevents sustainable business growth. Furthermore, purchased leads are typically "shared," which means the prospect's contact information is given to multiple contractors. You can avoid these headaches by creating a branded lead generation process through a website, GMB listing, email marketing, and Facebook Ads campaign.