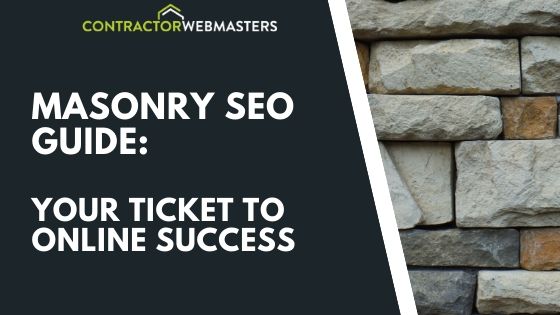 What is Masonry SEO?
Masonry SEO is a series of digital marketing efforts aimed to increase visibility and ranking position on Google search engine results for concrete and masonry businesses. SEO tasks include technical optimization, on-page SEO, content editing, keyword placement, and Google Business Profile optimization.
The Importance of SEO in The Masonry Industry
In an industry like masonry, it is important for your business to stand out amongst the competitors in your industry. This can be difficult as most masonry companies offer similar services. The key is to make certain that your website is properly optimized.
SEO has changed how businesses of all sizes compete for that all-important website traffic. How has SEO managed to do this? Through local SEO.
Local SEO allows businesses to target specific keywords with what is known as "local intent" – that is, users within a specific geographic location search for those keywords. This allows businesses within that geographic range to strengthen their foothold thanks to keywords in that location.
There are a few keys to gaining a foothold in local SEO rankings. This guide will briefly overview what you can do to strengthen your masonry business's reach in the local SEO game.
Improve UX (User Experience)
Before we get into it, you need a deeper understanding of what Google is here to do. Like any other search engine, its primary goal is to show the best results for any user's query. Think about it: if Google produces irrelevant or low-quality results, those users are unlikely to return to that search engine.
If your website doesn't have a high enough quality to it, you will have a very difficult time ranking for your target keywords. Various factors go into having a website of the highest quality; consider all of those factors while trying to rank for your target keywords.
Increase Site Speed
One of the things that can really hamper a website is having less than-optimal loading speeds. And guess what? That doesn't even mean that your website is necessarily slow; it just is slower than customers want.
Most users will move on to another website if your website speed is over a few seconds. Also, site speed is one of the ranking factors in Google's search engine algorithm. An emphasis has been put on site speed that reaches all platforms, including mobile.
Best of all, Google offers several different tools to help you improve the overall speed of your website. This includes PageSpeed Insights to help developers improve their overall site performance, Think with Google to help gauge the responsiveness of your website, and several different things.
Optimize for Voice Search
You might not have realized that an estimated 50% of all searches will be conducted by voice within the next year. That means millions upon millions of people are not typing their queries in Google; they are using voice-assisted technology to do that job for you.
This means that it should absolutely play a factor in your masonry SEO strategy. Voice searchers tend to have different habits than text searchers. The devices they use – Siri, Google Home, Amazon Alexa – will take data from SERPs to replay information from featured snippets as their answer of choice.
The biggest difference between a text search and a voice search is that the latter tends to be question-based in nature. That's why you want to answer questions on your website. One in six Americans now owns a smart speaker. That means more question-based queries are made to search engines.
You can optimize your website by tailoring your content around long-tail keywords. Voice searchers generally use long-tail keywords when they are searching for information through Google; these terms are generally at least 3 or more words in length as well.
To have a shot at ranking for longer keywords, you need to create the kind of content that targets them on your website. Use a few processes to achieve this. Try identifying one long-tail keyword and then find 2-5 others.
When you have done this, write a long-form blog post that is informative and authoritative. Remember to format the content for readability properly to hit all the key checkmarks and ensure you promote all that content as best you can.
Publish Great Content
It cannot be emphasized enough just how important quality content is to masonry SEO rankings. For good reason, content is one of the most important aspects of Google's search engine rankings algorithm.
You can create informative content that answers commonly asked questions from your target audience. Creating a blog through your website is perhaps the most important thing that you can do for your website.
This gives your audience a definitive place to find answers to their questions. Most importantly, it builds trust in your brand. Trust is one of the most important aspects of marketing and one of the biggest challenges brands face in appealing to their audience.
Google recognizes quality content above nearly all other search ranking factors. If your website consistently delivers quality, relatable, and informative content, it will greatly improve your website's ranking.
Produce Self-Made Videos
One of the fastest-rising trends in SEO is video content. This is because it is optimized not only for search engines but for YouTube as well. And YouTube generates 3 billion searches per month, which surpasses Yahoo, AOL, and Bing combined.
Best of all, creating engaging videos is easier and more cost-effective than ever. Smartphones are equipped with high-quality cameras that allow you to regularly shoot informative and interesting videos for your website.
Implementing videos into your marketing strategy means that you can significantly impact the amount of traffic that your website sees each month. This can be done by tagging the proper keywords, adding meta descriptions, and crafting a compelling video title.
All of these processes can help you properly optimize your website so that your local masonry business can compete in the digital marketing platform. A strong SEO game will keep your business relevant for a long time to come.
Contractor Webmasters Solutions
If you require assistance with your digital marketing campaign, consider investing in contractor SEO from Contractor Webmasters. As a leading SEO firm for contractors, we've developed and optimized countless websites and business listings for premium search engine results.
Our process is all-encompassing: we develop your website from scratch with custom code, create original high-quality content, and manage local business listings, including GMB. You can check out an example of our Masonry SEO case study to get a feel for what our services can do for your business.