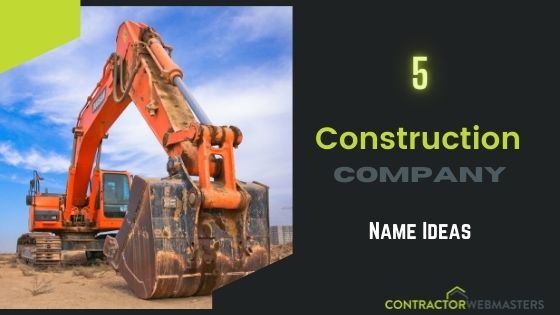 Your general contractor company name needs to not only stand out to people but also convey the qualities of your business that set it apart. Your construction company name speaks to the values of your company.
It turns out that a name is important, especially true if you are trying to come up with a name for your new contractor company or want to re-brand your existing one.
It could be catchy, speak to the professionalism of your work, or even promote an area of construction expertise. But, of course, it all depends on how you want to brand yourself.
So, before we get into our list of construction company names, ask yourself this question:
What do you want people to think when they hear your company name?
Once you have a firm answer to the question, look at our updated list of general contractor name ideas.
1) Make it Millennial
While millennials lag behind their predecessors regarding homeownership rates, they are still the fastest-growing group to enter the housing market. So if you are a new construction company looking to tap into this ever-expanding market, try thinking of a name that will appeal to millennials.
Millennials tend to gravitate toward esoteric company names that may not necessarily indicate what the company does. To appeal to the millennials, consider slightly vague and alluring names like:
Sun & Moon Construction
Rhinoceros Builders
Down Home Services
Purple Construction
Twin Sands
Omega Building
Modern Homes
Emerald LLC
2) Alliteration is Alright
One of the best things your company name can do for you is to stick in the minds of your customers. One of the best ways to firmly implant your company name into customers' minds is to use alliteration (a name that includes words with the same beginning letters or sounds).
Alliteration can be a powerful tactic because it can help with brand recognition. Brand recognition is synonymous with brand recall or a customer's ability to remember a company's name. Alliteration makes it easier for people to remember your company name, which builds brand recognition.
So why is brand recognition so important anyway? It's important because people will trust brands they recognize. Building a solid and consistent brand for your company out the gate is a great way to ensure future success. Here are some general contractor company name ideas that use alliteration:
Quality Construction (same sound)
Cool Construction
Baltimore Builders
Carter's Commercial Construction
Regal Residential
Dale's Discount Demolition
Desert Design
Ralph's Remodeling
Royal Renovations
Houston Homes
3) Speak to your Strengths
The first two tips on our list were a bit gimmicky, which isn't bad. Anything that will attract attention or make it easier for someone to remember your name is good. But if you prefer a more holistic approach to naming your construction company, you may want to speak to your strengths to speak.
We mean to choose a name that conveys your company's value. People read surprisingly deeply into company names. Whether a consumer chooses you or your competitor may come down to perceived shared values taken from the company name. That's why it can help to win customers over by including your company values in your general contractor name. 
If you go this route, it may be handy to have a list of adjectives on hand. Think about how your company differentiates itself and what you want to evoke in the minds of those who see your company name. Some good examples of construction company names that evoke a certain quality or value include:
Reliable Emergency Construction LLC
Family Construction Co.
Speedy Home Services
Round-the-Clock Construction
Everyday Construction Services
Masterful Remodeling
New Age Construction
Biblical Builders
Luxury Home Building
4) Get a Niche
There are all kinds of construction companies. Yours might specialize in a niche contractor service. If so, don't hesitate to lean into that specialty when choosing a name. Having a reference to a specific service in your name could even help with SEO and digital marketing for construction. 
Even if it doesn't, it will send a clear message to the consumer: this company does the kind of construction I need. That could be enough for a person to stop looking and check your company out further.
Of course, this may not be the best route if you offer niche construction services, but your bread and butter is general construction. However, if you are a smaller outfit and want to promote a specific area of expertise, going niche with your name could be a great way to differentiate your company from others. Take a look at some examples of great niche names:
Balcony Builders Ltd.
Lighting Masters
Commercial Buildings and More
Perfect Patios
Turnkey Homes and Construction
Drywall Wizards
Masonry Construction Creations
Sam's Concrete Construction
Dallas Flooring Specialists
Outdoor Spaces for You
Designer Finish Carpentry
Market Your Company Name Online in 2023
Choosing the right name for your contractor company is essential. It is usually your first step towards failure or success. That's why we felt it was vital to develop this list of helpful general contractor name ideas. We can help you with so much more, though.
We are Contractor Webmasters, and we can help start your company off on the right foot with our specialized SEO services for contractors. So let us help you build a lasting construction company.