When it comes to flooring lead generation, a few proven tactics work better than others. However, there is no secret sauce to finding flooring leads in 2023. Most flooring companies already know which platforms generate interest in their services. Few, however, invest the proper resources. Below, Contractor Webmasters outlines everything you must know about getting more flooring leads.
What Are Flooring Leads?
Flooring leads are people who show interest in your flooring company's services, usually by submitting their contact information or calling your business directly. In 2023, most leads will come from online sources like Google, Facebook, and YouTube.
Types of Flooring Leads
As a flooring contractor, you offer different services for customers' specific needs. For example, some flooring jobs are more expensive than others, making the lead more valuable. Similarly, your business may specialize in a particular type of flooring service, creating a priority for those lead types.
Commercial Flooring Leads
Commercial flooring jobs are typically more expensive than their residential counterparts, making leads of this nature more valuable. Unfortunately, as a result, commercial leads are usually more costly and harder to secure. Still, there are ways to get as many customers as possible for companies specializing in commercial flooring services.
Epoxy Flooring Leads
Epoxy floor leads often come from specialty flooring companies like those that work primarily on garage door flooring projects. You can get these types of leads via Google with proper search engine optimization or Google Ads targeting.
Residential Flooring Leads
Residential flooring leads encompass various services but are all reserved to the residential consumer. Since many residential homes require flooring services, these leads tend to be the most widely available. In addition, some flooring contractors specialize in residential services, making these leads attractive and appealing for the right price.
Tile Flooring Leads
Tile flooring leads are prevalent for contractors. With residential consumers demanding these services, acquiring an interest in your services is good for business. As a result, buying tile flooring leads can pay dividends for your company and help increase your client base.
Best Methods To Get Flooring Leads
How do local flooring companies actually secure leads in 2023? There are various ways you can generate or purchase leads online, and we will outline which are the most formidable and profitable below. Be sure to pay attention to which methods will best serve your company's ROI.
Search Engine Optimization
The best way to get flooring company leads is through SEO. Independent studies confirm that SEO leads produce a higher ROI than any other digital promotion method. Our independent research validates these findings, and it is why we highly recommend flooring company SEO.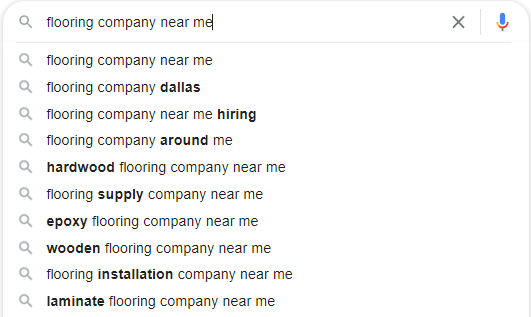 PPC (Google Ads)
PPC advertising is a fast way to get more flooring leads online. By purchasing ads on top of Google search results, you can attract users who search for relevant keyword terms like flooring installation near me. For best results, publish a high-quality landing page that converts well.
Facebook Ads
Like Google Ads, Facebook Ads are a great way to attract interest in your services. Facebook Ads' targeting options allow you to pursue individuals most likely to purchase your services, such as 35+ year homeowners in a particular zip code. In addition, Facebook allows for a variety of CTAs to enhance ads.
Screenshot of Facebook Post From Flooring Company Basketball Hardwood Job
Email Marketing
Sending email drips to a list of subscribers is an effective way to generate more leads. The only problem with this method is that it requires your company to compile a list of email subscribers. As a result, companies that already have leads will benefit most from email marketing campaigns.
Best Lead Service for Flooring
When looking for a lead service, you should consider what types of leads they provide. For example, exclusive leads hold more value and convert at a higher rate, while shared leads are cheaper and have less value. It also helps to understand how they generate these leads themselves if you decide to cut out the middleman and acquire traffic yourself.
Exclusive Flooring Leads
Some services provide exclusive leads for flooring contractors, but you can expect steep prices. Keep in mind that you can acquire exclusive leads on your own through digital marketing strategies. However, if you decide to sign up for a 3rd-party service, make sure they are legitimate.
Shared Flooring Leads
Many services offer shared leads that force flooring companies to compete for the same prospect. As a result, these leads cost less money, but they are also less likely to become customers. As a result, shared leads may be the only viable option for flooring companies with a very fixed budget.
How To Get Flooring Leads for Free
A common question from contractors is how do I get free leads? Of course, we know better than to think anything is truly free, but we can produce leads without paying for them directly. The best way is through search engine optimization. But, of course, most high-ranking companies invest money in their SEO campaign, so the leads are technically not free.
Google Business Profile
The only authentic way to get free leads is through Google Business Profile. A GBP costs nothing and can immediately rank on Google Maps for keywords. But, of course, the profiles with frequent reviews, high-quality photos, and informative business descriptions will perform better overall. Still, claim and optimize your profile if you really want free leads.
Business Referrals
The other way to get free leads is through referrals. However, referrals typically only happen after you establish your company. One customer tells their friends and family about your high-quality flooring services, and your phone suddenly lights up. These are free leads, but they often stem from an initial investment in digital marketing.
Google Search
Unlike Google Business Profile, ranking on Google Search takes time and some resource investments. However, you will generate free leads once you rank on organic search results. Why? Because unlike Google Ads (PPC), organic results don't cost you money every time someone clicks. As a result, ranking in the top 5 for an extended period will produce free leads.
How To Get More Flooring Jobs in 2023
Ultimately you want more conversions to get more flooring jobs in 2023. Leads are great, but they are only the first step of the sales process. At Contractor Webmasters, we stress investing in branded online presence to produce more conversions, sales, and jobs for your flooring company. 
Branding
When consumers buy from a brand, they are more likely to return the next time they need a similar service. So, for example, you install a hardwood floor in someone's home, and they are delighted with your work. But where did they find your business initially? If it was from a 3rd party, they are likely to return to the person they initially contacted instead of you.
When you brand your company online, you attract direct sales, which helps you in the short and long terms. Consumers buy from your brand and credit your brand with the performance and service. Next time they need flooring assistance, they call your business directly.
Reputation
Once you put your brand online, you are open to praise and criticism. Platforms like Google, Facebook, and Yelp encourage users to leave feedback about local businesses. As a result, they significantly influence your company's perception. Therefore, it is critical to generate reviews by asking customers and sending them direct links via email and text messages.
If you do enough jobs, you will eventually get negative feedback. The key is to respond to bad reviews gracefully and with class. Users won't care about a few bad reviews as long as you provide a helpful response and accumulate enough positive testimonials to maintain a solid overall rating.
Final Thoughts on Flooring Lead Generation
Flooring contractors can fall into the trap of paying other brands for leads. Once you establish your own brand as a lead generation source, you'll never have to buy flooring leads again. Google is the best platform to get new flooring customers because it presents a never-ending source of consumers. As a result, investing in your company website, SEO marketing, and PPC campaign can deliver great results.