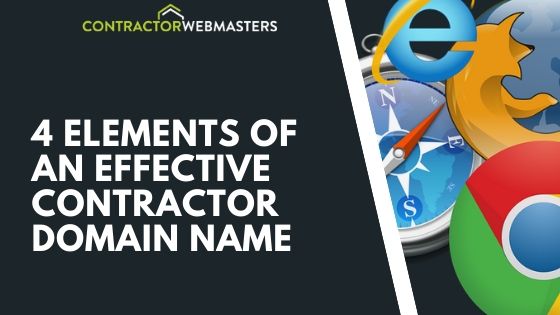 Your contractor domain name can be the biggest factor in the success of your contractor's website. Without a proper domain name, your contractor business could wind up missing out on potential leads and customers that are the lifeblood of the business.
But a contractor domain name may not be so easy to come up with. Without the proper information to aid in your search, you could wind up stuck with a contractor domain name that hinders your efforts, makes it difficult to find, and keeps people from visiting your website.
Thankfully, there are a few tips that can help make your domain name as strong as it possibly can be. This will make it easier for your target audience to find your business, share it via word of mouth, and tell others about it.
Here are a few elements to make certain that your contractor domain name is the right one for you.
1) .Com Extension
Part of choosing a contractor domain name is in selecting the right domain name extensions. These are your .com, .org, .net, and any other extensions that may be relevant to your business. It should go without saying that .com is the most common of these with nearly 50% of the top TLD distributions.
That .com extension is the one that people are most familiar with and will automatically default to when guessing the URL of a business. It is also the easiest to remember because it is the most familiar in societal vernacular. If you can't get the .com for your contractor domain name, you are starting behind the eight-ball.
If at all possible, make certain to get all the extensions you can for your business. Doing this can funnel anyone to your website no matter what extension you put in. It also accounts for times when people are trying to guess your URL based on an ad or commercial and mistakenly put in the wrong extension.
Picking the right extension(s) puts you in a position to narrow the funnel of traffic down to your domain no matter what the extension may be.
2) Brandable Domain Name
One of the most effective means of picking the right contractor domain name is to make your name marketable instead of something generic. "Terry's Contractor Service" is straight and to the point, but it will likely get lost in the shuffle of the competition.
This is why having a brandable name is so important. Your brand is what the customer thinks of first and foremost. That domain is how visitors will find you; if they can't remember your name because it doesn't stand out, they will likely have trouble finding your website.
A brandable name stands out because it is unique. Something more generic will stuff in keywords and be largely unmemorable, not realizing that going generic causes them to blend in with the competition even further regardless of the keywords that they are using.
Creating your brand name is essential so that you have that initial difference between your company and the competition. This is easier for people to remember and gives them fewer things to mess up when they type in your URL or Google your business name.
A brand is essential in the business world. That brand is what customers recognize and eventually what develops trust and a relationship between customer and business.
3) Concise and Memorable
Part of the problem of standing out and making your name brandable is that going too long is just as bad as picking something generic. You want to keep it shorter so that your target audience can more easily remember your business domain.
The most common length, according to research performed by DataGenetics.com, is approximately 12 characters. This means that you need to keep your domain name concise and to the point. It also means that you can afford to be creative.
Your domain does not have to be exactly the same as your business. Even if your brand name is something more generic, you can apply a nickname or slogan to your domain. This grabs the attention of your audience and gives them something to remember your business by.
The shorter the domain the better. People have short attention spans and memories as it is; giving them more to remember only leads to frustration for the business. Thankfully though, you can offset the length of your domain with a brandable one. But it can't be too long and too generic, otherwise, you will be dead in the water with your target audience and their ability to recognize your brand.
4) Easy to Type and Pronounce
You want your contractor domain name to stand out for a litany of reasons. Most of all, you want your target audience to be able to pronounce and type that domain in with minimal issues. If they can't remember what it is and get it wrong, there's a good chance they will move on and not bother looking at your website.
Think about it: the most popular websites in the world are easy to spell and are short in characters. Make certain that your audience can spell your domain with little issue. If you have to explain the spelling even once, it is probably too complicated.
A great way to test this is to tell 10 people about your potential contractor domain name and ask them to spell it. If more than a couple of people suggest that you spell it, you should definitely look into shortening it.
Most of all, your domain needs to roll off the tongue. This makes it far easier for your target audience to share that domain name by word of mouth. It also makes it easier for them to share your contractor domain name with friends, family, and potential customers.
Test this by writing your domain on a piece of paper and asking 10 people to pronounce it. If more than a few people struggle to do so, you need to simplify that as well.