Lots of contractors invest in car wraps for their plumbing, HVAC, and roofing businesses. They see this as a way to market their services while they are on the move. But who markets for the car wraps businesses themselves? The answer is Contractor Webmasters. We offer local SEO to vehicle wrap shops across the United States.
Business Verification: Verify your business with Google and BBB
Directory Registration: Claim and optimize listings on GMB, BBB, Yelp, and others
Location Mapping: Ensure your business location is mapped on Google Maps
Review Management: Generate and respond to reviews on websites/apps like Yelp and Google
Local SEO is like a box. The goal of Contractor Webmasters is to fill the box completely. The heaviest box will be the one that ranks first on Google search engine results pages (SERPs). We aim to satisfy any customer goal for their marketing campaign. We optimize Google Business Profile, City/Location Pages, and incorporate DataPins.
Managing Reviews for Vehicle Wraps Companies
No matter how great business you do, there will always be "difficult" customers who cannot be pleased. With how the internet is set up today, it's easier than ever before for someone with a personal vendetta to destroy the reputation of your company. The good news is that Contractor Webmasters can combat it with reputation management. This requires vehicle wrap companies to:
Become Visible: Make sure you have multiple places to be reviewed on the web
Generate Reviews: Accumulate lots of positive reviews to drown out the few bad ones
Practice Ethics: Don't pay for reviews, but encourage satisfied customers to leave them at their convenience
Respond to Reviews: Respond to complaints in a professional manner to impress others
If you think soliciting reviews is off-putting to the customer, research disputes your notion. In fact, an estimated 7 out of 10 customers will leave a review when asked. There are multiple ways to ask. You can ask in person after performing a service, you can link to review sites on your email signature, or you can ask on social media. Whatever you do, don't give financial incentive to leave a review, as this will get you penalized by Google.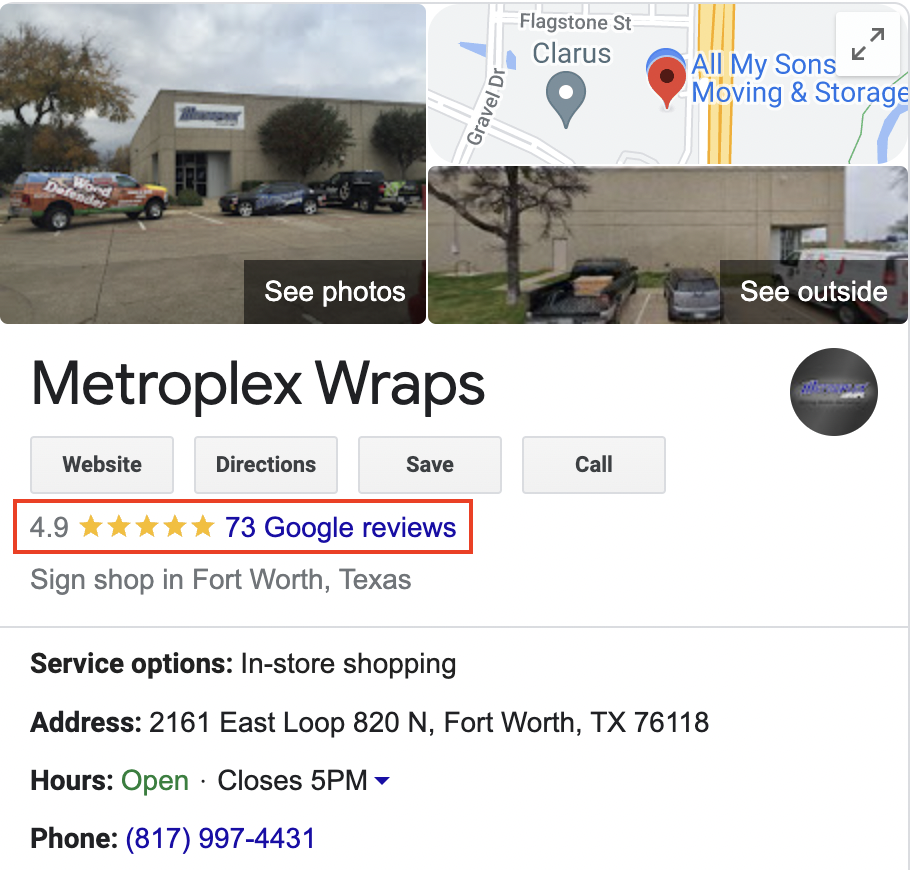 Google's review filtering process has become more strict in recent months, so ensure your customers aren't using free wifi inside your shop when leaving reviews.
Car Wrap Shop Local Marketing Service
There aren't many marketing companies, if any, that focus on vehicle wrap shops. Why do we at Contractor Webmasters? Because we love the work of car wrap businesses. We also understand that getting a local business to rank in this competitive corporate industry can seem overwhelming. But we have the tools, personnel, and expertise to help you reach your marketing goals.
At Contractor Webmasters, our Local SEO services focus on regional lead generation through Google's Local Map 3-Pack and organic SERPs. Map 3-Pack results highlight Google Business Profiles based on proximity, relevance, and prominence, each of which we optimize. Local Organic SERPs typically show city/location pages which we provide. Our Local SEO tool, DataPins makes ranking city pages much easier and works faster than a standard content page.