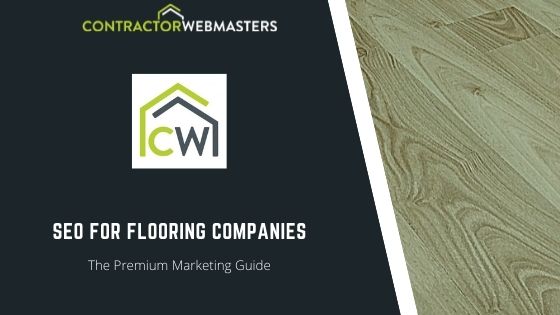 SEO for flooring companies is an untapped goldmine for flooring contractors throughout the United States. Unlike other industries like roofing and plumbing, which have generally invested in search engine optimization, flooring companies have mostly stood on the sideline.
What is SEO for Flooring Companies?
SEO for flooring companies is the targeted optimization of a flooring company's website and Google Business Profile for improved search rankings and increased organic web traffic. Proper SEO attracts organic search users and converts them into paying customers.
SEO Marketing Pillars for Flooring Contractors
SEO can be categorized into five sections: local, user experience, keyword research, content, and link building. Flooring stores that achieve high scores for each component increase their odds of online success. Below, Contractor Webmasters breaks down the five sections in detail.
Local SEO for Flooring Contractors
Local SEO involves targeting local consumers through search, mainly via Google Business Profile and Google Maps. For many local keywords, Google shows a Local Map 3-Pack on top of organic results.
Map Packs pull business data from Google Business Profiles based on proximity, relevance, and prominence. As a result, ranking within the Map 3-Pack requires a verified address, reviews, and an optimized listing.
Proximity
Flooring companies can't directly influence proximity since they can't control where users search. However, you can buy office space in a vibrant city with many potential nearby customers. The Local SEO tool DataPins also helps validate nearby service areas through schema.
Relevance
Flooring contractors can influence relevance by completing their Google Business Profile with relevant information like services offered, frequently asked questions, and staff photos. The name of your business also affects the algorithm's relevance score.
Prominence
Contractors should generate as many reviews as possible to increase local prominence on Google Maps. One great way to get more reviews is to automate review requests using DataPins. Other prominence factors include your attached website and how many users click on your profile.
User Experience
Some call it technical SEO, but user experience is a more concise description. When users visit your website, how is their experience? Can they find the information they seek? Can they quickly contact your business or purchase an on-site product? These are questions you must answer regarding user experience (UX).
Navigation
A user's ability to navigate your site will primarily define their experience. Therefore, responsive design is a critical aspect of websites nowadays, as users will visit your site on a wide range of devices, from mobile to desktop. Visitors should see a clean navigation menu on all of their devices and have the option to browse your website and fill out contact forms quickly.
Site Speed
The SEO industry made a big deal about the Core Vitals update, but research showed it had little impact on rankings. Still, a fast-loading website is one component that fosters a positive user experience. Flooring companies can test their website speed with Google Pagespeed Insights, GTMetrix, and Pingdom. In addition, WordPress plugins like WPRocket and Imagafy help speed up loading times.
Site Structure
With an effective SEO strategy, users will enter your website on various pages. For example, a visitor finding your site via blog post will have different needs than one finding your flooring services page. Therefore, designing a comprehensive site structure that leads on-site visitors through a funnel is vital. Of course, the first goal is ensuring the structure supports a positive UX.
Keyword Research
Advanced keyword research identifies the best SEO marketing opportunities for flooring companies. Measuring search volume is one of many steps involved in comprehensive keyword research.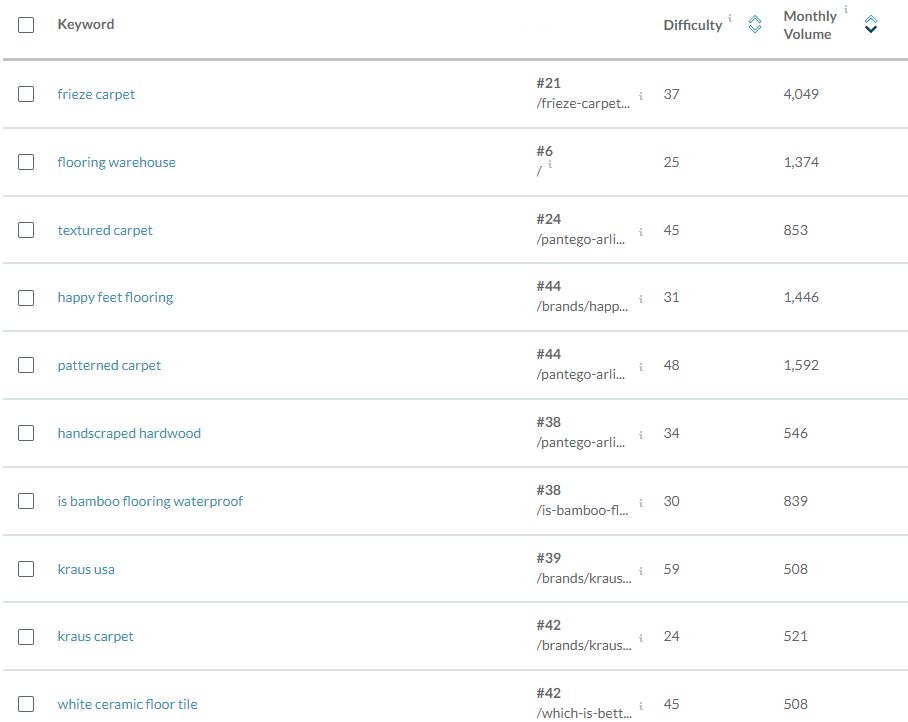 Categorizing keywords based on user intent is equally vital to know which type of content asset is best suited for the term or phrase.
Keyword Volume
The number of monthly searches per month still informs a keyword's ultimate value. For example, the term flooring services registers a 744 keyword volume meaning an estimated 744 people will search the exact phrase each month.
User Intent
User intent often separates a mediocre SEO strategy from a highly effective one. Assigning user intent to your target keywords can increase your traffic 10x. For example, hardwood flooring installation has clear buyer intent, while hardwood flooring installation tips has an informational purpose.
Keyword Mapping
It's vital to group keywords into topics and sub-topics and assign them to corresponding pages and posts. You want to avoid keyword cannibalization, which means that multiple pages target the same keyword—instead, group keywords to rank for similar terms on a single page.
Flooring SEO Content
Ranking for keywords requires publishing high-quality content on your website. On-page content typically involves creating either a service page or a blog post for flooring contractors. A service page is generally shorter, while a blog post often requires 1,000+ words.
Blog posts are best for keywords with informational intent. When users seek information about a subject, they find blog posts describing the subject in detail.
Service Pages
Service pages are the bread and butter of your local content strategy, as they will help you rank for buyer intent keywords and convert visitors into leads. A service page should be between 600 and 900 words and provide multiple calls to action for users to contact your flooring company.
Blog Posts
It would be nice only to publish service pages, but many keywords imply informational intent. You must publish long-form blog posts comprehensively covering a topic or question to rank for these keywords. Most high-ranking blog posts exceed 1,000 words and include visual aids such as images, infographics, and videos.
Social Content
Website content is the most important because it directly influences organic rankings. However, you also need content to fill your external profiles like Facebook, Google Business Profile, and YouTube. Recording videos of your services or storefronts are a great way to appeal to consumers on social media platforms.
Link Building
Link building is the most confusing element of SEO because Google strictly prohibits link building in most contexts. For instance, attempting to influence a 3rd-party website's inclusion of your website URL violates Google guidelines. However, links remain a vital ranking factor, and there are safe ways to encourage backlinks without risking a manual penalty.
NoFollow Links
Perhaps the safest way to build links is through nofollow link building. Google both expects and encourages businesses to link back to their website on social profiles and business citations which is why they are tagged as nofollow links. They are a ranking hint but not an endorsement.
Linkable Assets
Creating appealing long-form content pieces is the best way to attract natural links, which Google wants. For instance, a data-driven article about hardwood flooring prices, styles, and colors is something major publications might link to from their websites. As a result, you will notice a significant rankings boost.
Link Outreach
Link outreach is a grey-hat tactic, meaning it technically violates Google's guidelines, but many websites still engage in it without penalty. Outreach involves emailing website administrators asking for a link placement or offering to write a guest post. Be aware that you may be subject to penalty if you engage in this practice, even though it's a rare occurrence.
More About Flooring SEO
Is Flooring SEO Worth it?
Research indicates SEO leads have a 14.6% conversion rate which is about 14x higher than outbound marketing strategies. So from a simple ROI perspective, flooring SEO is worth your time and investment.
Where To Find SEO Services for Flooring Companies?
The #1 SEO service for flooring companies comes from Contractor Webmasters, which offers affordable monthly plans that include DataPins. In addition, flooring contractors receive a custom website fully optimized for Google.
Does SEO Produce Flooring Leads in 2022?
SEO produces the best flooring leads in 2022 since they are branded and exclusive. As a result, these leads convert more frequently than a Google Ad or even a 3rd-party lead seller. Once Google indexes your website, you can expect a consistent stream of high-quality prospects via SEO.