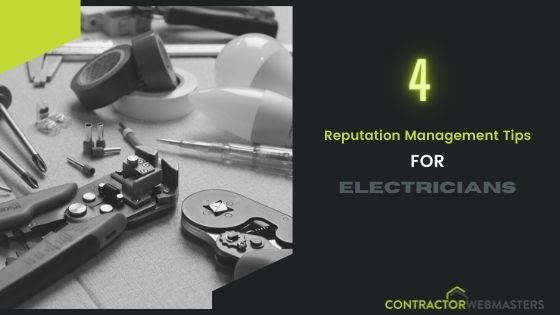 What is Electrician Reputation Management?
Electrician reputation management is the supervision of online reviews for electricians and tasks aimed at improving the contractor's standing within online communities, especially locally.
How Reputation Management Assists Electricians
As an electrician and a business owner, your reputation counts a lot. People want to know that they can rely on you for technical and possibly dangerous electrical work on the job.
On a business level, your customers need to know that you are ethical and value the customer experience.
So how do you convince someone you have never worked for of these things? Everyone is online in 2023; people are researching and getting information on services and businesses online.
Therefore, online electrician reputation management is a crucial part of your business. If you have poor representation online, that could be why you aren't getting enough leads and landing enough jobs.
Let's talk about some tips you can use to improve your business's online reputation.
1) Claim Your Business
Establish or improve your online reputation by claiming your business on as many online reviews and consumer information platforms as possible. Start with the following list of sites and platforms:
Google Business Profile
Angi
Houzz
Yelp
Home Advisor
Claiming your business on these platforms grants you control of your reputation. Also, claiming your business will give you and your customers a forum to communicate and share experiences. 
In general reputation management, you want to be present on as many online review platforms as possible because it's good for SEO. Getting keyword-rich reviews can help search engines index your site on more searches.
It's like having a bunch of signs on the highway that point to your place of business. So likewise, consider each review an online sign that points consumers to your website.
2) Establish a Favorable Social Media Presence
Most electricians are uncomfortable creating social media profiles, but they will help your online reputation. Facebook and Instagram benefit electricians, and YouTube, if you're willing to produce video content for your business.
Remember that business social media is for business purposes. Unfortunately, some electricians forget that they are using their business account instead of their personal account and say something that damages their online reputation.
While you don't have to be very active on social media, engaging with future customers suits your reputation. A social media platform like Facebook doubles as a review platform since users can recommend or disparage businesses.
3) Generate Customer Reviews
It's no secret that acquiring more reviews is the fastest and most effective way to boost your online reputation. However, electricians sometimes wonder how that's possible with so many clients not understanding modern technology. The good news is that you can use a tool like DataPins.
DataPins automates review requests via email and text so that clients get a direct link to your review page. Even people with limited technical understanding can leave a review of this process. As a bonus, DataPins also allows electricians to showcase Jobsite images and pins, improving local search rankings.
Reminding a customer to provide feedback after you finish their service never hurts. People still like a personal touch, and the automated request will convert more frequently if you advocate on its behalf. Ultimately, the more reviews you produce, your reputation will increase in 2023.

4) Maintain Brand Consistency
To say there is a glut of information online would be an understatement. People have the entire world at their fingertips when they are online. With so much information floating around in cyberspace, you must have consistent branding for your electrical business.
Some other electricians a few counties over can have a business name very similar to yours. Heck, their logo might even look similar. As a result, establishing and maintaining brand consistency is critical to online success. Consider filing a trademark on your logo and color scheme.
Building brand awareness is vital for your reputation and requires consistent effort. Not only does consistency create uniform signals for search engines and data aggregators, but it also validates your credibility to the online consumer who sees your company listed on multiple platforms.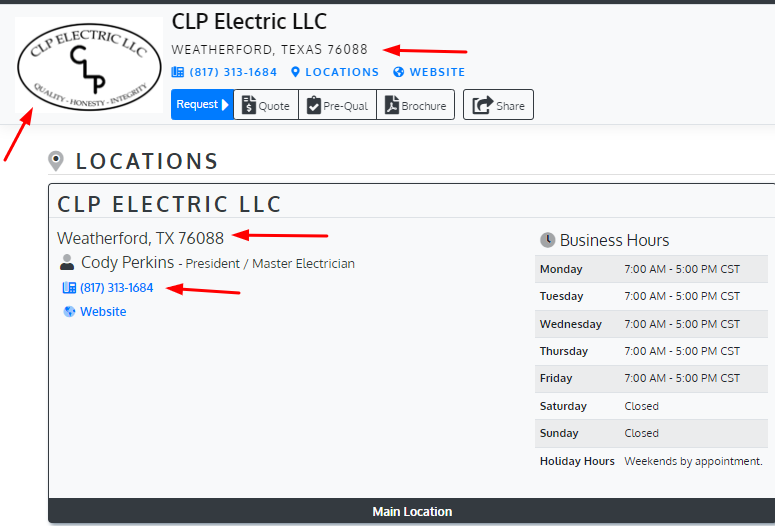 For example, if you move your office address, you should update your contact information across all directories and data aggregators. You can use a service like Whitespark to achieve this.
Why is Reputation Management Important?
The average consumer reads at least one online review before making a purchase decision. Many consumers surveyed report reading up to ten reviews before making a decision. 
Online reviews have become the new social currency in 2023, and they don't show any signs of letting up. As a result, your online reputation may be the difference between getting customers and going bankrupt.
Even the best electrical companies have their off days. You won't be able to please 100% of your clientele 100% of the time. Managing your reputation allows you (the business owner) to counter and respond to negative feedback. 
Bad reviews occur every so often. But with carefully managed electrician reputation management, you can turn negative feedback into new business opportunities.
Consider the following statistic: 30% of consumers reported amending or reversing their negative reviews of a business when they responded to said reviews.
Online reviews count greatly in the digital age in which we are firmly entrenched. However, reviews aren't the only reason online electrician reputation management is essential.