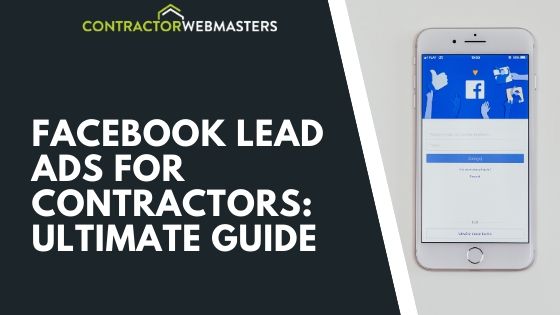 This is a Guide to Facebook Lead Ads for Contractors. It is updated for 2023.
It applies to a variety of industries, including:
Facebook Ads for Home Builders
Facebook Ads for HVAC
Facebook Ads for Painters
Facebook Ads for Roofers
Introduction to Lead Ads Guide
As a contractor, quality leads are the lifeblood of your business. Those leads eventually convert into paying customers that keep the doors open. So, how do you most effectively generate those all-important leads?
Facebook is one of the keys to successfully doing this. Facebook advertising, especially for businesses like contractors, makes sense. After all, you are looking for a stream of steady leads that are both highly targeted and looking for a service just like yours.
A few issues generally keep contractors from investing in Facebook lead ads as a marketing means. Maybe you have run ads in the past before to no great success. Maybe you have even talked about doing it before, but you don't have the time to manage everything, create ad copy, and track those results.
Step 1: Create an Effective Call-to-Action (CTA)
Having informative Facebook content for contractors is fine and well (and a huge aspect of a Contractor SEO strategy). Without a good call to action, you can't tell your customers where to go to complete the action. That is why those call-to-action buttons are so imperative.
CTAs for Facebook lead ads appear on the bottom right with phrases like Sign Up or Learn More. Or you can have a CTA like Download or Get Offer if you offer a PDF or discount in exchange for their lead form submission.
An effective call to action draws customers in to make the leap toward hiring you and makes it as easy as possible to do so. And, perhaps above all else, customers value convenience. Having an effective call-to-action button means a level of convenience for the customer.
Step 2: Create a Value Proposition
It goes without saying that people love free stuff. A free quote is fine and well, but it is unlikely to generate many leads or be very compelling. People are far more likely not only to respond but engage with ads that offer a specific discount or service.
You don't have to go crazy here; maybe $10 for every $100 a customer spends. Or perhaps 10% off for first-time customers. Things like that can go a long way toward getting someone who is on the fence to take the plunge and use your business.
Having Facebook lead ads that promote your business and incentivize the customer to click over to your website is exactly the point of Facebook ads. Too many businesses don't use these practices effectively and are essentially throwing money away.
Using the right offers can make your Facebook ads one of your arsenal's most effective marketing tools.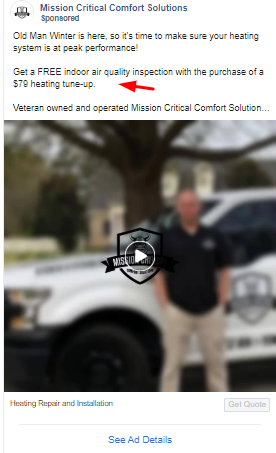 Step 3: Create Your Custom Form
Most businesses that depend on leads will have forms front and center on their website. This makes it easy for potential customers to fill in their information. Then, you can turn those leads into actual paying customers in the follow-up process.
With lead ads for contractors, Facebook has its own customizable lead forms. You should generally ask your audience for three pieces of information: name, email, and phone number. Those are the three most important pieces of information that you can get from a lead. Learn more about Facebook Lead Ads straight from the source themselves.
Try to avoid any open-ended fields, such as "interested in" sections that require the user to type out what they want. This is an extra effort, and many customers will avoid it because there are other, more convenient options to be had.
Step 4: Target Custom Demographics
Ads are great, aren't they? They deliver the message of what your company offers and puts your message right in front of your audience. But the problem is that if ads are unfocused, they could go out to an audience with absolutely no interest in using that service.
This strategy ensures that your ads are reaching the proper audience. An ad that is properly targeted would have targeting options that include things like homeownership status, location, length of time in the home, and income.
This helps to ensure that your ads are seen by an audience that needs those services. This gives you the most bang for your buck in advertising dollars and helps generate those essential leads.

Step 5: Follow Up on Leads
The thing about leads is they are just that: they lead to business. For customers who fill out those Facebook forms, the key is to follow up with them, typically during normal business hours on the same day.
This way, their inquiry is fresh on their mind, and they won't forget why they filled out their info and what they were inquiring about. Besides, you have to follow up on that lead eventually. Why let it wait when you can jump on the fresh opportunity?
Don't feel discouraged even if the customer does not take immediate action. Leads can take several inquiries before they make a final decision. If they are indecisive after that initial follow-up, give it some time and then follow up again.
Perhaps the customer will have different needs or circumstances will have changed, and they will be more receptive to using your business. Persistence and consistency are the keys to following up on leads and eventually turning those leads into the dollars that your company needs to survive and continue operations.
Facebook Lead Ads Guide Conclusion
These are just a few ways that Facebook ads can help take your business to the next level. Best of all, Facebook lead ads are a fairly inexpensive way of marketing that allows you to reach your target audience without breaking the bank to do so.
Make certain that you follow proper procedures, and you should begin to see a stream of leads inquiring about your business. From there, it's up to you to convert those into paying customers who will help grow your company.