Glass repair local SEO is an excellent opportunity to bring in new customers at a low cost. Ranking on Google means consumers will find your business searching for glass repair near me or auto glass replacement. In addition, SEO rankings are free, so you won't have to pay for ads.
However, SEO is only effective if you can land on page one of search results. Unfortunately, only 4.8% of search engine users click through to the second page of search results. As a result, it is critical to rank in the Local Map 3-Pack and on top of traditional organic results.
So the real question is, how do you rank higher? The answer to that question is glass repair SEO, and in the following post, we will be giving you some practical tips to rank higher.
1) Optimize for Google Users
Both machines and humans will be reading your on-site content. The humans refer to the people who visit your site. The machines refer to search engine web crawlers. However, the goal of the crawlers is to identify the content most helpful to its users.
Of course, the web crawler must scan through billions of information pages. They see code. They use code signals to let them know what information is on your website.
To make it easier for them to scan your site and determine that it has something to offer the searcher, you have to optimize the content on your site. There are a couple of crucial ways to do this: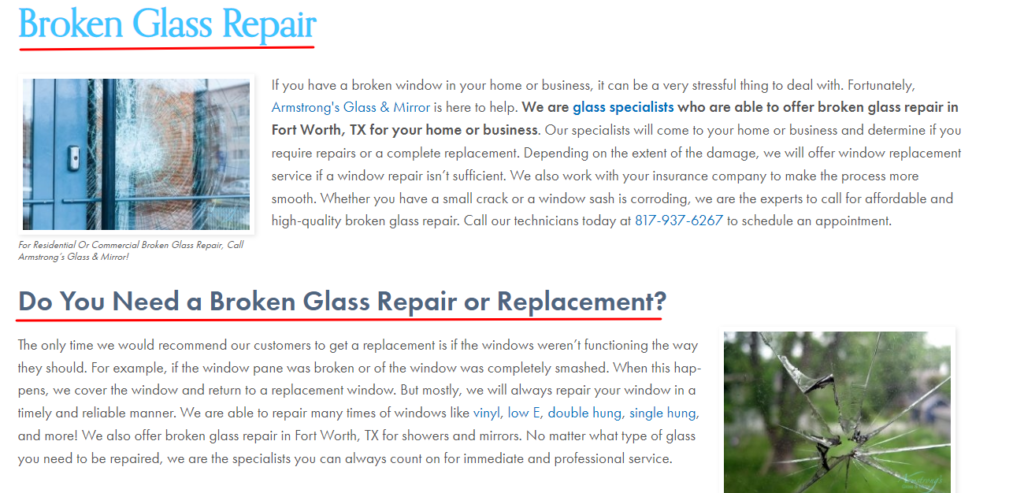 On-Page SEO helps Google and its users identify your page's topic, which fosters a superior user experience.
Meta Titles
Every page or post should have an SEO title, AKA a meta title. The title immediately reveals the page's primary topic to the web crawlers and the users. WordPress plugins like Yoast or RankMath make adding SEO titles easy and outline the number of characters required for optimal display.
Meta Descriptions
Meta descriptions appear beneath the title tag on search results. Like titles, crawlers, and users see the description and assess its relevance to the page and query. Writing an enticing meta description can improve click-through rate (CTR), a presumed Google ranking factor.
Header Tags
Inserting H tags to organize your written content will make it easier for web crawlers and human readers to understand what is on your pages. You should be using at least H1, H2, and H3 tags on your service pages and blog posts to make the content easily readable for humans.
Internal Links
Help crawlers and users navigate your content with internal links. For example, when you write a service page about auto glass repair, you may want to reference an informational blog post like the best type of auto glass in 2023.
By inserting a link from your page to your post, you help Google and its users recognize your website's topical relevance.
2) Optimize Images for SEO
It seems like a no-brainer in 2023, but you would be surprised at how many small businesses leave out images on one or all of their website pages. Images are essential to SEO, but you must be smart about how you use them. Here are a few crucial tips for optimizing the images you use on your website:
Images with alt text boost a page's SEO score while enhancing user experience and establishing topical relevance. Google crawlers scan alt text to learn more about the image's purpose in context to the page.
Relevance
The pictures you add on a particular page must be relevant to the content. For example, when people click on your auto glass repair service page, they look for examples of your repair work rather than stock images. Alternatively, they look for pictures of your team on the about us page.
HD Images
Of course, you don't want any grainy, out-of-focus, or low-definition images on your website. It will make you look unprofessional and may not convey the message you're trying to send. So instead, use only HD images, and be sure to have at least one image on each of your site's pages.
You don't want to overstuff pictures, but make sure there is at least one per page.
Alt Text
All images on your website should have an alt tag, basically a picture description. Again, this is mainly a signal to web crawlers that the media on your site may have some relevance to a search query. It will also help boost your glass repair local SEO if you add the page's primary keyword in the alt text.
3) Perform Extensive Keyword Research
A long-tail keyword is more specific than a standard keyword. For example, a traditional keyword would be glass crack repair. An example of a long-tail keyword would be something like glass crack repair seattle.
Adding a geographic location to your keywords targets local consumers and weeds out irrelevant users. Long-tail keywords also have much lower competition, meaning fewer people optimize for them. As a result, these keywords are easier to rank with a basic SEO strategy.
Incorporating long-tail keywords based on your services and service areas is very effective. Insert keywords in your content, title tags, and headers to rank quickly. Long-tail keywords are essential to glass repair local SEO and represent a tactic you can use right now.
Long-tail keywords have lower competition and are generally easier to rank for. Furthermore, more than 50% of Google clicks are estimated to come from these types of keywords.
4) Install DataPins
Glass repair is one industry where social proof makes a difference. Most consumers want examples of your work and evidence of verified jobs in their area. The DataPins plugin automates social proof for your website via schema pins. Use the mobile app to snap a photo of your job and write a short caption describing the work. DataPins does the rest for SEO.
In addition to tagging pins by service type, DataPins also adds geo-coordinates to tag the city or town. As a result, your city pages get unique content every time you perform a job. This helps capture users outside of your primary service area who are looking for proof of work in their area.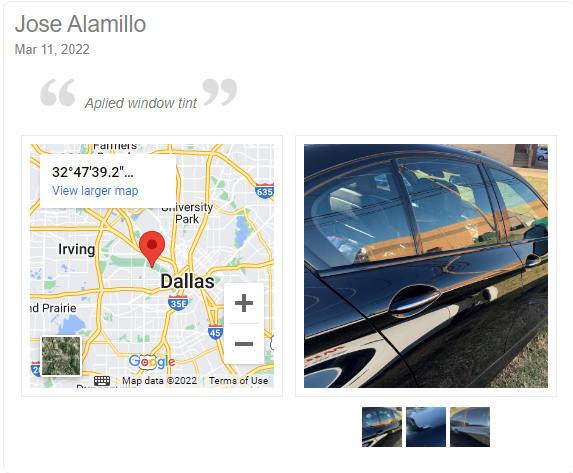 Pins establish social proof for various services and cities, increasing your conversion rates and expanding your regional ranking coverage.
5) Claim Your Google Business Profile
If you've yet to claim your Google Business Profile, the time is now. Rankin on Google's Local Map 3-Pack requires an active Google My Business profile. Depending on the competition in your area, you will need to generate reviews, add photos, and attach your company website URL.
The Map 3-Pack ranks profiles using a separate algorithm that values proximity, relevance, and prominence. Your proximity score stems from your map marker in relation to the user's location. Your relevance score is based on your company name and on-site content. Finally, your prominence score is based on reviews and your website's link authority.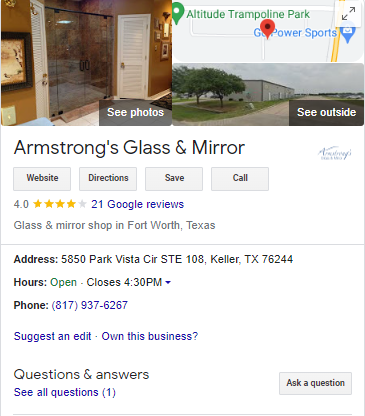 An optimized GMB listing allows you to rank in Google's Local Map 3-Pack, which is the most consistent spot to generate local clicks.
6) Acquire Local Backlinks
Backlinks are a known Google ranking factor, and local links have a powerful impact on local rankings. For example, getting links from local newspapers, sports teams, or organizations builds trust within your local service areas. Google can detect the local relevance of the links.
Another way to build local backlinks is to submit NAP citations. Each citation contains your company name, address, and phone number, validating your contact information across the web. Make sure your citations match the information at the bottom of your website and your Google Business Profile.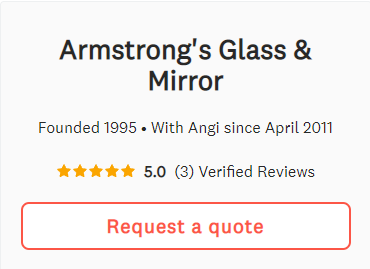 NAP Citations are an easy way to build local backlinks that legitimize your contact information. Sure, they are nofollow links, but they still send positive signals to your website.
7) Actively Increase Reviews
Every time you perform a service, you should ask for a review on Google. You can use DataPins to automate review requests via email and text. Still, you should also ask the customer in person. Reviews not only help you rank on local searches, but they also help convert users into customers.
Of course, you should never incentivize reviews with discounts or other favors, as it violates Google's guidelines. However, research shows that most satisfied customers will leave a review if asked three times. Sending them a short link to your profile makes the process convenient.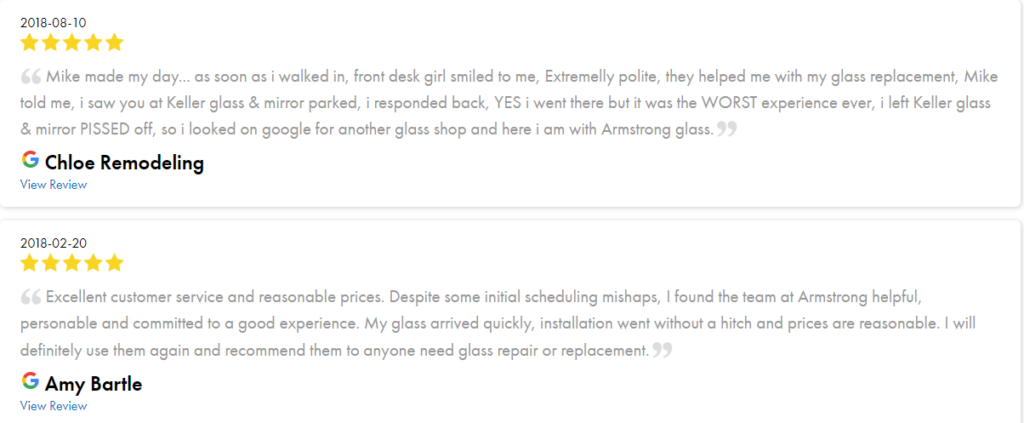 Acquiring legitimate customer reviews is the best way to boost your online reputation, which is why you should send as many requests as possible.
We hope you use these glass repair local SEO tips to grow your business in 2023. For help with your SEO campaign, contact Contractor Webmasters.