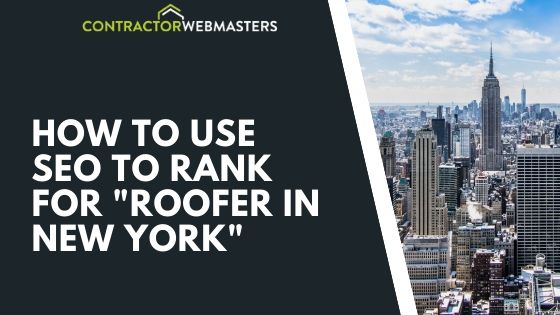 SEO is a competitive space in 2021. Local roofers in New York compete on Google to rank for terms like "roofer in new york" or "roofing contractor ny" and other related terms. The goal for each local contractor is to show up on organic results and the local map pack. This is best achieved using Contractor SEO services that involve on-page SEO, local SEO, content writing, web design, and more. Google looks at various signals to determine where a local business will rank on search results.
Search Engine Optimization Guide for NY Roofing Companies
SEO is one of the most essential aspects of marketing your website online, yet so few really know how to truly implement it. SEO for roofers in New York can be the difference between success and failure for those businesses.
This is where local SEO comes into play. Dominating SEO for roofers in New York is necessary to stand out among competitors, develop leads that are the lifeblood of any business, and bringing in those conversions that can have the biggest impact on the bottom line.
But how can you dominate SEO for roofers in New York? What steps can you make to turn the local SEO game into something that benefits your business and helps you to generate those leads that you need to keep your business buzzing?
Here is a guide to dominating SEO for roofers in New York:
1) Optimize Google My Business
One of the most effective tools out there for SEO for roofers in New York is Google My Business. These listings allow users to get all the relevant information on businesses in the keyword that they are searching for. These listings can make a huge difference in the ability of a company to generate the leads that they need to continue growing.
The first step is to claim your business on Google My Business. This will establish your business' presence on the massive search engine completely free of cost. Even better, it also means that your business will show up on Google Maps. Allowing users to find your business during those local searches can make a huge difference when searching.
The key here is to make certain that all the information you provide is both complete and accurate. Far too many businesses establish their Google My Business listing but don't provide accurate information.
Doing this not only frustrates the end-user, but it also knocks down your value in the eyes of Google SERPs. Google has the goal of providing the most accurate, relevant information possible to its users, and having incomplete information won't make the cut.
2) Get Regular Reviews
Perhaps the most important aspect of the online presence of any business is the ability to generate reviews. The vast majority of those reviews need to be positive, too, because no one wants to go with a business that has overwhelmingly negative reviews.
Why are those reviews so important? More than anything, customers are looking to verify that the company they are looking into is a trustworthy and reliable option. They don't want to spend their hard-earned money on a service that won't provide great results.
It is also important to remember that a few negative reviews are not back-breaking. As a matter of fact, they can be quite helpful to your overall perception in the eyes of customers. A business with 100% positive results doesn't feel "real" in the eyes of the consumer.
It is those negative results that make your business feel authentic and also provide an opportunity for you to respond positively. Being able to positively respond to those negative reviews shows that your business is willing to go above and beyond to provide a positive experience to the customer.
Amass those reviews any way that you can. Provide an incentive for your past customers to provide reviews because they can have a substantial impact on your SEO ranking as well as how you are viewed by potential customers. To dominate SEO for roofers in New York, this is an absolute must.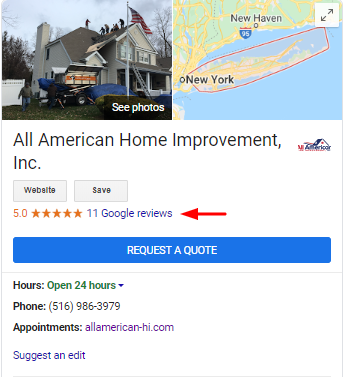 3) Optimize for Organic Search
The local map pack is great, but it is based partially on proximity, which is something you cannot control. If you really want to generate local New York area leads, you will have to show up on organic results in addition to mapping.
Organic SEO involves writing high-quality content within a logical URL website structure. It also requires on-page SEO techniques such as title tag and meta description optimization. Another important on-page SEO tactic is internal linking, which helps users navigate between relevant pages on your website.
Google asks you to write pages that clearly and accurately describe your topic, which is what you must provide in order to rank on organic. Never copy content from another source, and always ensure that it is written by someone with a background in content or roofing.
Keyword research is another critical part of the process since it reveals what your potential customers are searching for. You can use tools like MOZ Keyword Explorer, SEMRush, and UberSuggest to find the search volume for specific phrases. Keep in mind that some keywords are more competitive than others, and will require more work to rank for.
4) Optimize for Mobile
If you didn't get the importance of mobile when discussing voice optimization, we will drive home the impact that it has on SEO for roofers in New York and elsewhere. Since 2017, mobile versus desktop trends have shifted starkly to the point where mobile is the favored origination point for searches.
As a result, this means that having a faster mobile site is more important than ever. With mobile searches continuing to grow at an exponential rate, more importance than ever is being placed on having a website optimized for mobile.
There are a few common tips for making certain that your website is optimized for mobile. Things like using bigger fonts to make it easier to read on smaller screens. Using images and copy sparingly since there is less room to work with on those mobile screens.
Perhaps most important is ensuring that your website loads quickly. If it takes longer than 3 seconds to load, the user will likely move on from your website. It might seem unreasonable, but that's how mobile searching works these days.
Optimize your website for mobile and your position in SEO for roofers in New York should grow exponentially.
5) Use Location Pages
If your business has more than one location in a given geographical area, it is essential to have location pages. Not only that, those location pages need to be able to provide a number of informative bits:; store hours, name/address/phone number (NAP), individualized descriptions, promotions, testimonials, parking availability, and Google Maps attached to each location page.
And that's just the start of it. If you have multiple location pages, you need to create individualized content for each of those unique pages. Repeating content will only serve to harm your overall SERP ranking, so don't just copy and paste content from page to page.
If you have just one location, as many companies targeting SEO for roofers in New York have, then you definitely need an "About Us" page that focuses on local, relevant information about your business. That about us page can mention projects that you have undertaken in your town or city, information that is relevant to your business and location.
6) Designate Pages for Specific Roofing Services
The process of creating a website can be a large and taxing endeavor to undertake. For that reason, it can be completely understandable to want to lump all of your products or services together into one big page. Do. Not. Do this.
It is important to have one page that is dedicated to each of the products or services that you offer. This is because search engines will not see your authority in that area if you lump all of your services together. It lowers your ranking possibilities and hurts your overall SERP.
If you don't have many individualized products or services but have multiple locations, this is where those location-based pages come in handy. You can provide unique content on each of those pages, improving your overall Google SERP.

7) Build Quality Backlinks
Backlinks are essential for SEO for roofers in New York and a litany of other searches for a reason: they help establish your authority within your industry and in the eyes of Google's SERPs. When your website is authoritative, it checks off one of the major categories that Google uses to determine the most relevant search results.
Being able to establish that authority within your industry is essential because it means that others within the industry will refer back to your website. This can mean generating organic traffic to your website from people who may have been on the fence about your services but still trust your word on relevant topics.
Creating consistent, engaging content is one of the best ways to establish that authority. Talk about questions that your target audience asks on a regular basis and answer them in a comprehensive manner on your website.
Doing this creates a level of authority for your business within the industry and can even garner links from other authorities within the industry. This is beneficial not only in the eyes of the customer but in the eyes of Google's SERPs as well, resulting in better opportunities to rank on page 1 of their relevant results.