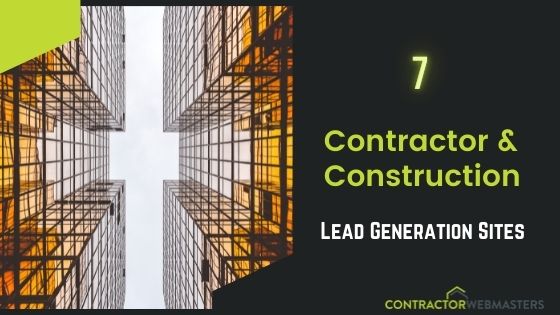 Lead generation websites for contractors are readily available on the web in 2022. If you've been in this industry for more than a day now, you know how essential contractor leads are to your business. Leads can be hard to come by, but you have a distinct lead-generating advantage over contractors a generation or two ago if you are running a contracting or construction business today. 
That's because there are many more opportunities for generating contractor leads in the digital age than 20 years ago. Still, you must know where to look and what strategies to use. By far, the best way to generate a steady, maintenance-free stream of regular leads is to have a good SEO strategy in place. 
At Contractor Webmasters, we want to share the websites you need to know about to generate high-quality leads. 
1) Angi (Formerly Angie's List)
As a contractor, you have probably heard of Angie's List. It is a unique network that connects homeowners with home service specialists of all kinds. Maybe you have even seen some of their commercials. However, you may not know that Angi boasts over 5 billion unique users.
That's a whole lot of potential leads. Angi tops our list (no pun intended) mainly because it is a forum tailor-made for contractors. Here are just a few of the perks of having your business listed on Angi:
It's free to create a profile
It is frequented by people specifically in need of home services (qualified leads)
You can run ads on the site
2) Google Business Profile
We were very close to putting Google Business Profile at the top of the list. That's because Google is such a beast in 2022. Everyone uses it, and if you aren't on Google Business Profile, you are doing something wrong – plain and simple. 
Take the following statistic into consideration: 56% of people who will see your listing on Google Business Profile will click through to your website. That means that more than half of the people who see you on Google Business Profile will likely turn into leads and go further in the sales funnel. 
That's not all, though. 64% of consumers report using Google Business Profile to research local businesses. We were tempted to put Google Business Profile at the top of the list because Google services have so much sway. 
Google is the most used search engine on the internet, and as you would imagine, they prioritize their services when you search on their site. That means that they will place your GBP listing higher on relevant searches than other business listings. 
If your business is listed on GBP, you have the best chance of getting more eyes on it. The more eyes you have on your business, the more leads you will get. Here are some perks of a Google Business Profile:
It's free to use
You can list vital information on it, like the services you offer and the areas you service
It will help improve your SEO rankings
Having your business listed in GBP will help you break into the local map pack. The local map pack is the most frequently indexed search engine feature on Google – appearing on the first page of searches nearly 30% of the time.
3) Bing Places for Business
Bing Places for Business works the same way for Bing as Google Business Profile for Google: Bing places a high priority on Bing Places for Business listings in relevant searches. Therefore, if your business is listed on Bing Places for Business, you will likely get Bing users. 
However, Bing is the second most-used search engine in the world. So if you are trying to drum up as many construction leads as possible, you should be present on both GBP and BPB. Take a look at some of the advantages of Bing Places for Business:
If you already have a Google Business Profile, you can import it to a Bing Places for Business listing
It, too, is free to use
While just the 2nd most used search engine in the world, Bing still gets 900 million unique searches per day
While Bing does not garner near the number of users as its Google counterpart, claiming your profile is a free and easy way to supplement customer acquisition without cost.
4) HomeAdvisor
Now we're getting into the paid lead-generation sites. HomeAdvisor is a solid choice because it specializes in home services like contractor services and construction. So it's a great place to connect with people who are already looking for the services you offer.
You will have to pay an annual subscription to be listed on HomeAdvisor. You will also have to pay for every lead you get on the forum. The good news is that the site can connect you with 4.2 million homeowners on the site every day.
You do have to jump through some hoops as a contractor to use HomeAdvisor properly, but it's worth it in the end. For instance, you may need a background check to set up your profile. Ultimately, this will generate more quality leads from people who trust the site, trust you as a member, and are ready to pay for your services. Some of the benefits include:
A large audience base
Vetted contractors are more likely to be hired
The site is specifically for home service professionals
5) Porch
Porch is a lot like HomeAdvisor. You can set up your profile on the site so people who come to the site looking for various home services see you in your area. The great thing about Porch is that you won't have to pay for every "lead" that contacts your company through the site.
Porch only charges you when you pick a lead to move forward. As a result, you will have to practice a bit of discernment; but in the end, you won't have to pay for leads that don't turn into customers. Porch is advantageous because:
It's a cost-effective solution for contractors on a budget
Porch will limit the sale of leads to four
It is one of the largest contractor lead-generation sites

6) Houzz
Houzz is an excellent option if you don't place a high emphasis on exclusive leads. While none of the sites on our list offer exclusive leads, sites like Porch limit leads to 4. In other words, the platform sells a lead to four contractors at a maximum.
On Houzz, the platform can sell the same lead multiple times. That's not necessarily a bad thing, though. If you are confident in your pricing, ability to close customers, and the marketable quality of your work, Houzz may be a suitable solution.
Houzz is also an excellent option for contractors who work specifically in the residential sector or, at least, whose business comes primarily from residential work. Houzz has an entire directory, and if you pay for the Pro plan, it will display your listing more prominently. Here are some of the benefits to being on Houzz:
Free and paid subscription options
Excellent source for shared leads
Offers advertising opportunities
7) Yelp
While not specific to contracting services, Yelp is still a powerful platform. Much of the site's clout comes from its popularity: Yelp boasts 178 million monthly users. Yelp won't get you leads in the same way as other sites, though.
It is a review website where prospective customers can read about the experiences that your past customers have had with your business. But, of course, it helps to have good reviews.
Getting listed on Yelp is free. You can also pay for ads that will increase your visibility on the site if you like. Some of the reasons to be on Yelp include:
Having your business listed on Yelp will help it get more reviews and increase SEO rankings
Most people won't trust a company that has four reviews or less
It encourages your past customers to detail what they liked about your service.
Yelp is an excellent example of how social proof works on the internet: when people see that many others have used your business and like it, they are more likely to hire you too. 
Get Exclusive Leads from Contractor Webmasters
SEO is still the best way to generate leads because it is sustainable and produces exclusive leads. Having a solid SEO strategy will help you pull in leads month after month and year after year. You can leverage your branded entities, like your website, GBP, and Facebook page, to bring consistent new prospects.
For SEO services that will yield more leads for contractors, contact us here at Contractor Webmasters.