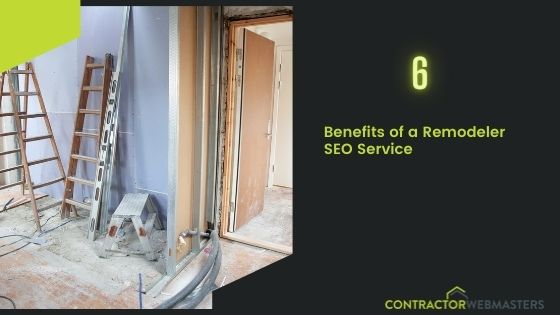 Home remodeler SEO matters. Whether you are a roofing company or a remodeling contractor, you can't expect to be successful in the digital age if you don't have a robust digital presence. In other words, if people can't find you online, they won't know you in real life.
Of course, that isn't good for business. And the numbers don't lie: one study determined that 97% of consumers use a search engine to find local businesses. Moreover, for most consumers, an interaction with a new company begins with a search engine query. So you better believe that ranking in Search Engine Results Pages (SERPs) matters.
If you are a home remodeler, you may weigh the specific pros and cons of remodeler SEO service. First, take a look at the following list of SEO benefits for remodeling contractors.
1) SEO Generates Leads
Leads are the backbone of your remodeling business, and SEO can help you generate more qualified leads. The best part is that SEO leads are free! One of the most important SEO tactics is keyword usage. It involves incorporating certain words used to search for services related to your business.
By using these keywords, you will be attracting people who are already interested in your services. Let's take kitchen remodeling as an example. Using the phrase "kitchen remodeling" and variations of it strategically throughout your website, social media posts, and ads, your website will appear to people who are already interested in kitchen remodeling. 
Keyword usage inherently generates more qualified leads for your business. You can do this for all your services and sub-services like countertop replacement, flooring service, room additions, lighting, and anything else you do.
2) SEO Builds Brand Awareness
Here's another statistic to chew on: 71% of consumers report that they are more likely to patronize a company if they recognize the brand. Whether you are a huge multinational conglomerate or a small remodeling business, brand awareness is crucial. You will convert more customers if they can recognize your brand.
SEO helps build brand awareness. When your website is listed among the top results in a relevant search, it inspires confidence in the consumer's mind.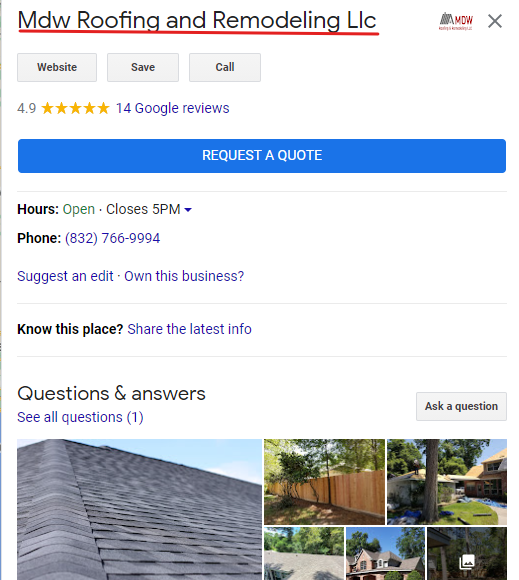 Most people know you don't get to the top of the rankings by being a seedy, evil, or low-quality company. As a result, people place a certain amount of inherent trust in the companies they see ranked the highest in online searches.
3) SEO is Affordable
Most remodeling businesses are small businesses; most small businesses don't have a huge marketing budget. You don't have to have thousands to spend on marketing with remodeler SEO service, though. Contractors can use basic SEO principles to boost traffic and leads for free.
Google Business Profile, keyword usage, link-building, and online reviews are all SEO tactics that you can use right now to increase your rankings for free.
Organic SEO services also tend to be more cost-effective than advertising as well. Some professional SEO services can cost as little as $500 per month. It will depend on your business and the scale of the marketing campaign, but by and large, SEO is the most cost-effective method of digital marketing.
4) SEO is Sustainable
This sort of goes hand-in-hand with our last point, but setting up your site for search engine optimization will yield long-term lead results instead of advertising. Once your site is optimized, it more or fewer pulls leads in on its own. That's not to say that you won't need to make changes here and there – you most certainly will.
Still, SEO maintenance is relatively minimal when compared to a digital ad campaign. While ad campaigns require regular A/B testing, having an optimized website pays for itself in time and requires little maintenance.
5) SEO Improves User Experience
One of the sub-categories of SEO is user experience. User experience (UX) refers to how a consumer interacts with your website. Why is this important? UX is important because people will leave your website within 20 seconds if it loads slowly or provides no value.
UX is all about optimizing your website to load quickly, provide instant value, and serve the visitor's purpose. Therefore, SEO is inherently predicated on UX. Part of SEO is technical SEO, which deals with web design, loading speeds, schema markup, etc.
If your SEO strategy is solid, then your website's UX will be in order. If your site's UX is in order, people will be more inclined to stay on it longer and take action.
6) SEO Helps you Reach the Local Market
Once again, remodeling businesses are, for the most part, local businesses. Local SEO is an entire branch of SEO that deals with getting your business noticed by your local market. Targeting your local market will be more cost-effective, efficient, and lucrative than taking a broader, advertisement-based approach.
More people than ever before are using search engines for local searches too. Nearly half of all searches on Google are local-intent searches, where people seek information on businesses and services in their immediate area. Local remodeler SEO service will help your business appear to those in your area who are more likely to hire you for remodeling work.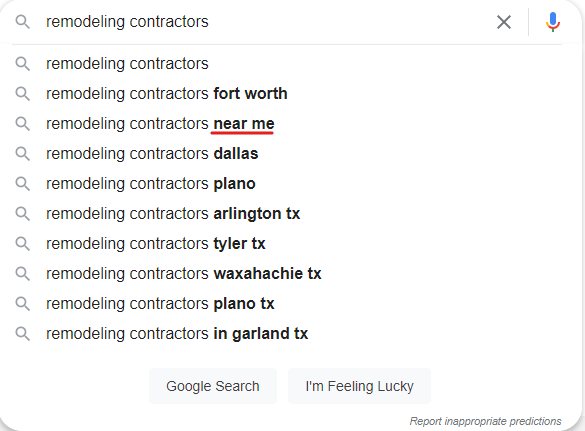 Reap the Awesome Benefits of Remodeler SEO Service
We have only scratched the surface of the fantastic benefits of remodeler SEO service. If you want to learn more or are ready to boost your business with our custom SEO services here at Contractor Webmasters. We provide custom websites, SEO, and a reputation management tool that boosts your local SEO. We look forward to discussing your marketing campaign.