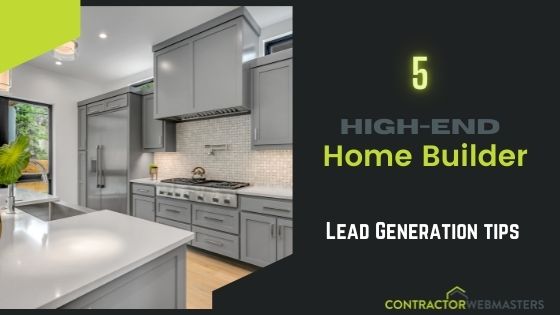 Home builder lead generation is not an exact science. However, you have worked hard to offer the type of high-end, specialty home builder services you do today. So why are you still generating leads for basic projects? One of the best ways to earn more as a home building contractor is to generate more high-end leads. 
High-end home builder leads come from people looking for the very best in craftsmanship with little thought to the price. In contrast, if you buy shared leads, you will compete with contractors who aren't as skilled as you are and will most likely outbid you for the project. 
When you have moved into the echelon of high-end homebuilders, you need a different strategy for generating leads. That's because you will need to generate different kinds of leads. At the end of the day, the principle is still the same: it will fail if you don't get the leads your company needs.
In the following post, Contractor Webmasters discusses homebuilder lead generation for the high-end home builder. But first, let's take a look at the best high-end homebuilder lead generation tactics.
1) Dial in your Social Media Marketing Campaign
If you are looking for high-end home builder leads, you have probably been on social media for some time now. That's because social media is powerful in marketing and generating leads. It's all about being visible to your market, and there are few places on the internet you can be more visible than on social media sites. 
That's because the average social media user spends over 2 hours a day on their favorite platforms. However, if you are looking for high-end home building leads, you will have to switch your strategy. Social media platforms like Facebook, Instagram, and TikTok are great for showing off your high-end work.
Post pictures of your previous jobs. "Before and After" videos are great for Instagram stories and will show people interested in high-end home building services that you are up to the task. 
For Facebook, you can post polls to see which high-end building materials your followers like the most. Then, orient your social media content towards the kind of high-end work you perform.
2) Publish Blog Posts
Content marketing is a great way to show prospects that you are knowledgeable about the subject. As a result, content marketing is still one of the most powerful lead generation tactics. An overwhelming majority of companies agree that content marketing is more effective at generating leads than any other marketing strategy.
Content marketing can refer to many things, though. Blogs, video content, and social media content are all examples of content marketing. Of course, you can implement all of these mediums, but blogging may be your best bet. Blogging allows you to focus on specific keywords and subjects that will attract the kind of high-end clientele you are after.
For example, as a high-end home builder, you may specialize in slate roofing. If so, why not write a blog all about the benefits of slate roofing, including keywords that will help people in the market for slate roofing find your post?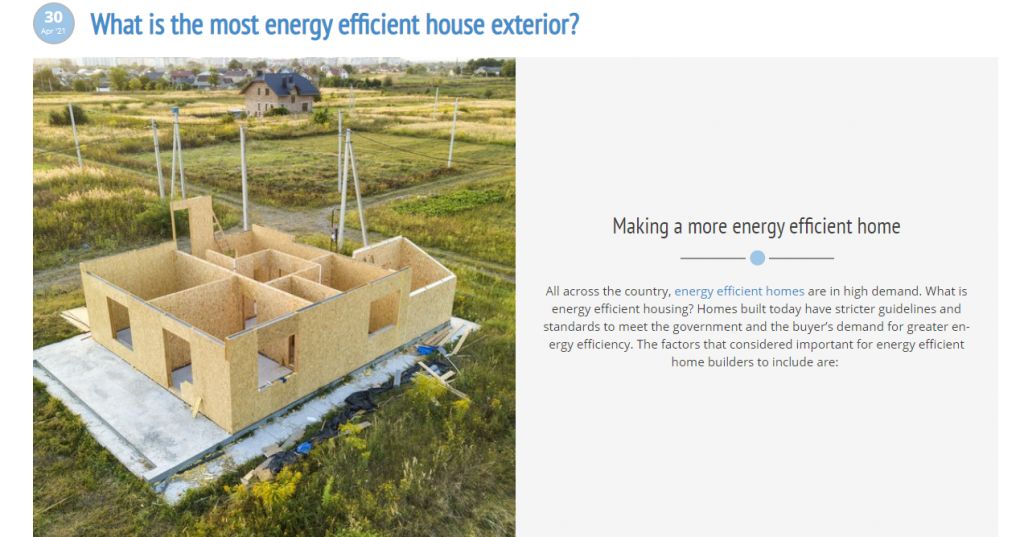 You can do the same with YouTube videos as well. Make sure to include specific slate roofing-related keywords in the script and the video's description. Don't forget to include links to your website in the video description and a call to action in your blog posts. 
3) Email Lists
Email lists are the backbone of email marketing. They allow you to target specific leads based on the types of interest they've shown in your services. There are different ways you can generate email lists:
Special Offers: Offer special incentives in exchange for email information.
Future Promotions: Some people may not be ready to buy right now, but you can keep them enticed with future promotions. Provide an incentive for people not prepared to purchase but willing to provide their email to hear about future promotions.
White Papers: White papers are documents that provide detailed information that a consumer may want. They can be how-to guides, industry reports, a list of statistics, or other types of helpful documents. You can offer white papers to potential leads in exchange for their email address.
These are all viable ways to start building an email list. However, if you are looking towards high-end homebuilder lead generation, you need to skew your methods a bit. For example, if you intend to publish a white paper, make it one on high-end building materials or processes.
You can also create special offers for high-end building services in particular. This way, you will start to gather a list of emails attached to consumers who are more likely to be interested in high-end home building services. 
4) PPC Ads
PPC stands for Pay Per Click, and it's what it sounds like: you pay for an ad to go up, and you pay the service provider every time the ad gets clicked on by a consumer. PPC advertising is a great way to get your name out there if you are new to the high-end home building industry or recently added high-end home building services to your repertoire.
What makes PPC ads helpful for people trying to promote a specific service because you can display an ad to people in need of your services. PPC ads use particular keywords to determine who to target. For example, if you put up an ad promoting high-end flooring services, you can attach the ad to specific keywords that people often use when browsing for high-end flooring. 
Google offers the most popular PPC service, known as Google Ads. On Google Ads, you can appear on the top of Google SERPs for industry-related keyword terms and phrases. While it can't replace SEO, it can ensure your company gets clicks from search engine users.
According to Ubersuggest, home builder seattle costs $2.98 per click for PPC Ads
5) Retargeting Ads
Retargeting ads take PPC ads a step further by appearing to people who have interacted with your website and left without taking any action. They can appear on multiple sites and platforms outside of your website. For example, Remarketing can be great for anyone who looked at the high-end services section of your site but didn't make a move.
But how effective can chasing down a seemingly uninterested consumer be? Presumably, the stats don't lie: the average click-through rate for standard display ads is only 0.07%, while the average click-through rate for retargeting ads is 0.7%. 
Get More Help with Homebuilder Lead Generation
The five homebuilder lead generation tips listed above are all things you can do for yourself right now. However, there are even more ways to get more leads with Contractor Webmasters. So if you want to get the most contractor leads for your high-end homebuilder business, then give us a call here at Contractor Webmasters.
We provide SEO services, including web design, content, reputation management, and on-page optimization.