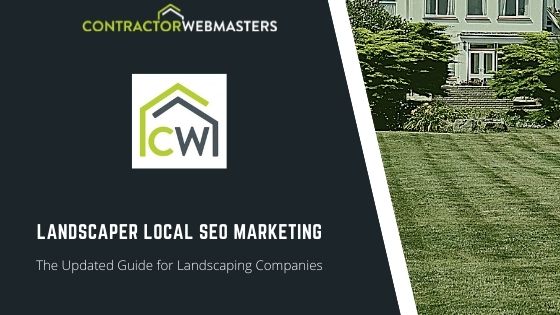 Landscaper local SEO marketing is vital in 2023. These days, many of your leads are simply conducting a Google search for "landscapers near me" or a similar, locally-oriented search phrase and contacting the first couple of results that come up. Don't believe us? The numbers don't lie: 97% of consumers use the internet to find local businesses. 
SEO stands for Search Engine Optimization. In short, it will allow your website to appear as one of those first few listings that leads will likely contact when searching for landscaping services in their area. 
A more specific branch of SEO for landscapers is local SEO marketing. In 2023, local SEO marketing for landscaping companies is critical. To maintain a healthy flow of leads and land more customers, you must utilize local SEO marketing effectively. 
Easier said than done, though. So, where do you start with local SEO for landscaping? What are the best practices? Contractor Webmasters outlines everything you need to know in this post.
Key Takeaway:
Landscaper local SEO marketing involves registering your company on Google My Business and targeting location-based queries (i.e., landscaper near me) on your official website.
Keyword Research
Keyword research is where it all begins. That's because search engines like Google use keywords to show users the listings that best meet their implied needs. While you can guess some terms used by people who need landscaping work, it's more efficient to use a keyword research tool.
A keyword research tool will show you what phrases people are using when looking for the services you offer. It will also give you a list of your competitors' keywords and the estimated monthly volumes of each term. Remember, these numbers are estimates and not exact figures.
It's essential to gather a list of keywords with buyer intent and informational intent, as you will see in the following section.
In general, you can insert target keywords in the page title, meta description, and first paragraph of every page on your website. 
Keyword Optimization
Your researched keywords must appear in your website's copy and meta titles. However, you must avoid stuffing keywords into the copy unnaturally. Keyword stuffing can trigger a Google algorithmic penalty which hinders your ability to rank for those keywords.
The first step in keyword optimization is to use your keywords naturally and not overuse them to manipulate the search engine. Here are some more tips on how to optimize the use of your keywords:
Buyer Intent
Your core pages are your home, about, and services pages. Buying intent keywords include phrases like "Landscaper in Poughkeepsie" and "Landscaping near me." It's best to save your buying intent keywords for your core pages as they will sound the most natural and lead to the most conversions.
Informational Intent
Your informational pages will include your blog posts and FAQ page if you have one. Informational intent keywords include phrases like "how long does sod last" and "easy landscaping ideas." They reflect the intention of consumers who may not want to buy right now but may buy eventually.
Including popular research intent keywords in your blog and other educational pages is what will earn you more leads, even if they don't result in an imminent sale. 
Additionally, informational pages like blog posts are the best way to earn inbound links. Third-party websites are more likely to use a blog post as a reference in their article than a service page. The good news is you can distribute the link equity from your blog posts to your service pages.
Off-Page SEO
Compiling credible signals from across the web helps boost your rankings. But, more simply, you must make yourself visible to your audience. Off-page SEO means being present on as many sites (other than your own as possible) in the digital age. 
One great place to start is on reviews sites and consumer information sites. Here is a short list of sites you need to be registered with if you want to implement landscaper local SEO marketing successfully:
Google My Business
Google My Business is the single most crucial website other than your own. By being registered on it, you drastically increase your chances of being seen by consumers in your market. You can start the registration process here.
Yelp
Yelp is a review site that allows people to share their experiences with local businesses. It has 142 million unique users, so being present on Yelp can instantly boost online visibility.
Angi
Formerly Angie's List, Angi is a review and reference site dedicated to home service providers like landscapers.
Houzz
Houzz is essentially a copycat of Angi, but it owns a significant market share as it boasts 44 million users each month.
Link Building
Another large part of increasing online visibility is expanding the number of links to your website. Building white-hat links are often the most challenging part of landscaping local SEO marketing, but you can approach it in 2 ways:
Directory Listings
Nofollow links from directories are completely white hat and something every business should have. Sign up for local business profiles or social directories like Facebook, the Better Business Bureau, your local chamber of commerce, or landscaper directories. 
Editorial Links
Try reaching out to businesses that work in tandem with yours, like home remodeling contractors, real estate agents, developers, and the like. Ask them to include a link to your site on their site or propose a guest post.
Be careful with generating editorial links since some methods are considered black hat and may result in a manual action from Google. For example, exchanging money for links is prohibited by Google's guidelines.
Check out our local SEO services to learn more about landscaper local SEO marketing.
Final Thoughts on Local SEO for Landscapers
Local SEO is a great marketing vertical for landscaping companies. Ranking within the Google Map 3-Pack can yield consistent leads from high-conversion prospects. While other marketing methods like PPC and Facebook Ads can be effective in short windows, Local SEO is a sustainable long-term strategy. Best of all, local SEO is relatively simple to implement, especially with the help of a credible SEO agency.