Flooring company PPC is an integral part of your digital marketing strategy in 2023, along with SEO for flooring contractors. Google Ads appear on top of search results, making your company's presence on these ads imperative.
Flooring company PPC is also part of a complete digital marketing strategy. PPC stands for Pay Per Click. It is a form of digital marketing that can give lead generation and customer conversion a shot in the arm.
First, however, there are some practices that you should follow if you want the best results for your flooring company's PPC ad campaign.
In the following post, Contractor Webmasters outlines the basics of flooring company PPC advertising and gives you tips on getting the best ROI for your campaign.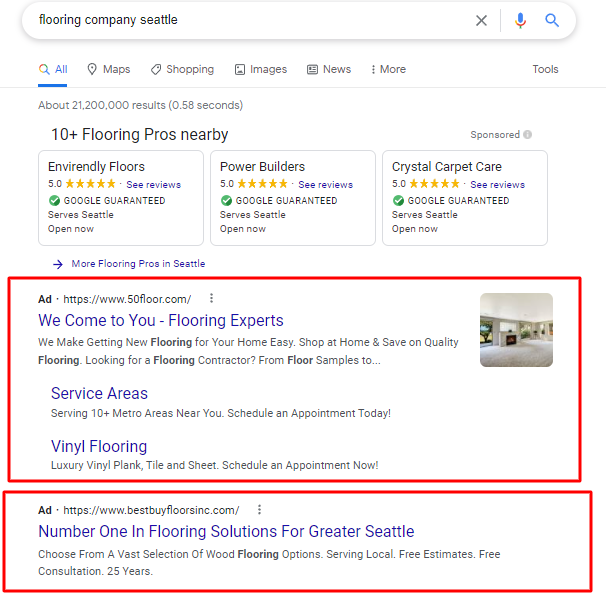 Flooring Company PPC Basics
PPC advertising works simply. First, you create an ad for the network of any publisher like Google. Then, when web surfers click on the ad, the publisher gets paid (by you) a certain (pre-determined) amount. Here are some essential things to consider when planning your PPC ad campaign:
Competition
Google and other publishers charge more per click if you are trying to display your ads to people using high-competition keywords. But, of course, these terms also yield more total clicks and conversions.
Keywords
If you build your campaign around the keyword "flooring in Biloxi," your ad may show up to consumers who perform a search for that term or one similar to it. Just like SEO, Google Ads uses keywords to match users.
Landing Pages
A landing page is a small, one-page URL connected to your PPC ad. So when consumers click on your ad, they are led to a landing page. The purpose of the landing page is to further entice the customer and encourage them to call you or visit your website. 
PPC Publishers for Flooring Companies
Fortunately, you have plenty of options for PPC ad publishers. But, of course, you will want to choose the ones with the largest networks, as they will give you the best chance of high exposure.
Google Ads
Google Ads is the best option for PPC ads. They emulate organic search results and garner the most clicks and impressions. For example, as a flooring company, you will probably work with many middle and later-aged homeowners. 
We would recommend Google Ads first and Facebook Ads second for the best outreach.
Facebook Ads
A much broader swath of the population you want to advertise to uses Google. But Facebook Ads are a good choice, too, as the average US Facebook user is around 40 years old. 
For flooring companies, we would also recommend saving your PPC ad budget for Google and Facebook instead of Instagram ads.
Instagram Ads
While the Instagram ad network is growing, younger people still use it. So if you have the budget, use all three platforms by all means. But if you're just starting with PPC, we recommend saving the bulk of your PPC budget for Google and Facebook, with Google definitely being higher-priority.
Getting The Best PPC Campaign Results
A lot of thought needs to go into your flooring company's PPC ad campaign if you want the best ROI. Here are some tips on how to get the best results from PPC ads:
Identify your Target Audience
As a flooring company, you will likely work with homeowners, property managers, interior designers, real estate agencies, and general contractors. So be sure to target these groups when you are selecting ad publishers. 
Target Multiple Keywords
Keyword research will be fundamental as it will give you insight into which phrases your customers use most to search for flooring services. However, try not to pigeonhole your PPC campaign to just one phrase. Instead, if you have the budget, create ads for multiple keywords. 
Maximize Low-Competition Keywords
Don't neglect low-competition, long-tail, or region-specific keywords if you have a limited budget. They will likely be less expensive and yield comparable results to high-competition keywords.
Furthermore, if you create a highly-targeted landing page, you have a good chance of converting clicks for long-tail and specific keywords and phrases in 2023.
Create Enticing Landing Pages
Keep your ad copy short, sweet, and to the point. Include just 2-3 high-quality images, and stay on topic. In other words, don't make the copy pertain to something different than what the ad promotes.
Identify and stress how the specific service can solve a problem for the consumer. End with a solid call to action that tells the consumer what their next step should be (call now, make an appointment, join the email list, etc.).
Conduct A/B Testing
A/B testing reveals which of your flooring PPC ads are working and which needs tweaking. Conduct A/B testing on at least a monthly basis (weekly testing would be ideal).
Like SEO, PPC is about testing and correcting to drive better results. Of course, your first PPC ad won't be your best. Still, it will give you valuable information that you can use to optimize future advertisements.
Parting Advice for Flooring Contractor PPC
To give your flooring company the best chance at success in the digital age, you must utilize a handful of digital marketing tactics. First, SEO for flooring companies is chiefly important ( the methodology of getting your site to rank the highest in search engines for keywords). 
However, PPC is also critical, especially for newer flooring companies. SEO can take up to 6 months to show noticeable results, so supplementing your traffic through paid ads is a great tool.
Start out with a reasonable budget if you are new to flooring company PPC ads. Of course, you can constantly adjust how much you are willing to spend, so start off small until you learn the patterns and tendencies.
Work with us at Contractor Webmasters if you want a shortcut to unique, customer-generating flooring company PPC ads. We drive the best results for flooring companies in the United States and help generate flooring leads consistently. A multi-channel approach works best for everyone.