In the following post, Contractor Webmasters outlines unique ways to earn more fire restoration leads. These tips will also help you acquire quality leads with higher conversion rates.
What are Fire Restoration Leads?
Fire restoration leads are potential customers with interest in fire restoration services. They demonstrate interest by contacting your business and submitting contact information for future correspondence.
Best Methods to Get Fire Damage Leads in 2022
Website Optimization
Simply having a website in 2022 isn't enough to drive new customers anymore. There is fierce competition on the web, but that is where all your customers are going.
For example, consider the following statistic: nearly 97% of all modern consumers use a search engine to find businesses in their area. Yes, that includes people who are looking for fire restoration businesses.
Chances are, your business isn't the only fire restoration business in your local market. So how do you stand out online? First, you must revamp your website and optimize it for search engine inquiries.
How do you do that? Here are a few essential tips:
Keyword Research: Keywords are some of Google's most important ranking factors. Use keywords that people utilize to search for your services in your website's on-page content, your H1s, your meta descriptions, and, if possible, even your domain names. 
Include Images: Adding high-quality images to your website can help your site index more image searches. Be sure to include high-quality photos on your website that are relevant to the textual content. Also, add alt-text and descriptions for your images.
Internal Links: Internal linking is an easy way to optimize your site for search engine inquiries. Make sure that every page of your website includes a link to another page on your site.
Your website is your essential lead-generation source and branded entity. Make sure you own your domain name and invest in SEO services to maximize an organic presence.
Local Networking
A more grassroots approach to getting more fire restoration leads is reaching out to local businesses. Try networking with non-competing local businesses in your area that may benefit from your services.
Almost every business can use a suitable fire restoration contractor at some point or another. Here are some examples:
Realtors: Residential and commercial realtors invest in fire-damaged properties and frequently need the services of a fire restoration contractor.
General Contractors: General contractors also often need the services of a reliable fire restoration expert.
Commercial Businesses: Think about this: 75% of all businesses fail within a year of undergoing fire damage. No one wants it to happen, but you better believe that business owners will do all they can to keep their businesses alive after a fire.
Property Managers: Reach out to local commercial and residential property managers who may, at some point, find themselves in need of your services.
Google Business Profile Optimization
Google Business Profile (previously known as Google My Business) is a free service that provides business owners with a platform for customers to find information and leave reviews.
This service also allows business owners to create a dynamic profile that describes the business, lists contact information, provides service area information, and more.
Millions of consumers search Google locally and find GPBs within the Local Map 3-Pack on Google search results. Optimizing your profile can ensure you show up for the most relevant keywords in your area.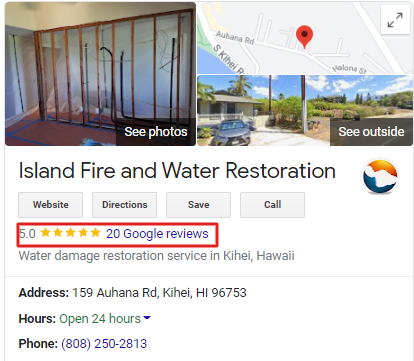 Be sure to claim your business on the Google Business Profile platform and fill it out with accurate and complete information about your business. You can also use this platform to respond to and manage customer reviews.
Flyer Printing & Distribution
Going door-to-door and leaving flyers on doorknobs is a great way to increase brand awareness and generate more fire restoration leads.
Flyering still has a very high conversion rate and low cost compared to other forms of advertising and marketing. In fact, 48% of consumers report responding to companies directly from flyer marketing.
That is a very high customer response rate, especially compared to other direct marketing forms. Plus, having a batch of quality flyers made for your fire restoration business can be as cheap as $200.
Content Marketing
Content marketing is one of the most effective ways to drive traffic to your website – and more web traffic translates to more leads. But, of course, content marketing depends on high-quality content for your consumers.
Consider some basic content marketing methods, like starting a blog and marketing posts across various channels. You can also create video content and share it on your company's YouTube account and more.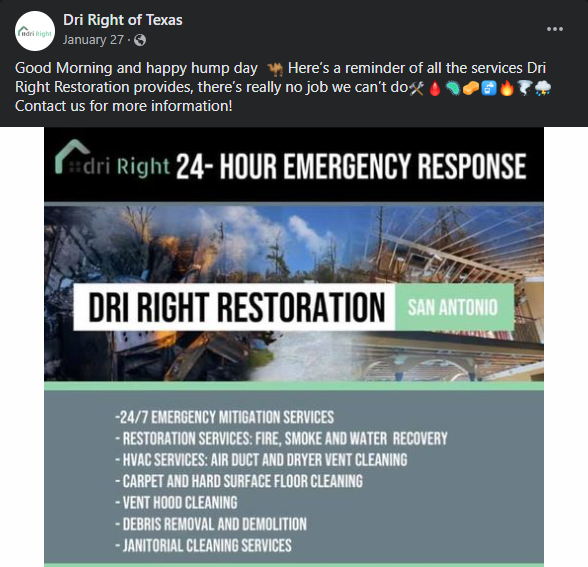 Content creation is the first step, but distribution is just as important. Next, you must disseminate content through appropriate channels, including social media pages and email blasts. As people consume your content, you get more leads.
Local SEO
We touched on your Google Business Profile, one aspect of Local SEO. However, Local SEO is also essential for fire restoration lead generation in other ways. For example, city and location web pages.
Ranking in the Local Map 3-Pack is excellent. Still, you can also rank locally on organic search results by producing city pages. One way to boost your location pages is through the local SEO tool, DataPins.
DataPins allows contractors to drop pins for each of their field jobs. The pins are automatically published to the most appropriate location and service pages.
For example, a fire damage cleanup page in Fort Worth shows on your fire damage cleanup service page and your Fort Worth location page. Thus, not only do pins help boost rankings via schema markup, but they also increase conversions by serving as social proof.
Reputation Management
Having strong visibility online gets eyes in front of your business. However, a poor reputation can dissuade those users from taking action. For example, lots of negative reviews on Google decrease your leads.
There are ways to generate more reviews and improve your review quality. One of the best ways to increase reviews is by utilizing automated requests. You can use software to auto-send requests via SMS and email.

As for improving review quality, much of that falls on your business. You obviously have to do an excellent job on your services, which helps set clear expectations for your clients. One thing to avoid is sending a review request to a client who clearly finds your work subpar.