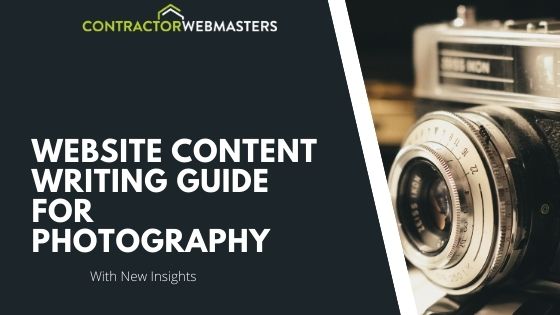 What is Photography SEO Content Writing?
SEO content writing for photographers refers to crafting keyword-rich content for search rankings. It's important to write content naturally and refine it by strategically sprinkling LSI keywords and satisfying user intent.
Ultimately, Google wants its users to have the best possible reading experience, so your content should appeal to the end user first and foremost.
Web Content for Photographers
A photographer interested in marketing has heard terms like content marketing, content development, and content syndication. Understanding what these terms mean and how to apply them to an effective marketing strategy is essential for online success.
It's no secret that content is one of the pillars to search engine optimization, which photographers can and should pursue. Check out some of the components of SEO content below:
Blog Writing: Blog posts hosted on your website, or a 3rd party
Content Marketing: The promotion of branded content for lead generation
Keyword Research: The identification of high-volume, low-competition keywords
Page Writing: Content pages serve as conversion landing pages for photographers
Photographers are often tech-savvy because of their experience using cameras, editing software, and other technological devices. With this in mind, they will likely understand the value of online marketing.
Website content is the engine for photography SEO as long as it adheres to Google's Quality Guidelines and fosters engagement from visitors and readers. Well-crafted content can help you earn business locally.
Photography Content for Lead Generation
As natural artists, photographers may write to write, but the goal is to generate leads for SEO. Writers should craft content deliberately and based on extensive keyword research and market analysis.
With an effective marketing strategy, content can help your brand reach thousands upon thousands of additional consumers. Of course, the goal is to get your content in front of users who may become customers someday. Contractor Webmasters help you accomplish that goal.
Branding: Establish your photography brand online, across the web
Engagement: Keep visitors engaged and on-site for increased metrics
Expanded Reach: Reach a more comprehensive range of consumers and prospects
Targeted Traffic: Generate relevant traffic from high-conversion users
Trust us when we tell you that buying photography leads from 3rd parties is a bad idea. When consumers buy from a lead broker, their loyalty belongs to that broker instead of you, the contractor.
When you create and market your content, you brand your own company and earn the loyalty of everyone you reach. As engagement builds around your brand and web properties, your pool of potential clients grows exponentially.
The #1 Photography Content Marketing Company
Content marketing companies are a dime a dozen in 2023. But how many of those agencies dedicate their time to crafting custom, quality content that adheres to Google's Guidelines? How many of them have spent decades performing keyword research to identify the best targets and generate the most leads?
The answer is, of course, none of them. Contractor Webmasters is the #1 content marketing company for photography professionals and the only company photographers can trust to market content in the new year.
By partnering with Contractor Webmasters, lensmen, and women gain access to decades worth of marketing data used on your campaign. When you pay for our services, you aren't paying just for implementation. You are also paying for experience and knowledge.
We avoid pitfalls that other marketers encounter because of inexperience. We know what helps photographers rank in 2023 and look forward to maximizing your ROI in the upcoming year.