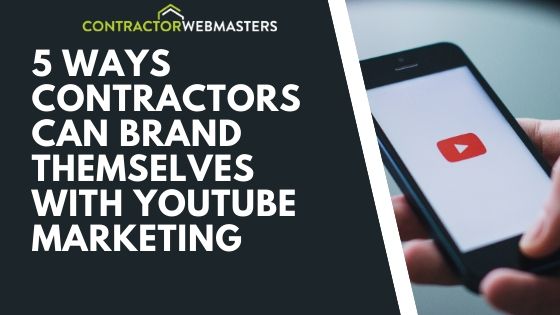 Whether you want new customers for your plumbing company or simply want to know how to get leads for construction, YouTube marketing can help contractors achieve their objectives in 2021.
YouTube is among a handful of tools out there that are absolute essentials for any business. When it comes to marketing your business, there is no substitute for the reach and potential that an avenue like YouTube presents.
But simply creating an account on the video giant and posting random videos won't achieve the results that you are after. You have to properly understand YouTube marketing in order to properly brand yourself and your business.
For those who aren't tech-savvy and find the social media era to be repulsive, YouTube can seem more difficult than it is. Follow the steps provided in this guide, and you will feel like an expert when it comes to marketing your business through YouTube.
1) Write Compelling Titles
It doesn't matter how good your video may look; it is absolutely useless if there is no one to click on it. This is why the title is so important to the success of your video and why it is important to optimize your video for YouTube marketing in order to bring in those highly important viewers.
There is more to it than just creating a snazzy title, however. There are a few ways that you can create the perfect YouTube titles to give you the kind of reach that you have always dreamed of having for your business.
Find the right keywords: Keywords in the title will tell Google crawlers what your video is about. Not only that, good keywords will tell your viewers exactly what to expect from the video before they click it, creating a win/win scenario.
Keep your title short: Try not to exceed 60 characters with the length of your title. The optimal title will be something that viewers can see with just a quick glance. Anything more and you're hurting your effort.
Clear, descriptive titles: Never, ever make viewers figure out what you're trying to do. Let them know precisely what the video is about. Any additional work, and they likely won't bother giving your page a chance at all.
Try following a pretty simplistic formulate to create the perfect YouTube marketing video title. Identify a central idea for your video, search for short and descriptive keyword phrases that identify with that theme, and then choose a title that best answers the most important question for viewers.
2) Limit Video Length
Much like a lengthy article, fewer and fewer people are willing to invest time in a lengthy video. Anything over five minutes, and you're likely wasting time and resources because people won't even bother watching it.
The majority of YouTube videos surveyed during a Comscore survey had an average video between 4 and 5 minutes. If you have a long video that is simply repeating yourself, it kind of defeats the purpose of YouTube marketing.
In short, people need to have a good reason to be interested in what your video is presenting. Experiment with video length as you go to find out what works best for you in terms of maximum engagement.
A few general tips when creating a YouTube marketing video: make certain that the content is of the highest quality and interesting to your target audience. Optimize your videos to make certain they are under that 5-minute mark. Anything more and you're just wasting time. Keep your videos informative, interesting, and as short as they can be to keep the attention span of the user.
3) Brand your YouTube channel
The biggest and most visible users on YouTube have their own channels. This is where they release content exclusive to their brand and viewers know to go to their channels to find out more about that content creator.
The same concept should be applied when implementing YouTube marketing. Create a branding channel that makes it visually attractive and encouraging to visitors when it comes to taking you seriously. Not only will this draw visitors to your channel, but it will also grow your brand awareness and makes your audience spend more time with you and your videos.
The company logo should always be your company's profile picture. Again, the brand is the point of all of this and that is the very first thing most users will see when they go to your YouTube channel.
In order to help users find you easily, make certain to add descriptions and titles to each one of your videos. There is also a banner image included in your profile; make sure to use it to link to your website and social media. The more avenues that you have to generate organic traffic to your website, the better off you'll be.
4) Use Calls-to-Action (CTAs)
It has been proven that adding calls to action to your videos will create more engagement on YouTube. The tricky thing is that they can also be irritating. Be clear and concise with your CTAs and don't beat people over the head with them.
Add links to your contractor website or maybe ask for subscribers to your channel either within or at the end of the video in order to let people know what the next step is. Approach your CTAs smartly, and you will be rewarded over the long term.
5) Share to Social Media (Go Viral)
Social media platforms like Twitter, Instagram, and Facebook continue to be essential avenues of marketing to your audience. Even with a strong YouTube marketing plan, you should be sharing your videos to those platforms to get more eyes on the videos themselves.
Each social media platform has its own distinct culture, and you need to figure out which one is the best for your videos and where your efforts will most be appreciated. Don't just spam your videos to those accounts; users will notice this quickly and ignore them.
Try adding interesting messages when posting your videos to your social media accounts. This will let the user know what the video is about and inform them why they need to watch it. Social media can be a hugely powerful tool, especially when it comes to the world of YouTube marketing. Use it effectively and you'll notice major results.