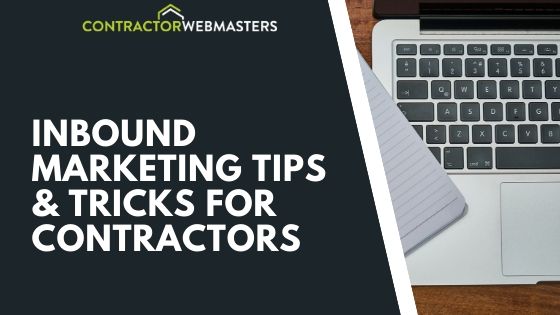 As a business, you may have heard a term before but not realized what it meant: inbound marketing. This is a methodology in business that is about attracting customers through experiences that are tailored to them and creating content that is valuable.
Inbound marketing is about creating connections with your audience that is looking for solutions to problems that they have whereas outbound marketing is about interrupting your audience with content that they likely don't want.
Establishing an effective marketing strategy as a contractor can mean the difference between success and failure as a business. Here are a few tried and true strategies that can help boost your inbound marketing efforts and leave you seeing the results that you have always been after.
Use Pay Per Click (PPC) advertising using location target
Pay Per Click advertising is one of the most effective methods of marketing that there is. PPC are ads that work on Google based on certain location-based keywords (contractor would be a great one in this instance) so that when a person searches for a service related to your industry in your specific location, your business is one of the first that comes up.
What is also great about PPC advertising is that it helps to establish your brand while allowing businesses to only pay for those ads when they are actually clicked. This is a fantastic way to keep your brand in the peripheral of your potential audience until they are ready to click.
Marketing on a budget is easier with PPC because you are only competing with your location-based competition instead of all of Google.
Optimize your website
Having a great website is one of the biggest keys to establishing a strong method of marketing. This is because well over 80% of consumers will check out a business's website before they decide on making a purchase. Having said that, your website has to make a strong first impression, and it has to be a source of informative content.
But if your website isn't properly optimized, it doesn't matter if you have the best content on the web. The simple fact of the matter is that people need to be able to find it easily, otherwise they are going to go with other options. There are a number of different things that you can do to properly optimize your website.
Things that you might not have considered, like making sure that your image tags are there and that there is an image description, are far more essential than you might realize. In tandem with meta descriptions and internal links, you can make your website far more searchable when using search engines like Google.
Have a strong email marketing campaign
What you might not have realized is that email marketing is still one of the strongest methods of marketing that there is for businesses in all industries. This is because email marketing is a great way to get your product in front of your audience and make them aware of your brand as well as the services that you have to offer.
A great email campaign would include things like any discounts or coupons that you could provide, specials that you are running, or any other type of incentive to get the recipient of those emails to use your business. There are few portions of a campaign that can be as successful as a strong email marketing campaign.
The key here is to appeal to both current and prospective customers. Running reward campaigns for current customers and a discount for prospective customers is a great way to entice those customers to buy your product or use your services.
Create call-to-actions (CTA)
The key to any good content, whether it is through your website or any kind of campaign, is to have a call-to-action. This is what tells your customers that they need to use your business for a given reason. Not only that, having a CTA on your website adds interest to your website.
When you implement CTAs on your website, you can give that visitor incentive to click on the button, the link, or image. This works for you because you sell a product or at the very least get important information about your prospective customers.
A good call-to-action can also raise a sense of urgency in your prospective customers, urging them to use your product or service.
Social Media Campaigns
One of the most powerful aspects of marketing on the internet is the use of social media. Social media is a massive platform that has a litany of uses and businesses are only just beginning to tap into the potential that it offers in terms of building their customer base.
Facebook, Twitter, and Instagram all reach hundreds of millions of users on a daily basis. Understanding how to best use them can make a huge difference in the way that can drastically affect a business. Understanding the right way to utilize each is the key.
Facebook is a great place for gathering customer feedback and reviews. When you create a Facebook business page, this is a great source of information for your current and prospective information. They can find your contact information, photographs from jobs you've completed or products you offer, and reviews from other users. It is a great, multi-faceted source of information for customers.
Twitter is fantastic for direct interaction with your audience as well as driving traffic to your website through the use of links. The direct interaction is key because users can make you aware of the issues that may be occurring in your business, allowing you to get a lead on correcting them.
Instagram, meanwhile, is a combination of the three. You can interact with customers, use hashtags to track your business, and show photos from job sites or of your products. Making effective use of these three mediums is a great way to establish an effective marketing campaign.
Get customer reviews
Perhaps the most important aspect of a marketing campaign is to show your audience that you are to be trusted and that your business is reputable. Gaining that trust with your audience is perhaps the biggest hurdle to overcome as a business in any industry.
Customer reviews are the quickest way to establish legitimacy and trustworthiness with your audience base. There are a couple of keys here. Featuring your reviews in an easily accessible place leaves your audience with valuable feedback on your company.
It is important to not hide or ignore negative feedback. Address it, along with all positive comments, to show that you care about the experience that each customer has and that you are listening to what customers have to say. This will show that your company is more accessible and cares about the overall experience of the customer.
Also, don't limit yourself to reviews left on your own website. Create and showcase profiles on other review sites like Yelp, Google, and others. This gives you diversity when it comes to showcasing what customers have had to say about you, and it furthers your legitimacy.
Establish local partnerships
When running a business, it can often feel like an "us versus the world" kind of situation, but that is not always the case. In your industry, sure, it's you against everyone but partnering up with local businesses that are relevant to yours can be highly beneficial.
For instance, if you run a contractor business, it might be beneficial to partner up with a local hardware store. Run a program where they get a certain percentage off at the store for using your business and vice versa. This can help drive traffic to each other's businesses and raise awareness as well.
Make use of forms
While converting prospects is essential, getting those contractor leads that turn into conversions is just as important to the process. Getting information from your customers is essential to growing a business, and you have to have effective ways to capture information.
One great way to do this is to make use of the front page of your website. A prospective customer who is potentially interested in using your business would go to your website to learn more about your company. While there, they could fill out a form with their information. This is great because you can follow up with them later to gauge their interest or push them from prospective customers to actual customers.
As you can see, there are a plethora of different marketing strategies that you can use to make your contractor business earn leads more effectively and turn those leads into actual sales. Getting the attention of your audience is difficult, but when you have the proper marketing campaign, it can really make your business stand out.
The key is to implement a few different strategies and see which ones work best. Then, you can put an emphasis on those and make the tweaks necessary to the other campaigns until you find a sweet spot and your business begins to buzz.