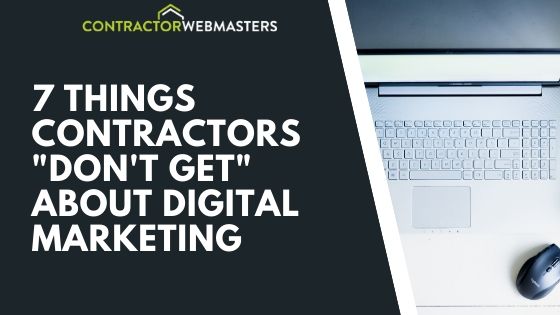 Digital marketing… it's everywhere. But then why don't contractors understand what they actually need it for?
The problem is with the companies promoting and selling marketing services. They use deceptive language and half-truths so that the actual service remains vague, and the contractor cannot possibly assess if it works.
As a result, there are many things about digital marketing, that contractors "don't get" … but through no fault of their own.
So Contractor Webmasters is here to speak clearly and without an agenda.
Why do Contractors Need Digital Marketing?
Marketing your business is the way that you reach your audience. Without those marketing capabilities, you can have the greatest service or product possible, but it won't matter because no one will know about it.
There are multiple methods that fall under digital marketing. One avenue might work for one business but be a massive letdown for another. Still, there are some simple truths to the digital marketing process that many business owners out there simply don't get.
Instead of working and developing their tactics, they simply don't "get" these methods and instead let their business suffer along the way. There are seven things in specific that any business out there can take advantage of to improve their overall digital marketing efforts and give their business a better chance at reaching their target audience.
Here are 7 things some contractors "don't get" about digital marketing:
1) They don't "get" having a website
There are some old-school business owners out there that think that technology is a burden and that using old-school methods is the only way to go. They feel particularly strong when it comes to having a website in that they think that they don't need one.
The simple fact of the matter, however, is that any business needs to have a website. This is because 85% of consumers prefer to make a purchase from a store rather than online, but they tend to want to know more about that business before they visit the store.
Your website as a business sets the tone for and gives that always valuable first impression to potential clients and customers. Having a website is the first step towards presenting your business well, but you have to make sure that your website says what you want it to.
This is true in both the content that you produce and the design that you implement.  Without a website, you basically do not have the ability to make a first impression unless that consumer is willing to seek out reviews on your business or visit you in person (which they likely will not do).
One mistake that many contractors make is in doing their own web design. While this might save you some money in the short term, a design that does not look professional will cost you money in the long term. Hire a professional web designer to design your website to ensure that you present your website in a professional and informative manner as possible.
2) They think they can ignore digital marketing altogether
There was once a time when the phone book was the preeminent way to find a business. That has changed while remaining basically the same. This is due to search engines that allow you to find a business and its website based on relevant keywords as well as location.
If you ignore digital marketing altogether, your business misses out on those super valuable location-based local searches. Say a user looks for a contractor in their zip code; the search engine will then pull up the most relevant results based on the location and the keywords used.
When your business ignores this, all of that potential business gets missed and goes out the window. This can be resolved in a super-easy way. Setting up a Google My Business page is the easiest and most efficient way to do this. It gathers all the pertinent information about your business and puts that into your search rankings so that your business can appear when those local searches are performed.
When this happens, your business stands to benefit greatly. Don't ignore your digital marketing as it can have a great benefit on the bottom line of your business.
3) They try to do it themselves
We kind of touched on it previously above, but there is a sentiment among some business owners that they need to do everything themselves. That is understandable in some ways: it comes down to a matter of pride in wanting to do everything yourself, and it can come down to cost.
But the fact of the matter is that you are going to need help in most areas of your business, the digital marketing aspect included. This does not necessarily mean delegating, but it certainly is part of it. Think about referring to case studies to see what digital marketing agencies are doing so that you can try to copy some of their more successful methods.
Money for most small businesses is likely tight and not something that can be thrown around on a whim, but investing in the right help can not only help you focus on the strengths that you can bring to the table but can also help bring your business up a level and grow it in ways that you had only imagined.
4) They fail to Identify a target audience
If you are a small business owner, there are a couple of truths. One of them –one of the most important ones – is to know what your target audience is. This might sound like one of those cliché terms, but this is one of the essential aspects that far too many business owners ignore.
Why is this so important? Shouldn't your business be trying to appeal to everyone out there? While there is some truth to wanting to grow your business to everyone, that just is not feasible even for the biggest businesses on Earth.
For this reason, it is important to identify just who your business is trying to reach and work to make that your focus. This is because your target audience is your core, the group of customers that are most likely to use your business and keep it alive and growing.
When you lose focus of your target audience, your message becomes blurred and unclear and your audience might lose focus on just what it is you offer. When you can hone in on that audience, your business can focus on specific services and being the best that you can in those services.
5) They don't have a strategy 
Believe it or not, there are many business owners out there who go into their business and just kind of wing it, assuming that their services or products will sell themselves. The fact of the matter is that even the greatest products or services need a marketing strategy.
Having a strategy – meaning that you set goals, strategize who you are targeting and why – means you can be as prepared as possible for what lay ahead. The last thing you need as a business owner is to have a problem come up and you have no idea how to address it.
With the right strategy, you won't be 100% prepared but you will be as prepared as possible and it will likely get you out of a jam or two while keeping your focus on the ultimate goal ahead.
6) They underestimate the value of mobile
There is certainly a section of people out there, business owners included, that think that smartphones are the worst invention of all time. Those opinions aside, there is no ignoring the fact that the number of users who do their web surfing on their phones exclusively has been on a steady rise.
Having said that, it should go without saying that you simply cannot ignore mobile and hope to be successful. People, in general, have no patience when it comes to looking for a service or product and if they can't access your website on their phone, you will likely lose out on that business.
Making certain that your website is optimized for mobile is no longer a key; it is essential. This should be at the forefront of any business owner's mind when they create a digital footprint, and it would not come as a surprise if traditional desktop and laptop surfing continued on a downward trend.
7) They fall for "SEO is dead" chatter
This is a combination of the old-school small business owner as well as the myth that SEO is dead. Granted, Google has made a lot of changes to their search ranking algorithm, but Contractor SEO is anything but dead. There is still a litany of ways that you can set your business up for success through search engine optimization.
Because of the sheer number of searches that happen each day, Google has to work to optimize those searches to make them relevant not only by keyword but by location as well. This allows Google to produce the most relevant and informative search results when users perform their location-based searches.
When you ignore SEO for your online business, you drastically reduce the chances of users being able to find your business through search engines. This will have a massive impact on the overall traffic that visits your website and, in the long run, your bottom line.
There are plenty of other digital marketing methods that too many business owners ignore that could drastically improve their number of leads and their bottom line as well. Turn these weaknesses into strengths and your business should see a drastic leap forward in terms of leads as well as sales.
Start Generating Leads for Your Contractor Business