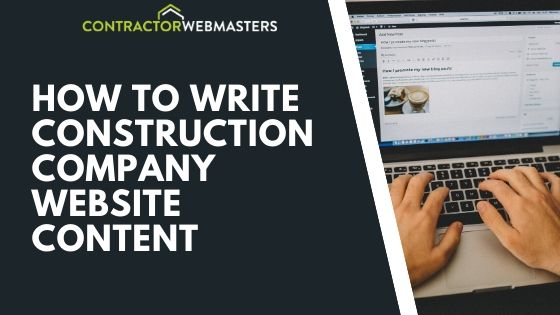 Today, you are going to learn how to write construction company website content.
When you are building your website, one of the most common things that you will hear about is developing content for your customers. Every good website has informative content that generates page views, which generates contractor leads, which turn into conversions.
But just what are you supposed to write about that will get the attention of your audience and your potential customers as a construction company? Knowing how to deliver that unique, informative content for your audience can mean the difference between substantial page views and being left in the dust.
While there are certainly no scientific means for doing this, there are tried and true methods that have proven to be successful in today's digital marketing world. Here are a few tips for delivering the kind of content that can really get more eyeballs on your website.
Focus on your clients' needs
One sure-fire way to provide informative and interesting content is to know what your customers are looking for and how to address those questions. There are a million different businesses in each industry that are all offering similar services or products, but when you can stand out by being informative and helpful to the customer, you have a leg up on the competition.
Tailor your content to your business and the questions that your clients ask most often. When you can answer questions directly, you instill a level of confidence and trust with your customers that most businesses would kill for. When the customer feels like they can trust you and what you have to say, that is a huge leg up on the competition.
Most importantly, when you write about specific content, you target services that benefit the customer. When a prospective customer is looking for businesses out there to solve their needs, they might not entirely know what they are looking for in a company.
When you can clearly illustrate to your audience why your services can benefit them and their specific needs, you make it clear in the customer's mind what they need, and they will associate that with your company. Brand recognition is similar to this and getting that level of recognition is huge to a small business or one that is in a very crowded industry like construction.
Testimonials and reviews are key
Now more than ever, prospective customers are doing research on the companies that they might be potentially using. This research, more often than not, is in the form of checking reviews and testimonials on that company left by people who have actually used that company's services.
It has been proven that a huge percentage of people will trust a testimonial or positive review as if it were given to them by a family member or friend. Those reviews and testimonials is how a prospective customer learns about a company and their level of trustworthiness.
This is also the biggest way to develop that trust. When a customer is looking into a business, if they have a lot of positive reviews, that customer feels as though they can trust in the services provided and are far more likely to use that business or service.
Make sure that you differentiate your reviews and testimonials and make them easy to for customers to see. Having a separate page for these things is usually fine enough, but anything that you can do to make your reviews apparent to your customers, the easier it is for them to see how great other people think your business is.
Create an FAQ
It cannot be emphasized enough that your website should be a source of information for both current customers and prospective ones alike. When you provide information for your audience, your website becomes the place for information and a destination for your audience.
Think about every single scenario that you can possibly consider that your audience will want to know the answer to. Think about unique questions, not just the generic ones that everyone has an answer for. When you can answer those questions, you become an authority on the subject and within the industry.
Base blog posts around numbered lists
One of the easiest and best ways to create the kind of content that stands out and draws in viewers is to create numbered lists. Combine your FAQ, your expert knowledge on the matter, and even other companies' topics to generate several ideas to base your numbered lists on.
Get as creative as possible when generating these list-based pieces. When you can be more informative and fun, the better the piece and the more likely to attract attention from your audience. You want to create the kind of content that gets shared on Facebook between family and friends.
When you are about to publish your post to your blog, think about whether you would want to read this post. If the answer is anything but a resounding yes, then you need to re-think your strategy and come up with something new.
Fun and innovative content is the easiest way to get readers to look at your content; give them something that they will want to read, and you will have a consistent audience flocking to your website for more.
Stay relevant to the industry
While it is certainly your website, and you can put whatever you want there, your audience is coming to you for your opinions on industry-related subjects. Don't stray away from those too often and, if you can help it, don't do it at all.
The key, as stated above, is to become the authority within your industry. Post knowledgeable, interesting pieces that are relevant to your industry. That might not be the most fun thing in the world, but it is what brings customers flocking back to your website.
There are so many things that you can do to provide interesting content that will generate traffic to your website over and over again. Do this and your website will become appointment reading for many potential customers who will then turn to your business.