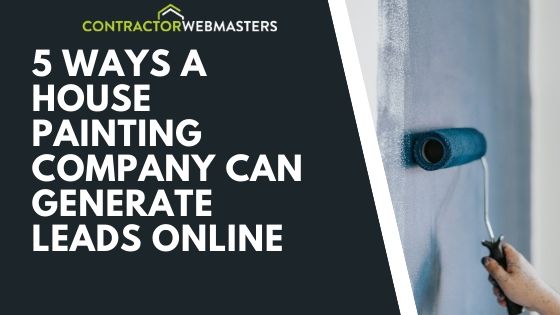 For painting companies, it is all about generating painting leads so that you can find the next set of customers for your business. It is finding those leads that can be part of the trouble, however, as it is a very niche industry and you have to know the best ways to reach your target audience.
Thankfully, there are a number of different ways that house painting companies can reach their target audience and develop the leads that are the lifeblood of their business.
1) Develop a Business Website
There are some out there that feel as though you do not need a website to have a successful business. And while that certainly can be true, it is more likely that you will find success if you have your own painting website than if you do not.
This is because, now more than ever, customers look into a business before they actually use their service. And more often than not, the first exposure that they have to a particular business is that company's website. If you don't have one, there is difficulty in developing trust with your audience.
Not only that, but your website can also achieve so many things for you, including both b2c and b2b lead generation options. In addition, it can act as a means to present valuable information to your target audience. When your audience believes that they have a reason to visit your website, they will make an appointment. That is huge for any business online that is looking to generate leads and turn those leads into actual sales.
2) Include an Urgent Call to Action
A call to action is essentially telling the user to use your business's services. These calls to action are generally things like buttons on the page that say "get a free quote" or telling them to call the phone number that you have listed on either the header or the footer of the page.
Having strong calls to action not only means telling your customers that they need to use your service, but giving them a ton of ways to do so. When you make the process as easy as possible for the customer, you make it more likely that they will click where you want them to click.
If you only have calls to action on every other page or scattered sporadically throughout your website, you make it more difficult for the user to find that call to action, and then they are less likely to click on those calls to action. Make it easy for your customers; they will appreciate it and be more likely to click where you would like them to.
3) Sign up for Google's Local Service Ads
Back in 2017, Google began running a paid advertising platform. This platform gave home service professionals a way to advertise their business to their geographic locations specifically, allowing them to appear at the top of searches for those specific keywords as well as locations.
These ads have rankings that are determined by things like the business' reputation and ratings. This means signing up for a Google My Business account and ensuring that all the proper information has been entered to make your business all the more searchable.
This helps to narrow down the competition a bit more and to get in front of the customers that really have an impact on your bottom line. It is one of the most effective ways of online marketing that there is for small businesses today.
4) Add Videos to Your Website
One of the most popular methods of online marketing is to create videos that you feature on your website. This accomplishes a few different things. The first is creating informative, interesting content that grabs the attention of your audience and gives them a reason to click on your website. This is the best way to create leads that will eventually turn into conversions.
The second is because you can optimize your video so that it becomes searchable on YouTube. YouTube's videos are a great way to garner additional traffic to your website and ensure that you continue to get the traffic that you need to keep your business moving forward efficiently.
Best of all, it is now easier and more affordable than ever to create unique video content. Before, you would have to hire a professional video service to shoot a commercial for your business; now, you can shoot high-quality videos with your smartphone or tablet. That level of ease and convenience is hard to top, and it's a great way to save your business money while helping to generate the leads that you need to keep your business surviving and thriving.
5) Manage Your Online Reputation
One of the most important aspects of any business is to manage your reputation online and ensure that it is as strong as it possibly can be. Generally speaking, this is in the form of reviews that your business receives online.
Positive reviews are great for your business for a few reasons. The first is that it helps develop a positive reputation for your business in the eyes of your audience. This is imperative for the health of your business and for encouraging customers to continue using your service.
The second is that Google heavily values those ratings. If your business has a lot of ratings, most of them positive, it will positively impact how your business appears in Google searches. Those positive reviews can not only make you more trustworthy in the eyes of your audience, but it can also make you more searchable to those search engines that can drive additional business to you.
Negative reviews aren't bad, either. They give a more realistic perspective to those who are looking into your business. Not only that, they give you the opportunity to respond positively, showing potential customers that you are willing to work with them in order to achieve satisfaction when they are disappointed in a particular service. This can reflect positively and have a greater impact than the negative review would.
Get Started With Contractor Webmasters