Many factors determine a website's ranking. One of the most overlooked characteristics is domain age. The age of a domain name is one of the signals Google most values when attaching trust to a web entity. Contractors with existing domain names should leverage their digital asset through website design, SEO, and visual enhancement. Contractors who've yet to purchase a domain name should do so as soon as possible, as the odds will be stacked against you, the longer you wait. There's several things to consider when it comes to a website domain name. But before we delve into them, we should review the basics.
What is a Domain Name?
A domain name is the network address identifier of a website. For example, Contractor Webmaster's domain name is contractorwebmasters.com.
You're reading this blog post on the domain name; contractorwebmasters.com. The domain name was registered June 2018, approximately 6 months prior to the publication of this post.
How To Register a Domain Name
Domains can be registered through online registrar's like GoDaddy for a yearly fee. Dot com, aka ".com" domains generally cost about $15 per year, but can only be purchased outright if no other party has claimed it. There are outlets to buy domains owned by another individual, but the price is much greater in most cases. Once you register a domain name, it becomes part of your digital property and cannot be claimed by another business or individual.
Domain Age & Its Influence on SEO
Domain age matters in regards to SEO. The oldest domains have a decided advantage over the newest ones, a hypothesis confirmed by SERPWoo's 2017 Study. Domains aged younger than 6 months don't have much chance of ranking in competitive markets. Conversely, domains of 10 years and older have indisputable tenure in the eyes of Google. Age is far from the only SEO factor, but it is one that we have the least control over. With on page optimization techniques, tweaks can be made to solidify a website. The same is true of off site SEO strategies. These will become even more important for brand new domains, as will creating additional traffic streams as your domain builds trust and momentum over time. Contractors without a domain should buy one ASAP.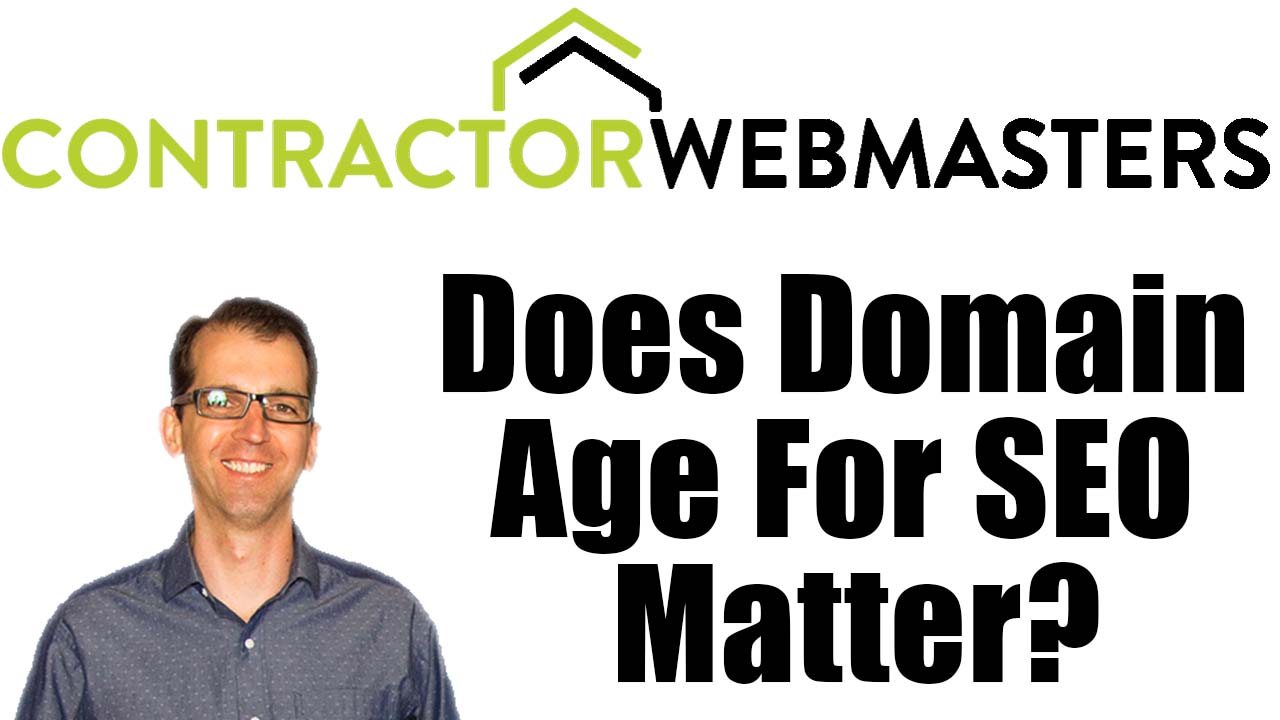 Estimated Time of Ranking (ETR)
There is some variance in how quickly a website can rank relative to its domain age. The variables to consider include market, service area, industry, digital marketing quality, and sometimes; just plain luck. Here's what we do know. For contractors working in a large metropolitan area, ranking a new website will be more challenging, and almost undoubtedly take longer than a domain of a similar age would in a less competitive area or industry. See, Google ranks the best page available, which is of course, relative to the competition in every case. Here are some rough estimates of how long it would take a new contractor website to rank on Google:
Big Market: 12 Months (1 Year) Minimum
Moderate Market: 6-8 Months (.5 -.66 Years) Minimum
Small Market: 3-6 Months (.25 – .5 Years) Minimum
I Have an Existing Domain That Doesn't Rank Well
The estimates above reference brand new domains, which are created by contractors who've never had a website, lost it for some reason, or have just recently launched their business and never had a reason for one in the past. Regardless of why they don't have a tenured site, the consequence is the same. But there's a large group of contractors that do have an existing domain and still fail to rank for the keywords that will actually drive traffic to their business. So what about these contractors? What do they need to do to start ranking? And how long will it take for the changes to make a direct impact? Domains 5-10 years old (or older) can have a pretty quick ranking ascendance, as long as the following enhancements are implemented on the site:
Content: New content that focuses on the needs of the user and helps them solve their problem
Design: New custom design which implements schema markup and a clean code base
Optimization: New SEO strategy which targets the proper keywords and places them where appropriate
Supplementing Traffic Through Diverse Lead Channels
So let's say you're one of the contractors in a larger market with a newer website. What can you do while you wait for your domain to gain tenure over time? The answer comes in the form of lead channel diversification. It's an advanced way of saying something that's fairly basic. You need to acquire leads from platforms other than organic search results. This might mean PPC or PPL, this might mean social media advertising, this might mean remarketing and pixel tracking. The takeaway should be that these other options do exist, and that waiting the 6-12 months to establish an organic presence is worth the wait when supplemented traffic accompanies it. Channels to consider include:
Pay Per Click
Pay Per Lead
Remarketing
Social Media
Investing in Your Future
When contractors think about a full year of non-ranking for primary keywords, their first compulsion is to forget it and say that it's not worth the effort, trouble, or financial commitment. But that's never how successful businesses have operated. It's not too late for you to establish an online presence. In fact, we've had many clients who've started from scratch, and have grown their business to the point of requiring extra trucks on the road. All of this has happened within 1-2 years. We know it's possible, because we work with contractors and their websites, all day every day. The ages of competitive domains might seem daunting today, but a simple investment in 2018 can make your 2019 and 2020 as fruitful as ever.
As a contractor you know that the foundation is often the most important part of a structure. Think of your domain name as a foundation that will be built upon for months and years to come. As you continue to build tenure while simultaneously enhancing brand through content, design, and optimization, each effort will coincide for a cumulative impact. The time to invest in your marketing future is now. Everyone has to start somewhere, and with a quality marketing company at your disposal, the process can be expedited in ways that would not be possible with lesser assistance. 2019 can be a big year for contractors, as long as they commit to excellence.
Podcast: Play in new window | Download
Subscribe: RSS