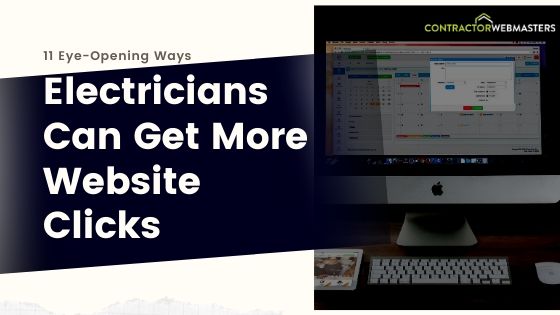 It might seem obvious, but driving more traffic to your business' website is a really good thing. The question is "why?" Well, the more people who visit your website means the more electrician leads that you have. And the more leads that you have, the more chances of turning those leads into sales.
The trick is figuring out just how to bring more eyeballs to your website and then, once they are there, how to keep them there and eventually buying products or services. There is no magical formula to this, but there are a few proven methods that can drive up the amount of traffic that you see on your website.
What you might not know is that you don't even have to spend money to get your electrician service to increase viewership on your website. There are several different ways that you can drive that traffic to your site without having to spend a lot of money.
On-Page SEO
There are certainly many different electrician SEO tactics that you can perform on each of the pages on your website. SEO is basically how huge search engines find the most optimized pages to display at the top of the related search results.
When you appear on the top page of a service like Google, you will get more traffic just from the sheer number of people that go through the first page of the search results. Making sure that you are producing high-quality content as well as writing meta descriptions for each page is a great way to optimize each page on your website.
Making sure that users can tell what your page is about and what information they can gather from it is a great way to improve the likelihood that they click on your URL. There are many factors that go into on-page SEO, but they are hugely valuable to your website and your business.
Create a Google My Business Listing
What you might not realize is that an optimized Google My Business listing actually gets seven times more visits than one that is incomplete. That is a huge difference in the numbers that could be seeing your website if you use an optimized Google My Business listing. It is an outstanding way to get to your website and to drive more traffic to that site.
This is because Google is getting smarter than ever when it comes to displaying results. Providing all of the necessary information straight away could mean that a potential customer sees your info and skips doing a website check; they might just contact your business directly, which is even better than a website visit.
Optimizing your Google My Business Listing can be a huge boost to your website traffic numbers and can actually make a world of difference when it comes to users being able to find out information about your company in a flash. When you make it easier for them, they make it easier for you by giving you more attention and potential conversions.
Get Listed in Online Directories
One of the more proven methods of driving up the amount of traffic that your website sees is to get listed with a variety of online directories. These generally review sites that list out a number of businesses in that industry and then allow users to review and rank them.
This includes sites like Angie's List, HomeAdvisor, Yelp, and others where customers can see real reviews left by real customers. This helps to foster a sense of trust in potential customers because they feel like they are getting a far more comprehensive look at your business.
Making your business more available through these online directories only means that, at worst, you will get more curiosity clicks than you ever have before. Even then, those are chances to convert into real dollars for your company and that is a major win all around the horn.
Post to social media
Social media – Facebook, Twitter, Instagram, Snapchat, etc.  – has grown into a juggernaut; a worldwide phenomenon that has millions upon millions of users log in each and every day. And because of the sheer reach of these platforms, it should be of no surprise that businesses are using them more and more to drive revenue.
Creating social media profiles and then linking them to your website is a great start if you are hoping to increase traffic to your website. Making relevant posts is another way to drive that traffic to your site. Most people aren't just blindly clicking on a link, they need a reason to do so.
With social media's vast reach, it is still a somewhat unknown territory for just how much potential it has. But making use of it in some way is imperative if your business hopes to grow and get more traffic to your website.
Build backlinks
This is in the same vein as building a working relationship with local businesses, except in the digital format. Ultimately, a backlink is a link to your website that comes from another website. You could trade content or links with other complementary businesses as well as industry influencers that will get your business in front of a larger audience but will drive more qualified traffic directly to your website.
Not only that, Google picks up on those backlinks and it will increase your trust with the Google search rankings. The more trust you get from Google can lead to higher ranks, which would lead to more traffic. Backlinks are a free, excellent way to drive traffic up for both your business as well as a partner business that would be willing to share the same goal with your business.
#Hashtag posts
Making pages or blog posts on your website is all fine and well, but generally speaking, only the traffic that is visiting your website will see it. That is unless, of course, you are making the best use of hashtags to give users an easier way to find your posts.
Using relevant and correct hashtags can get you discovered by users that are searching for products or services that you might have hashtagged. This draws more eyes to your product and makes you more visible, even if it is just to passing eyes.
Hashtags have become a hugely important part of the social media experience and making sure that you have added all of the proper tags can make the difference between your post blowing up across the internet or wallowing in obscurity. Make your posts as visible as they should be by incorporating the correct hashtags and you will see a bump in overall visits.
Email marketing
This might seem like one of those strategies that feel outdated and wrong, but email marketing remains a strong tool for growing the number of leads that a company develops as well as reaching customers directly.
When you send out newsletters or promotions, you should include a link to your website. This will not only drive up traffic numbers but expose these potential customers to your goods and services. When they are directly in front of the customer, it changes the way that your customers view your service. They are more likely to at least consider what the service has to offer instead of outright dismissing it.
Email marketing might seem like an archaic strategy, but it more than holds its value. Send out these emails to past customers as well to foster a sense of loyalty and familiarity in your audience and customers.
Make Use of Landing Pages
Landing pages are a great free source of traffic that goes straight to your website. Your landing pages are far more specific, linking to something like an offer, redeeming a discount code or coupon, letting the user download a free guide, or perhaps starting a free trial.
These pages contain details that the user needs to move forward and ultimately convert and it focuses on one specific call to action, which makes it more likely that it will happen. Landing pages are very specific, and you can get pretty targeted when it comes to your messaging, ultimately increasing the amount of traffic that comes to those pages.
Any way that you can narrow down the focus of your potential customer and get them to click on a specific product or page, you are winning the marketing battle. It is never-ending, but things like landing pages can make the whole experience all the easier.
Make use of your analytics
If you are using WordPress in particular, there are many free statistics and analytics tools out there to help you not only see how much traffic you are bringing to your website, but specific details as to the areas of the world where that traffic comes from, what your sales might be, and so many other helpful business tools.
It's great to have this, but if you don't look at it, it's just kind of a waste. Make sure to look at these analytics at least a few times a week so that you can stay on top of trends and steer away from trends when they start to hit a downturn.
Analytics are there to help you see what you are doing well and what you aren't so that you can make changes when necessary.
Get engaged (online)
One marketing plan that more and more companies are using is to implement a more user-friendly experience when it comes to engaging not only with their customers but their potential audience as well. How you do this can greatly affect how others perceive your business regardless of the product that you offer.
For instance, you might want to take the time out to do a Q&A to answer whatever questions users and customers might have. These things will help to foster a sense of trust in your current and potential clients, something that many brands work diligently to try to strive for.
Try a few different things like joining an online community, hosting live informative sessions either on your website or with Facebook Live, and work to help your customers even if they aren't coming to you with work. This fosters the aforementioned trust. When a customer trusts you, then you are in and will have a customer for life so long as you don't mess that up.
Google Search Advertising
The way that Google ads works are that you can pay to have your website come up as one of the first results that show up for that particular keyword. When that keyword is queried, Google will look at all the accounts that ultimately are bidding on those keywords and will rank and display the paid results in accordance with the relevance and quality of the ad.
Since paid search results show up at the top of the first page of results, it is a great way to generate more traffic for your website with qualified visitors. Best of all, you will only pay for that ad when someone clicks on it. This allows you to get more eyeballs on your products and services without having to pay a hefty fee just to get noticed by those eyeballs.
There are so many different ways that you can drive traffic to your electrician website and grow not only the number of clicks that you receive but the amount of revenue that you eventually generate. Knowing which methods will serve you best is an important portion of this as is remaining persistent. Nothing happens overnight and you won't turn your website from relatively obscure to popular overnight.
Remain patient, use some common sense, and use some of the tactics listed above and you should see a noticeable difference in the number of visitors that patron your website. These all add up and eventually, those leads will turn into actual sales dollars that will benefit your company in the long run.
There is no proven science too, but there are certainly a lot of different things that you can try to get more traffic to your website.