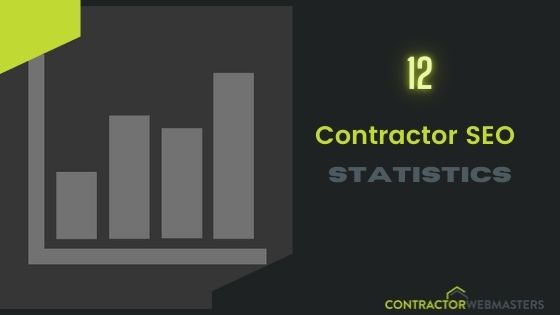 Check out some eye-opening contractor SEO statistics below:
1) SEO is 85% more likely to improve site traffic than PPC (Construction Marketing Association)
2) Yelp results show in the top five results for 92% of queries containing a city and business category (FreshChalk)
3) The top five organic results account for 65.60% of all Google clicks (Zero Limit Web)
4) Google changes its algorithm six times per day (Google)
5) Google makes approximately 4,500 changes per year (SERoundtable)
6) Top-ranking Google results have 3.8 times more backlinks than those below them (Backlinko)
7) Less than 1% of Google users make it to the second page of SERPs (Backlinko)
8) The average top-ranking Google article is 2,416 words (SWEOR)
9) Over 90% of pages get zero organic traffic from Google (AhRefs)
10) Nearly 70% of search queries contain four words or more (AhRefs)
11) By 2025, 73% of all internet traffic will come from a mobile device (CNBC)
12) 51% of smartphone users have discovered a new company or product through mobile search (ThinkWithGoogle)
What These SEO Stats Mean for Contractors?
Many websites will publish statistics without providing context and actionable insights. For example, what should your contractor business do with this information? Below, Contractor Webmasters will provide some takeaways from these statistics, along with recommendations for improvement.
Adapt to Google
Google is changing more than ever before, so contractors must regularly update their website and abide by best SEO practices. Consider investing in a professional SEO agency to handle your daily SEO tasks so that you can maintain rankings in 2022.
Take Advantage of Opportunities
Contractors are leaving money on the table by allowing Yelp to outrank them for 92% of queries. When users search for contractor near me, and similar terms, they see Yelp results. With a good SEO strategy, you can rank instead.
Rank Higher
It's no secret that ranking high is the point of SEO, but the statistics confirm what everyone already believes. As a contractor, you must target keywords to rank on page one and hopefully in the top five. Any pages that don't rank on page one are worthless for your company.
Publish Long-Form Articles
Most contractors publish worthless blog posts that never receive a single click on Google. These posts are typically 300-600 words and lack comprehensive data or instructions that provide value for a reader. So instead, focus on creating three 3,500 word articles for your website to get more clicks.
Optimize for Mobile
The future of SEO is mobile, and in many respects, so is the present. Reaching users on mobile will determine success or failure for contractors. First, think about your website's presentation to mobile users and how well it converts them into customers via smartphone. Then, focus on improving the mobile experience for 2022.
Acquire More Backlinks
The oldest conflict in SEO is the need for links without the means to acquire them. Google bans link schemes, link buying, and any manipulative link acquisition, which will result in a penalty if caught. Instead, focus on creating high-quality content (like the articles mentioned above) which serves as linkable assets. These kinds of articles get links naturally from other websites.
Target Long-Tail Keywords or Keyphrases
Most contractors hope to rank for popular terms like contractor services, but the real traffic comes from longer terms and phrases (more than four words.) You can rank for a variety of services by publishing pages for each service type. Consider downloading an app like DataPins to generate user-generated content for your service and city pages.