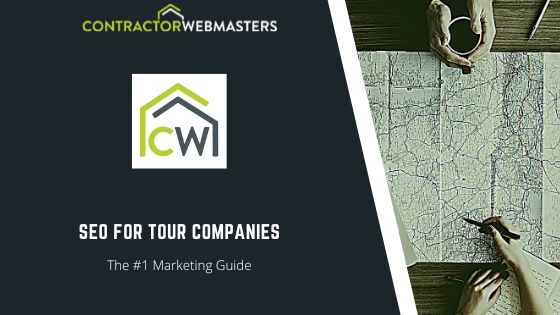 SEO for tour companies is an excellent method to acquire new customers in 2023. SEO has changed marketing for every industry – including the tourist and entertainment industries. SEO presents a great opportunity if you run a tour company and want to know how to get more customers.
For some tour companies, SEO is a very new concept. SEO stands for Search Engine Optimization, a form of marketing that promotes your service through search engines like Google, Bing, and Yahoo.
Luckily, tour companies have a lot to gain from SEO. In the following guide, Contractor Webmasters outlines the fundamentals of SEO for tour companies and how you can get started today. Most of all, the guide teaches you how to outrank competitors on Google search results.
Leveraging Travel Blogs for SEO
When you consider what ranks on Google search results, it's a combination of service pages, product pages, and blog posts. Tour companies can leverage travel blogs to maximize organic traffic. Once customers read your high-quality content, signing up for your services is a natural next step.
Writing blog posts for SEO purposes requires in-depth keyword research. You want metrics on keywords users search for and build your articles around these terms. You'll find that the highest-volume keywords have informational intent, which is great for travel blogs.
For example, queries like best places to travel or best travel tours 2023 will generate a ton of volume. You can also drill down to more granular keywords that relate to specific cities, states, or countries, which also create a good amount of traffic.
Use YouTube to Boost SEO
YouTube is the largest and most frequently-used video viewing platform on the internet. And it is the perfect opportunity for you to reach a new audience. Create rich videos about the cities that you tour in to entice customers.
When people travel, they want to see images and videos of what they may experience in a particular area or city. That's why creating high-quality videos and posting them on YouTube can introduce your city and your tour company to a vast audience. How extensive, you ask? YouTube boasts 2.6 billion active users.
We know what you may think, "those figures have to be from around the world," and you're right. But as a tour company, you aren't just targeting people in your city, county, state, or even country. Instead, you can reach a global audience that will still likely hire your tour company when they're in town. And YouTube videos are a great way to show off what your cities offer and make your company's name more visible.
Another way YouTube contributes to SEO is through video embeds. YouTube makes it easy to copy the HTML embed code from any video and paste it into your website HTML. As a result, you can enhance blog posts and service pages with embedded YouTube videos that keep visitors engaged and contribute to your overall website rankings.
Nurture SEO Leads with Facebook Groups
When users find your company, they might not buy something immediately. So you'll want to nurture these leads by inviting them to your Facebook Group. You can link to your Facebook Group from your website, YouTube videos, and Google Business Profile.
As a tour company, many people are concerned about how knowledgeable you are about the cities you tour. Starting a Facebook group specifically about visiting the cities you tour is a great way to connect with consumers thinking about visiting your cities.
With this strategy, you want to build communities of people who like to travel and experience new areas. Then, you can offer your expertise in your cities to people who are thinking of visiting. The best part about Facebook Groups for tour companies is that you can start one for every town you tour to reach even more potential customers.
Again, you aren't trying to be too sales-oriented with this SEO for tour companies strategy. Instead, your goals with this strategy are two-fold:
1) Connect with people likely to use your services and create a community for them to connect with like-minded consumers.
2) Increase brand awareness for your company.
You still want them to know that you run or are affiliated with a tour company, but you don't want to be a shameless self-promoter. So consistent branding will be necessary. Make the profile image of your group the logo of your tour company and include links to your site within the group information pages.
HARO
HARO stands for Help A Reporter Out. It is essentially a platform where anyone with expert knowledge about anything can make their expertise available to journalists and reporters who are writing about that topic. So, for instance, if a travel writer wants to do an article about Austin, TX, you can become a source for them by registering with HARO.
But, 'how does that help my tour company?' you may be asking yourself. First, it is a tremendous help to SEO for tour companies because it generates quality backlinks for your company's site.
Any link that leads to your website and appears in another website's content is considered a backlink. You want as many backlinks out there as possible because it will increase your web traffic. These backlinks lead people to your site even when they are near yours.
Backlinks are one of the most important aspects of SEO. That's because Google considers a website with many quality backlinks to be highly authoritative and will give it a prioritized ranking on relevant searches. 
And signing up for HARO is a great way to build more quality backlinks. Once you are used as a source, you will be cited within the article, and a link to your site can be placed on the article publisher's site. 
Long Tail Keywords
Tour companies depend on local searches. Therefore, it would be best if you attracted the people interested in visiting the cities you tour. One of the most effective ways to draw the attention of travelers is with long tail keywords.
Long tail keywords entail many types of keywords, but for tour companies, they should have a specific local intent. For instance, "things to do in Zion, Utah" specifies an exact geographic location so that it will draw the attention of anyone interested in Zion, Utah.
It would help if you came up with a list of long tail keywords based on your company's locations and the cities you tour. Then, include them in your site's written content, social media posts, and video descriptions.
Get Help with SEO Marketing
If you need assistance with your tour company SEO campaign, consider investing in Contractor Webmasters. We offer full-service digital marketing, including custom web design, on-page SEO, content marketing, and reputation management. With thousands of clients and rich history of excellent services, you can't go wrong with our SEO service.