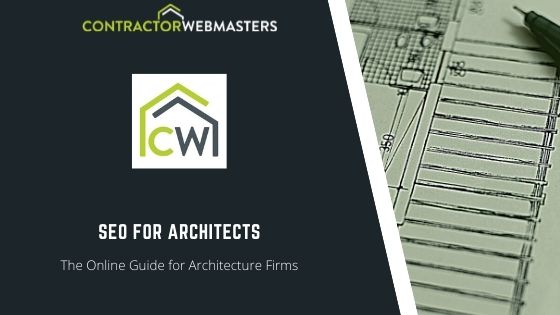 SEO for architects helps architectural firms appear on search engine results pages on Google, Bing, Yahoo, etc. As a result, establishing your business on search engines generates free architecture leads, significantly increasing your profit margin.
In the following guide, Contractor Webmasters outlines the most critical aspects of search engine optimization for architectural firms in the U.S.
What is SEO for Architects?
SEO for architects is the practice of optimizing your website and business listings for search engines. Common SEO tasks include keyword research, on-page optimization, content publishing, and link building. The goal of SEO is to generate as much organic traffic from search engines as possible.
Do Architects Need SEO?
As an architect, you provide an essential and highly specialized service. However, you also have a lot of competition as an architect, especially if you operate in a saturated market.
In fact, in the United States, there are over 67,000 architecture businesses active as of 2022. So standing out in a crowd is just as challenging for less specialized services. The good news is that in 2022, the playing field has been leveled out.
Even if your architectural firm is new or small, you still have a good chance of competing with larger firms to win clients. SEO is highly effective and can make or break your architecture business.
SEO Factors for Architects
SEO for architects is vital because it will help more potential clients find your business. It will also increase your lead generation. Specific signals tell search engines like Google that your business and website are worth ranking for user queries, otherwise known as keywords.
The more of these signals (called ranking factors in the industry) you disseminate, the more likely that Google will rank you high on relevant Search Engine Results Pages (SERPs).
The top 3 SERP results get over 75% of all the clicks. If your firm's site is ranking 4th or higher on relevant searches, you have less than a 25% chance that the searcher will click through to your site.
SEO will help your site and your firm get noticed. It will draw more clicks to your site, creating more leads that give you a better chance of landing clients. Now, let's talk about some essential SEO practices.
User Experience
The way visitors interact with your website is critical to SEO. People will leave your site if the pages load slowly, so UX (User Experience) is vital. Page loading speed may have to do with your server, so be sure you choose a reliable server with a track record for speed and dependability. Security is also an issue, so make sure your site has a CSS certification.
You will also want to make sure that your site loads quickly for mobile users. You can do quick things like compressing images and eliminating large media files from your site. But to fine-tune the speed of your pages, you may have to work with a web design expert.
Crawling & Indexing
Remember when we were talking about signals and ranking factors? Google has confirmed that one of the ranking factors determining which sites get ranked higher or lower is internal linking.
Internal linking refers to the links you have on your website's pages that lead to other pages. Internal links differ from external links, which lead to another site entirely. For your new pages to reach Google's index, the search engine must first find the page via web crawl. Inserting links from one of your pages to a new page helps Google find and index that page.
Internal linking is easy, and you should include an internal link on every website page. Links help Google crawlers scan your site thoroughly and give you a better shot of ranking higher if your site has info relevant to any given query.
You should also go through your site regularly to ensure that all internal links work as dead or broken links could hurt your rankings.
Keyword Research
The written content on your website should also contain keywords relevant to your searches and those that people are frequently using to search for your services.
You can start by using a keyword research tool to help you identify which keywords are trending and how likely it will be for you to crack the top 3 for each one. Then, once you have a list, it's time to implement them.
Keyword Research Tips:
All Natural: Keywords should fit seamlessly into the copy of your pages and never be stuffed in unnaturally.
Long Tail Keywords: Keywords that include your area (i.e., architectural firm in Seattle, WA) are lower competition and can help your local rankings.
Ranking Factor: Keywords are one of the most important factors Google uses to rank sites, so take your time with them.

Content Marketing
Keyword research is only as valuable as your content marketing process. Once you research the best keywords for architects, you must correctly implement them into your content. For architecture websites, you generally have two types of content: service pages and blog posts.
Service Pages: 500-800 word pages that target a service-based keyword (i.e., apartment complex renovations)
Blog Posts: 1,000-2,000 page articles that target an informational keyword (i.e., architecture trends 2022)
Service pages are your website's bread and butter as they will bring in customers at the bottom of the funnel, which is likely to convert at a higher rate. Blog posts cast a wider net by bringing in readers who may not have an immediate interest in your services. Still, blog posts help attract links and social engagement, which can impact your SEO.
Another content type that some websites use is a city or local landing page. A city page targets nearby cities outside of your primary zip code. Since you likely service multiple nearby areas, you can create a local landing page for each of those cities.

Google Business Profile
Off-site SEO optimization (signals you create outside of your own website) is also important. Your first step to getting ranked higher using off-site tactics is registering with Google Business Profile.
It's free and will provide an almost instant boost in rankings as Google prioritizes its services when ranking businesses. Any business registered on Google Business Profile can rank within Google's local map 3-pack. Map-pack results typically appear on the top of SERPs for local queries.
Aside from the rankings benefit, Google Business Profile also gives customers a place to leave feedback about your company. You'll find that accumulating consistent reviews helps your conversion rate and may even boost your local SEO rankings.
Aside from Google Business Profile, your firm should also be present on any relevant review websites like Yelp and even Angi and HomeAdvisor.
Getting Started With Architect SEO
If you want to start implementing SEO into your digital marketing strategy, consider hiring an SEO company like Contractor Webmasters. We provide SEO for architects, including website design, on-page SEO, content writing, and reputation management. Our month-to-month agreements provide you with a low-risk option to try out SEO.