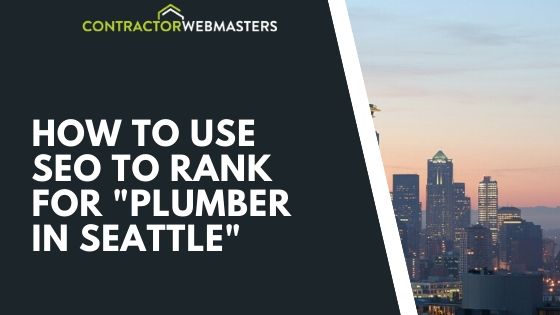 As a Seattle plumber, the main objective of your digital marketing campaign is the acquisition of contractor leads. In 2020, there's growing confusion about the purpose of SEO, and other forms of digital marketing and how effective it really is.
What most marketing companies don't understand is that plumbers and other contractors don't want to know all about SEO and its details, what they want to know is; how is it going to produce leads.
Since you are a plumber in Seattle, WA — Here's how SEO works to produce leads:
Step 1: Optimize website for "plumber in Seattle"
Step 2: Optimize Google My Business Listing for "plumber in Seattle"
Step 3: Create Local Links & Citations
Step 4: Build great web content around the subject including other service pages
Step 5: Create internal links back to your homepage with the anchor text "plumber in Seattle"'
Step 6: Watch your ranking increase on Google (organic + Maps) for that keyword term
How Google Has Evolved in 2020
Google has evolved substantially throughout the years. The search engine giant continues to work towards efficiency improvements so that it can bring the most relevant, authoritative results to users across the globe.
One way that they have made things more efficient is through the implementation of local SEO. Understanding what it is, how it works, and what you need to do can help you rank locally for your business.
With local ranking, you appear on Google's Local Map 3-Pack rather than the 10 blue links beneath it (organic results). With this guide, the goal is to rank on both the Map Pack and organic results.
One thing Google does tend to rank is the top 10 lists like best plumbers in Seattle on the organic search results. The reality is that they would rank a local plumber even higher if it built up enough authority to claim that term. This is done through SEO and branding, which can intertwine.
In fact, securing a link to your website on one of those lists can go a long way towards establishing that very authority we are discussing.
In a city like Seattle, one that continues to grow with each passing day and is one of the hottest housing markets in the country, being in a vocation like a plumber means that you need to do all that you can to stand out in a crowded industry.
This guide will show you how to rank for plumbers in Seattle and how to maintain that ranking through the use of local SEO.
What is Local SEO?
Before we can understand how to properly utilize it, we first need to know what local SEO is. This is the process of optimizing your website and other online properties so that you can be more visible to localized, geographic searches.
The best part about local SEO is that it doesn't matter if you are a local service-based business, serve multiple areas, or have a brick and mortar store. Local SEO can help to boost your search engine visibility, making your business more viable and easier to find for residents within that geographic range.
In the past, before local SEO, it was a vast ocean of competition for one keyword regardless of location. But that became impractical and unfair to localized businesses. After all, there is no realistic way that they can hope to compete with mega marketing budgets for that kind of real estate.
But local SEO made it popular to focus on those keywords within a geographic area, narrowing the search range for users and making their websites more visible in the eyes of search engines.
Google My Business
This is the most important tool at your disposal if you are a localized business looking to boost its SEO. That is because Google My Business is essentially a business listing form. There are plenty of others like it online that make it easier for users to search for business listings in their area.
One of the most common mistakes that people make with their Google My Business page is not filling out the information properly or omitting some fields. If you have missing fields, you are only hurting your business.
Make sure you fill out everything thoroughly. Make certain that your information is as accurate as possible. When you have inaccurate information, that hurts your SEO rankings because it essentially confuses Google.
Having the wrong information can also impact how you appear for Google's location-based map packs. This provides users with a visual map of where a business relevant to that search keyword is location. This can be hugely beneficial for ranking locally.
For those who might not be so familiar with SEO, think of it this way: back in the days of phone books, would you have chosen a listing that was incomplete or lacking essential information? The answer is no and the same principles apply for online business directories.
Establishing a Reputation
There are so many different ways that reviews can impact a business in this day and age. It should go without saying that the more positive reviews your business can garner, the more likely you are to earn business for local users.
This is the case for a few different reasons. The first is that your reputation is everything. In the old days, that reputation would generate word-of-mouth referrals. Someone telling their friends, family, and co-workers about the favorable experience they had with that business.
The internet works much the same way, but that word-of-mouth can spread a lot further in much shorter timespans. Reviews about your company are that word-of-mouth in digital format. Users in that geographic location – or anywhere, really – can see reviews about your company and make a decision about the trustworthiness of your company in a flash.
If you have a lot of negative reviews or have shown a penchant for not handling negative reviews in the most professional manner, that will get around. It is easier than ever to do damage or to help a reputation online these days.
The second reason that reviews are so important is that they have a direct impact on your SEO rankings. In addition to providing informative, relevant content, Google is also looking to provide trustworthiness in the sites that they recommend.
If you have a ton of positive reviews, it will only help your SEO ranking and give you a push closer to the top. Likewise, if your reviews are terrible, it will only stand to hurt your business.
Managing Customer Reviews
Posting reviews on your website is definitely a good idea and something that you should be implementing. Making it easy for visitors to see those reviews is even better if you want to project those positive reviews.
But the fact of the matter is that, even if all of your reviews are positive, there is only so much you can trust a website and the reviews it posts. After all, how many businesses are going to make their negative reviews front and center?
This is where review sites can be the most helpful towards establishing your business in local SEO. These review websites exist as an unbiased source of information on businesses across all industries. Users who are on the fence about using that business can go to a review website to get a better idea of how others have fared using that service.
The more positive reviews you have on these sites, the better you will fare in SEO rankings. And here is another piece of advice that might surprise you: don't hide from the negative reviews.
Even though it might seem that way, having nothing but positive reviews makes users question whether they are authentic. After all, no one is perfect, right? It is those negative reviews, provided they are few and far between, that can make you seem more authentic in the eyes of users.
And those negative reviews offer you another opportunity: customer engagement. Responding to negative reviews in a professional manner allows you to show the customer that you are willing to take the time to address their needs.
This extra level of attention can mean all the difference in the world for a customer that was on the fence about your business.
Local Linking
Before the internet became such a popular place to find goods and services, you would work on the referral process as a customer. For businesses, to build your reach and presence, you would potentially pair up with other businesses within the area.
This would allow both businesses to benefit, grow their audience, and perhaps provide a boost to sales at least in the short term. The key was finding a business with similar audiences that shared similar goals in marketing.
Today, this can be achieved (somewhat) through link building. Remember that authoritativeness that we talked about previously? Another way to build that authority is to have reputable websites linking back to yours.
This illustrates to the audience (and search engines) that your website is not only trustworthy but provides relevant and informative content to the audience.
Best of all, this link sharing can be done in a number of ways. You could have a local business proprietor guest blog on your website. You can guest blog on other websites. You can share relevant resource listings. The possibilities here are near limitless for businesses to benefit from one another and grow their presence in their own geographic area.
For plumbers, think of it this way. Let's say you are looking to grow your backlinking. This could be done by doing DIY posts for the website of a local hardware store. The hardware store gets potential traffic for its plumbing materials and they promote to their regular foot traffic that you are the plumber to contact. It really goes hand in hand.
Evening The Playing Field
More than anything, local SEO has managed to even the playing field for search engines. Now, you are left to compete with the businesses in your area as it was in the pre-internet days. The difference now is that potential customers can find out more about your business in five minutes of searching than they ever could have before.
Establishing a strong reputation online, building relationships within both the local and online community, and targeting your keywords effectively are just a few ways that your plumbing business can make use of local SEO.
Not to mention the most important part: a strong SEO game means that you don't have to spend a fortune on marketing. SEO can be your marketing plan, keeping you near the top of relevant searches and drawing in a larger audience the longer that you remain there.
Get Started With Contractor SEO