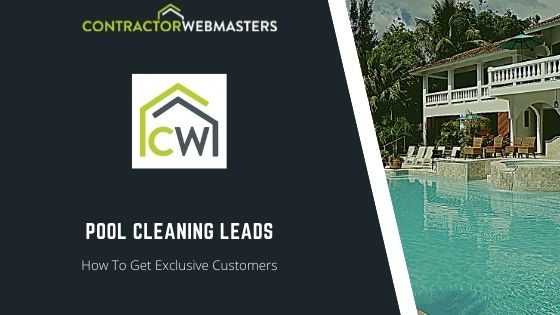 Pool cleaning leads are in high demand these days as the industry continues to boom.
Swimming pool services generated nearly 6 billion in revenue throughout 2023. As the number indicates, people have an increasing demand for pool cleaners.
Still, of that six billion, the vast majority goes to the top pool cleaning services in the U.S.
These companies generate leads online through their website, Google Business Profile, and other internet assets.
Keep in mind that offline branding influences online results, as well.
So how can your pool cleaning service accomplish the same goals? Check out the pool cleaner's lead generation guide from Contractor Webmasters:
Establish Your Pool Cleaning Brand
When contractors call our agency in hopes of ranking #1 on Google search results, we explain the importance of branding. As you may or may not know, Google uses branded signals to inform a company's credibility via its website and other digital assets.
With this in mind, it's a good idea to establish your company's brand in the more traditional sense before embarking on your online journey. Consider doing things like:
Design a Memorable Logo
Choose a Memorable Company Name
Immerse Your Business Locally
Invest in a Car or Truck Wrap
Once you establish your brand more traditionally, you'll have a much easier time generating leads through modern channels like Google.
Create an Online Presence
Creating a robust online presence is the most effective way to generate exclusive swimming pool leads in 2023. Google represents the most efficient platform to get new customers, and you can achieve your goals through pool cleaning SEO. Let's take a look at some of the primary elements:
Local SEO
Local SEO is crucial for pool maintenance contractors because all of your leads come from one or more designated service areas. As a result, you know what range of your market you can cover logistically, and your marketing plan will follow suit. Local SEO encompasses all of the tasks below:
Claim & Optimize Your Google Business Profile
Generate Reviews from Local Customers
Publish Location Pages on Your Website
Submit Business Citations to Main Directories
It also helps to utilize a Local SEO tool like DataPins, which creates geo-schema pins each time you complete a job locally. Pins connect directly with reviews, showcasing social proof on your website's location pages.

Social Media
Creating social profiles on Facebook, Instagram, Twitter, and YouTube helps build credibility for your business. You don't have to publish posts daily or be particularly active on these platforms, but you must maintain your listings.
Social media platforms serve as web 2.0 platforms that expand your online presence. Therefore, each listing should link back to your primary listing and outline your precise business information.
A YouTube channel can be particularly effective for pool cleaning services, as a short introductory video (embedded on your website) can work wonders for your credibility.

Website Design
Your pool cleaning service website will make or break your online presence. While GBP listings are highly effective for generating leads, they perform best for companies with well-established websites.
For one, Google uses a website's authority to influence Google Maps rankings. Secondly, Google Maps users often click on the listing's website before deciding whether or not to use their service.
A strong website focuses on user experience and conversions. A user will leave immediately if the website fails to provide clean navigation and ease of use. After that, creating urgency through strategic calls to action turns visitors into leads.
Reputation Management
As an extension of Local SEO but essential enough to be its own entity, reputation management is one of the most crucial aspects of a pool company's online marketing strategy.
You can have a great website, excellent content, and active social media profiles, but you won't get customers without good reviews.
Building a reputation online can be challenging, but tools like DataPins and Podium can help you automate review requests through SMS and email. This way, you generate reviews on Google, Yelp, and other platforms.
Once you get enough reviews, there will inevitably be unfavorable ones. The best way to handle negative reviews is to respond to them professionally. Onlookers appreciate that you took the time, even in instances of bad feedback.
Content Marketing
You should regularly produce high-quality content to expand your online presence and brand awareness. You can choose various mediums for your content in 2023, from blog posts to videos.
We spoke about YouTube videos earlier and how they can help boost your brand online. The same is true for high-quality blog posts, which you can share on social platforms like Facebook.
Content marketing is also specific content for social media platforms like YouTube Videos or Google Business Profile posts. The important thing is to focus on providing consumers with value which helps them move through your sales funnel.
Buy Pool Maintenance Leads in 2023
You might think to yourself, "I'm not doing any of that; where can I buy leads?" You can buy pool cleaning leads in various places, including CraftJack, HomeAdvisor, and Contractor Webmasters. Still, you should be aware that a lead generation process is far more profitable than a lead.
Exclusive Leads for Swimming Pool Cleaners
Investing in a lead-gen process ensures you get exclusive leads instead of shared leads. An exclusive lead shows interest in your brand and calls only your company. The exclusive prospect eliminates the middleman who snakes you on the front and back end of the transaction.
Shared Leads for Pooling Services
Shared leads are easier to find and far less valuable, both short-term and in terms of lifetime value. For one, you compete with several other providers for the same lead and may lose out to another company. Second, the lead seller gets all the brand recognition for future interest.
The Lead-Gen Process from Contractor Webmasters
Are you looking to generate consistent leads in 2023? Contractor Webmasters offers a complete lead-gen process with web design, SEO for pool builders, and reputation management software. So enjoy the highest-quality leads in your market while overtaking competitors quickly and in the long term.