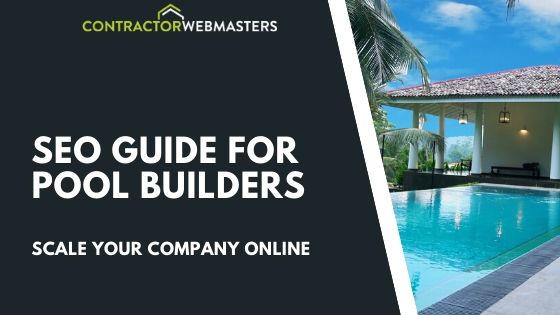 What is Pool Builder SEO?
Pool builder SEO is an online marketing technique aimed to generate leads through organic search results on Google and other search engines. SEO consists of on-page optimization, off-site optimization, technical optimization, and local optimization. A lot more goes into SEO than those four categories, but those represent the pillars through which pool-building professionals will rank higher on search engines.
Scaling Your Pool Building Business Online: The Guide
As a pool building contractor, you simply can't afford to miss out on all online marketing opportunities. There is nothing wrong with the old-fashioned ways of marketing your business: word-of-mouth referrals, sending postcards in the mail, and taking out ad space in the local newspaper. But all those methods can be modernized to introduce your business to a broader audience. 
Take the following statistic into consideration: 69.8% of surveyed consumers say that their preferred method of booking any kind of service is online. Online booking makes things easier for your customers. It is just one of many trends toward eCommerce, online service booking, and online marketing. 
But how do you take advantage of this trend? How does one scale their pool-building business using virtual tools? That is where we come in. Here at Contractor Webmasters, we help contractors of all kinds improve their sales, increase their customer base, and have a more impactful online presence every day. And yes, pool builder SEO is one of our specialties.
We work with pool builders, pool cleaners, and pool service providers from all over the country. The following post covers a very important topic that is specific to all you pool builders out there: how to scale your business online. Let's get into some of the most important factors to consider.
Local SEO for Pool Builders
It may be tempting to fantasize about your pool building business as a national service with thousands of employees and service trucks operating in every state. But before you can walk, you have to crawl. As a pool contractor, 99% of your business will be local, so you have to start marketing locally.
Tools like Google Maps and Google Business Profile are essential for helping people in your area find your company site. Start by listing your business with Google Places. This will ensure that your website will come up when a customer looks for a pool builder, and they are in your zip code. 
Then, work on creating a robust Google Business Profile. Google My Business profiles are a great way to show people what you can do, what kind of services you offer, and of course, that you operate in their area. Upload pictures of some of your finest work. Caption the pictures descriptively and provide as much information about your business as possible in your profile.
Local keywords are another great way to get your business indexed by Google and seen by potential customers. You can start by researching some types of words and phrases that people type into Google when they need pool services. Use a tool like DataPins to populate long-tail keywords from recent jobs.
Once you have a decent list of these keywords and phrases, localize them. Add your city and state to the end of these keywords so that when people search things like "pool builders near me," "pool builders in my area," or "pool builders in Scottsdale," your business page comes up.
Call To Action (CTA) for Pool Maintenence Websites
Once you have your website up, look into adding online tools and resources to it. Many consumers loathe being put on hold when they are trying to book a service or inquire about a pool building job. That's why having an online booking tool is important to driving sales and scaling your business.
Customers are less likely to use your service if they find it hard to reach you or book an estimate. An online booking tool makes it easier for your customers to use your services. You should also have an email portal for people to leave messages when searching after hours.
Not everyone will shop for pool builders during your regular business hours. Ensure you get their messages as soon as possible with an email portal.
Social Media for Pool Service Companies
Social media is a great way to showcase your work and attract people to use your business. Create an active Facebook business page and post pictures on it regularly. Pools are typically used for health and recreational purposes, and the whole point of online marketing and pool builder SEO is to make people want to have a pool built by you.
Try posting pictures that show how fun pools can be for friends and family. Provide links to articles that explain how regular swimming can improve your health. 
It is also important to interact with people on social media. Engage your visitors with comments, questionnaires, videos, and other digital media. Spark a conversation about pools with as many people as you can. Encourage people to share any booking they made with you on social media too.
Studies show that social trending is on an upward trajectory right now. Sharing via Facebook and Instagram is a great way to let people know that your business is trusted by their friends and family, what you are capable of, and increase brand awareness.
Content Marketing for Pool Builders
These days, it isn't enough to have a company website. You need to post original and useful content to it on a very regular basis. This will help your site rank organically, and organic ranking is growing more and more important for sustained search engine visibility and customer conversion.
Content can include blog articles, YouTube videos, infographics, and more. Start with some articles that display your firsthand insight into the pool-building process and industry. Create a compelling headline that will spark interest in readers and get you ranked on Google searches. Make the content easy to read and valuable to someone who may want to use your services.
Growing your business in the digital age can be scary – especially since most pool construction contractors aren't marketing wizards. But at the same time, it allows the everyday contractor to scale his or her business.
The tools are available for everyone, so in a sense, digital marketing levels the playing field for giant companies and the little guys. To find out more about how you can scale your business online, contact us here at Contractor Webmasters.