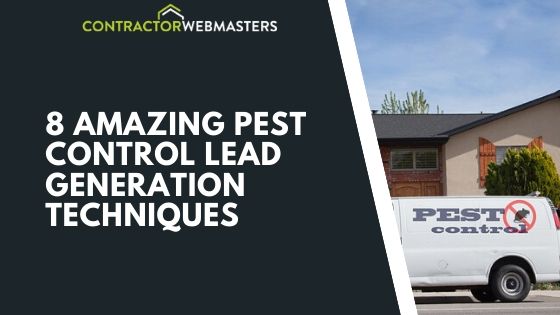 The ability to generate quality pest control leads is what separates a company from a contractor. But generating leads can be very difficult, and every industry has fierce competition, especially pest control.
In the same breath, not all leads are valuable to businesses, making the process more complex. Any platform that can claim a phone call or email inquiry is a lead, but that doesn't make it relevant.
The pest control industry is one such industry. As a pest control contractor, you provide a certain essential service. But if you don't know how to rack up new leads, your business could be floundering, essential or not.
And here at Contractor Webmasters, we always look for ways to help all the contractors flourish. The following post outlines 8 intriguing lead-generation methods for pest control companies.
1) Study Target Consumers
Being aware of who uses your services and which spends the most is the first and perhaps most important step you will take in pest control lead generation. Knowing who will most likely use your services will inform all of your marketing moves and allow you to use your budget more efficiently.
For example, if most of your clients are in the commercial sector, ensure your website is appealing to business owners. Appealing to your current clientele will, in turn, generate more promising leads.
2) Create Visual Engagement
Many technical questions flash through a person's brain when they suspect that they have an insect or rodent infestation. They are looking for answers to a great many questions. As many experts point out, infographics are a great way to convey lots of technical information in an easily absorbable way.
A good idea for a pest control industry-specific infographic would detail the health risks of rodent and insect infestations. Combining images and textual information makes it easy for the reader to get the information they need and turn into a hot lead for your business.
3) List Your Business on Directories
If your business is not already listed on Angie's List, Yelp, Google Business Profile, and other review platforms, that's something you need to do immediately. According to CompuKol Communications, customer reviews are 12 times more effective for generating leads than service descriptions and other marketing methods.
If a person cannot read about the experience they can expect from your business from other customers, there is no chance to turn them into leads. Listing your business on high-quality review websites also signifies to potential customers that your business is legitimate, professional, and trustworthy.
4) Design a Custom Website
The pest control industry is unique. As such, your website should also be unique. As a pest control technician, you have certain licensing, product/process certifications, and maybe even some industry awards. Ensure you have a page on your website where visitors can see evidence of these accomplishments.
Also, ensure you have an online appointment scheduling tool to make it easier for customers to use your services. Remember that your website is one of your arsenal's most powerful pest control lead generation tools. It should be enticing, easy to navigate, and provide visitors with all the information they need to consider using your services.
5) Publish Quality Content
As a pest control contractor/technician, you have the valuable skillset and knowledge people need. You can leverage this knowledge to make your website authority, make it more popular, increase its crawl budget, get it seen by more people, and generate more leads.
A blog is a great way to share knowledge and provide informational value. Quality blog posts have engaging content that generates comments on social media. Reaching more people through content that would not otherwise land on your website is incredibly valuable for both organic search and sharability.
6) Use DataPins
DataPins is a Local SEO and Reputation Management tool that allows pest control companies to show proof of their recent jobs. DataPins combines photos, captions, geo-coordinates, and schema markup to create pins that inform search engines and users of your service area coverage and specific service types.
Detailed captions allow your service pages to rank for various long-tail keywords while schema markup validates your service area. In addition, DataPins automates review requests through text and email. The tool even includes an on-page review slider embedded in your custom website code.
7) Network at Trade Shows
There are plenty of trade shows and pest control industry events to attend. In fact, the National Pest Management Association has a list of such events posted on its website. But why should you attend a pest control trade show?
Trade shows and events are a gold mine for lead generation. You can network with many people who may not frequent online communities or utilize organic search like others. Networking may not pay off immediately, but as your network grows over time, you will form a sustainable channel for leads moving forward.
8) Invest in a Lead Generation System
The main difference between a contractor and a company is the ability to brand your lead generation system. When you buy leads from established brands like HomeAdvisor, they leverage their brand to generate those customers. As a result, you're paying a premium for a potential customer.
When you create a branded lead generation process, you eliminate the middleman and start becoming a company. As users gravitate to your brand, they are more likely to convert and become repeat customers. Furthermore, your cost per lead reduces exponentially, and you no longer have to pay another company for your leads.
Pest Control Lead Generation Help from the Pros
Digital marketing for contractors of all kinds is our business. And you better believe that includes lead generation. At Contractor Webmasters, we can help you organically generate more leads for your business. Through a concerted and specialized digital marketing and SEO campaign, we can garner more attention for your business and make it easier to generate leads and convert them.