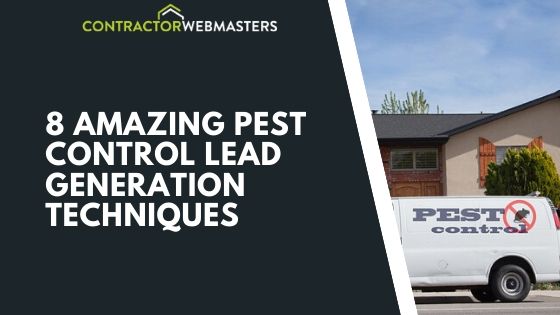 One of the aspects that differentiate successful businesses from unsuccessful ones is lead generation. The ability to generate quality pest control leads is what separates the big dogs from the little puppies so to speak. But generating leads can be very difficult, and it seems that every industry has a specific method for drumming them up. In the same breath, not all leads are valuable to businesses which makes the process more complex. Any platform can claim a phone call or email inquiry is a lead, but that doesn't make it a relevant one.
The pest control industry is one such industry. As a pest control contractor, you provide a certain, essential service. But if you don't know how to rack up new leads, your business could be floundering; essential or not. And here at Contractor Webmasters, we are always looking for ways we can help all the contractors flourish. So today we want to share with you a list of lead generation tips specific to the pest control industry. If at any time you would like to get started with our digital marketing and SEO services.
1 – Study your Clientele
Being aware of who it is that's using your services and which of your customers tend to spend the most is the first and perhaps most important step you will take in pest control lead generation. Knowing who is most likely to use your services will inform all of your marketing moves and allow you to use your budget more efficiently. For example, if most of your clients are in the commercial sector, make sure your website is appealing to business owners. Appealing to your current clientele will in turn drum up more promising leads.
2 – Utilize Infographics
There are a lot of technical questions that flash through a person's brain when they suspect that they have an insect or rodent infestation. They are looking for answers to a great many questions and as Miss Details points out, infographics are a great way to convey lots of technical information in a way that is easily absorbable. A good idea for a pest control industry-specific infographic would be one that details the health risks of rodent and insect infestations. The combination of images and textual information makes it easy for the reader to get the information they need and turn into a hot lead for your business.
3 – Register on Review Sites
If your business is not already listed on Angie's List, Yelp, Google My Business, and other review platforms; that's something you need to do right away. According to CompuKol Communications, customer reviews are 12 times more effective for generating leads than service descriptions and other marketing methods. If a person cannot read about the experience they can expect from your business from other customers, there is no chance to turn them into leads. Listing your business on high-quality review websites also signifies to potential customers that your business is legitimate, professional, and trustworthy.
4 – Design your Website for the Industry
The pest control industry is unique. As such, your website should also be unique. As a pest control technician, you have certain licensing, product/process certifications, and maybe even some industry awards. Make sure you have a page on your website where a visitor can see evidence of these accomplishments. Also, make sure you have an online appointment scheduling tool to make it easier for customers to use your services. Remember that your website is one of the most powerful pest control lead generation tools in your arsenal. It should be enticing, easy to navigate, and provide visitors with all the information they need to consider using your services.
6 – Post Quality Content
As a pest control contractor/technician, you have a very valuable skillset and knowledge that people need. You can leverage this knowledge to make your website authority, make it more popular, increase its crawl budget, get it seen by more people, and generate more leads. A blog is a great way to share your knowledge and provide informational value to visitors. Quality blog posts have engaging content that generates comments on social media. Reaching more people through content that would not otherwise land on your website is incredibly valuable for both organic search and sharability.
7 – Exercise COVID Safety Precautions
This tip is topical and relevant to the times we currently find ourselves in. The fact is that the COVID-19 pandemic has a lot of people wary about having people in their homes. The pest control business is predicated on on-site service and inspections. So for pest control lead generation in the age of COVID, it is imperative that you let your customers know what steps you are taking to keep them safe. Make a bulleted list of COVID-19 safety precautions your business has implemented and posted it on your website and your Google My Business page.
8 – Take the Time for Trade Shows
There are plenty of trade shows and pest control industry events to attend. In fact, the National Pest Management Association has a list of such events posted on its website. But why should you attend a pest control trade show? Trade shows and events are a gold mine for lead generation. You can network with lots of people who may not frequent online communities or utilize organic search the way that others do. Networking may not pay off immediately but as your network grows over time, you will form a sustainable channel for leads moving forward.
Pest Control Lead Generation Help from the Pros
Digital marketing for contractors of all kinds is our business. And you better believe that includes lead generation. Here at Contractor Webmasters, we can help you generate more leads for your business organically. Through a concerted and specialized digital marketing and SEO campaign, we can garner more attention for your business and make it easier not only to generate leads but to convert them.