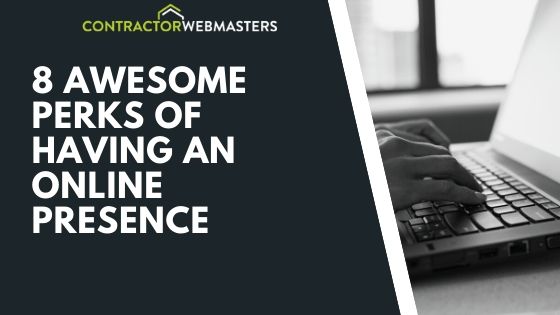 It should come as no surprise that online shopping, booking, and business contacts are done primarily online these days. We are living in the digital age; not passing through it. If you don't have a strong online presence you are quite simply losing out. As a contractor, you may have made your bones through word of mouth referrals in the old days. But the times aren't a' changing; they have already changed.
But the good news is that having an online presence is getting easier and easier. There are companies like ours, Contractor Webmasters, that specialize in helping contractors in all trades not only establish a strong online presence but maintain it and leverage it so that it results in boosted sales.
The unfortunate thing about this digital age is that even if your business does the best work in your area if you don't have an online presence people will not pay attention to you. You can do the finest remodeling work, install state of the art HVAC systems or build the strongest roofs money can buy and all your efforts will be for naught if your customers can't connect with you online. But why is that? The answer lies in a trend that doesn't seem to be going anywhere any time soon. Take the following statistic into consideration: every year that Google has been around, their annual search rate has increased by 10%-15%. In 2014 Google was handling 40,000 searches every second. Now, in 2020, that number has jumped to 75,000 unique Google searches conducted every second.
More and more people are using online resources to help them find local businesses, book appointments and estimates, read reviews on local businesses, and purchase goods and services every single day. The numbers don't lie – this trend isn't changing.
And as a contractor, local commerce is your livelihood. Take, for example, another statistic: 46% of all Google searches consist of people in search of local businesses and services. That means that the majority of people in your area who are in need of contractor services are finding them online. Can you be found online?
But what constitutes an online presence? Perhaps a more important question would be, what constitutes an online presence that is more visible than others? Google pulls up business pages for searches based on a number of criteria. The concept is simple: the higher you rank, the more Google will put you at the top of certain search queries. The practice is not so simple. The criteria by which Google deems a webpage worthy of ranking is fraught with technicalities, confusing metrics, and worse, the criteria changes on a regular basis.
But these aren't unnavigable waters. In fact, we help contractors from around the country increase their online presence every day. So if you don't have an online presence or need some assurance as to why this would be a worthwhile endeavor for you, take a look at our list of 8 awesome perks of having an online presence.
1) Automate Processes
Having an online presence like a simple website can automate and expedite a lot of processes for you and your staff. In a lot of ways, a simple company website has taken the place of handing out business cards to potential customers. Having an online presence affords you a forum with which you can provide basic information to people who are interested in your business. Things like your hours of operation, phone number, whether you give free estimates, and other basic information can all be easily posted on your website for quick reference. Plus, customers can see this information 24 hours a day. Lastly, having this basic information readily available online will free up your office staff for more important work as opposed to having to take calls to answer simple questions about your business.
2) Get Customer Reviews
Having an online presence can also mean having customer reviews on Google Reviews, Facebook (via Facebook Recommendations), Yelp, the Better Business Bureau, and other forums. And online reviews are hugely important for modern business. In a Hosting Tribunal study, it was found that 72% of customers depend on online reviews to help them make purchasing and patronage decisions. Customer reviews can be a huge asset for consumers and service providers. They can let a person know what kind of service they can expect from you. And glowing reviews of your business will boost sales by establishing consumer trust – which leads us to our next advantage…
3) Inspire Trust
Believe it or not, having no online presence may be instilling distrust in the minds of potential customers. In modern times, when you have no digital presence, it is taken as a sign that you are unprofessional or worse; have something to hide. You may do the finest work in all the land but if you don't have any online presence, people will view you as unprofessional and not use your services. Having a simple Google My Business profile can help establish trust between your company and existing and potential customers. Even having a Facebook page for your business is extremely helpful. It gives people an opportunity to interact with you and allows you to showcase your work. All of which lets customers know that people have hired you in the past and that you have a tangible, personable service to offer.
4) Reach the Masses
One of the most important benefits to having an online presence is that it allows you to reach a much larger audience. There are billions of people online at any given second of any given day. And while much of that pool of web surfers will not be your target demographic, you can still reach more people with digital marketing than offline marketing. Especially with tools like SEO, longtail keywords, and local business profiles, you can reach more local consumers online than you ever could beating the streets and handing out business cards.
5) Market Digitally
If you are using Facebook or have a website for your contracting business, you can leverage these forums as a digital marketing platform. You can post blogs on a regular basis that answer questions that people typically have about your trade. This will make you rank higher on Google searches and get more eyes on your company. You can also use your online presence to inform your customers about special promotions or new services that you offer. Digital media is another great way to advertise your services and make people more aware of your company. Your website or Facebook page should be a venue for any project pictures, "how-to" tutorials, or viral marketing strategies you come up with.
6) Provide Access
Gone are the days of the yellow pages. If you don't have any kind of online presence, people won't be able to reach you. The great thing about the digital age is that you don't have to miss any customers attempts to reach out to you. Even if someone is browsing for a "roofer near me" at 3 in the morning, they can leave you a message or email you so that you see it as soon as your day starts. That is of course, if you have an online presence. In many cases, consumers find it easier to book estimates, inspections and other contractor services online than over the phone. It makes it easier to knock out items on their to-do list while they are at work or even waiting in line at the bank.
7) Moderate Pricing
Consumers who perceive value and strong brand influence for the business will be 60% more likely to pay a higher price for the services of that business. And the way to build a stronger brand is by having a strong online presence. When people are able to read about the core values of your business, it's history, it's personality and the experiences of your customers, they are more connected with your brand. If you have an online presence that helps project the value of your brand, people will be more likely to pay a premium for your services.
8) Teach Visually
Many people are visual learners. Being able to post a video of how your power washing service works or what it means to seal patio pavers may be much more effective than trying verbally explain it to someone. When people better understand how your services can benefit them – by seeing it demonstrated clearly in a video – they will be more likely to use them.
And of course, this is really just the tip of the iceberg. There are so many great benefits to having an online presence, and we can help you get started or strengthen yours here at Contractor Webmasters. We hope you have found this post beneficial for your business. If you have any questions or would like to discuss how you can have a strong online presence, please feel free to call us.